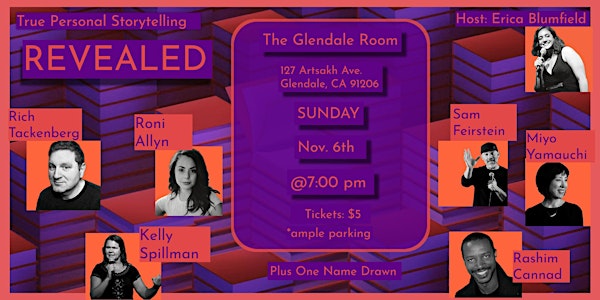 Revealed
Revealed is a true and personal Storytelling show, hosted by Erica Blumfield. Humorous, sincere, eye-opening, moving and entertaining.
When and where
Location
The Glendale Room 127 N. Artsakh Avenue Glendale, CA 91206
Refund Policy
Contact the organizer to request a refund.
About this event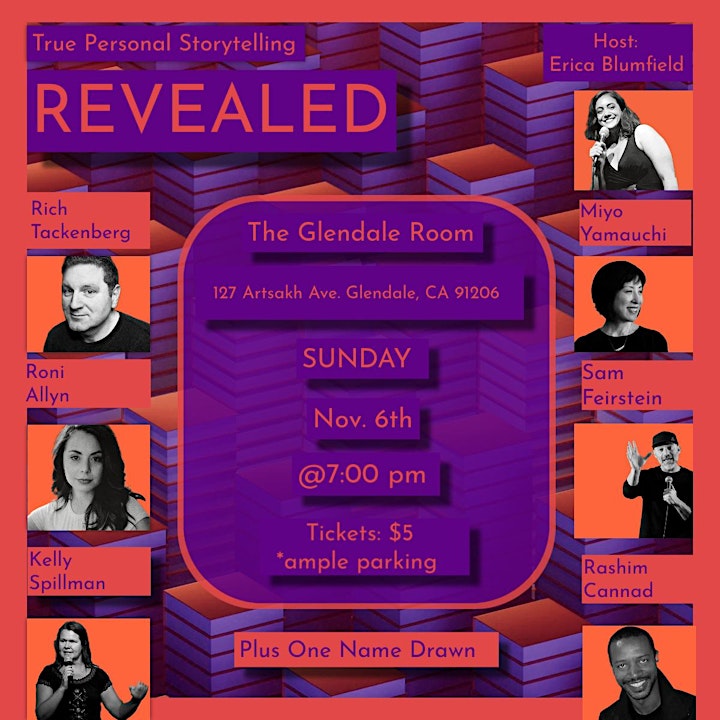 Revealed
Sun, Nov 6th, 2022 - Doors at 6:30 PM, Show at 7:00
Storytelling
"Revealed" is a true and personal storytelling show, hosted by Erica Blumfield. It brings together the best storytellers of LA, who share stories that will range from the ridiculous to the profound. A night filled with good vibes this show will entertain and inspire. 6 storytellers, plus one name drawn. Put your name in the hat for the the chance to tell a 5-7 minute story.
STORYTELLERS :
Erica Blumfield is a LA based writer and storyteller. An NYU graduate, she received her degree in writing and acting. While living in New York City, she wrote and performed solo shows and was the singer and songwriter in an indie rock band. She worked regionally as an actress at The Actors Theater of Louisville and performed in the acclaimed Humana Festival. She moved to Los Angeles and began performing her true and personal stories on shows, including "Storytellers Project'', ``Risk!", and "NAMI Washington's: Brainpower Chronicles". When not telling stories herself, you can find her teaching storytelling to people of all ages.
Roni Allyn is a comedian actress based in Los Angeles. She most recently performed in a character show called "Quick and Dirty" and in the 2022 Fringe Festival play, "How the Game Got You". She has been on several shows in the storytelling circuit, including The Graveyard Hour, Busted!, Time + Tragedy, and Tell.
@allyn.roni
"Are you my Soulmate?" After a difficult breakup at the start of the pandemic, Roni stumbled upon a best-selling quarantine Romance Novel, opening Pandora's box, and leading to a misguided search for a potential partner.
Rashim Cannad is an award-winning screenwriter and independent filmmaker who was raised in a tough neighborhood in inner-city Philadelphia. He has written a number of scripts for stage and screen, including several original television pilots. A member of Mensa, Rashim uses his rare combination of talents and experiences to help bring a new and thoughtful perspective to his writing. Currently, Rashim is the founder and producer of Voices for Victory, a theater series that gives a stage to up-and-coming BIPOC playwrights. He is also one of the producers of the storytelling series, BackStory. Both series are presented by The Victory Theatre Center in Burbank, CA.
"The Talk" Nothing is more awkward for a child than the day a parent sits them down for "the talk". What the child doesn't know is that the parent dreads that day even more. That was especially true for Rashim as he prepared to talk about sex with his sons, thinking back on "the talk" his father had with him.
Sam Feirstein is a five–time Moth Story Slam Winner, he was featured in the CBS Radio Storytellers campaign for Fiat and his stories can be heard on KCRW's Strangers and NPR's UnFictional.
Twitter/IG: @SamFeirstein
"Starving Artist" When Sam Feirstein was a starving artist, he was offered a commercial acting job with the promise of a big payout, but he quickly learns that a promise isn't always what it seems to be."
Kelly Spillman is a storyteller who has performed on the Moth, NPR and other storytelling shows across LA. She is a stand-up comedian who has toured all over the country performing also at The Improv, Comedy Store, and headlining the Icehouse.Twitter @Kelly_Spillman
Dissection Day: If you have ever wondered why people in Florida always end up in the news, Kelly has the answers. The education system is to blame. Kelly tells the funny story of an unusual Biology teacher on dissection day.
Rich Tackenberg is a multiple Moth Story-slam winner and a multiple Moth Grand-slam loser. He runs an executive search firm during the day and performs in storytelling shows at night. The two are surprisingly similar. He was voted "Most Off-The-Cuff Storyteller" by no one.
@richtack on twitter and instagram, and facebook.com/richtack.
"Monks" When Rich Tackenberg cuts off two monks in line, one of the monks has a surprising reaction, and a crazy battle of will ensues.
Born and raised in Japan, Miyo Yamauchi brings a unique perspective and sense of humor to storytelling. Her insatiable curiosity about life, people and the world leads her on many adventures and results in stories that delight her audience. She regularly performs at the Fanatic Salon Theater, other spoken word events, and the StoryMasters club. During the day, she works as a computer programmer for UCLA, writing narratives for computers to perform.
FB/IG:@miyo.thestoryteller
"Are You There God? It's Miyo!" When one of the biggest earthquakes hit Japan, Miyo Yamauchi wondered which god she should pray for.
… And You? Put your name in the hat for a chance to tell a 5-7 minute story.
For Attendees requiring an Assisted Listening Device, you must submit a written request to venue operator 48 hours prior to listed show start.
**Lineup subject to change** Late Arrivals will be turned away 20 minutes after scheduled event start. No Refunds.
FREE 90 minute parking at adjacent City Parking Structure
At this time there are no additional safety regulations required of audiences - masking, etc. But if you do feel unwell please stay home. We continue to update our policies at times when health conditions change.
Please consider subscribing to our Newsletter to stay up to date with all our info and listings.