Description
Make your own piece of jewellery, using broken ceramics and found treasures
In the workshop, Sarah Marafie from Boodi Jewellery will teach some awesome techniques!
You will have a large collection of pottery shards and coins to choose from, but please do bring in any objects or materials at all that you feel would make a beautiful piece of jewellery.

To give you some ideas, you could bring in leaf skeletons, any ripped fabric or interesting paper you may have found, sea glass, twigs, random pieces of plastic or metal.
With your found object, you will create a simple necklace, bracelet or earrings. In the workshop we will discuss and experiment with ways in which you can do this which will include smoothing pottery edges, drilling into materials, hammering metals or simply playing around with wire wrapping and attaching basic jewellery findings, such as bails and jumprings.
You will be provided with a chain or earring hooks if you require them, depending on your final designed piece.
Do bring in a sketchbook or piece of paper if you would like to to draw or write anything out.
All other tools will be provided.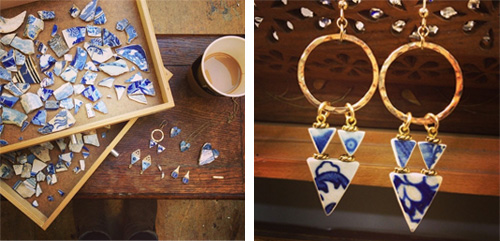 Find out more about Sarah
https://boodijewellery.com/ethical-jewellery-designer/