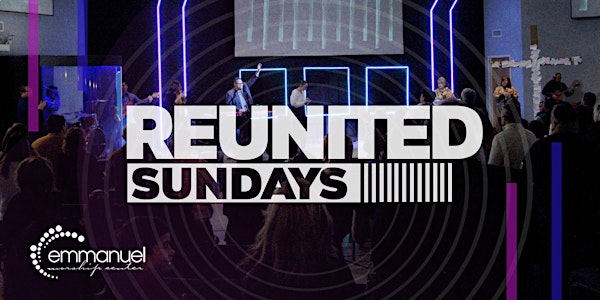 REUNITED Sunday Service
Join us LIVE and IN PERSON for one service in May! RSVP for the service you would like to attend.
When and where
Location
Emmanuel Worship Center 1102 70th Street Lubbock, TX 79412
About this event
Reopening Plan - "Reunited Sundays"
When: Sundays in May
Safety Focus: Request adherence to local and state distancing guidelines.
The Ask: Due to the guidelines restricting our seating, we'll have 190 reservations per service. You can make reservations using the church's website.
Church Programming:
•Sundays 9:00am and 10:15am services.
•Continue online services.
•Xtreme Kid's Church will be held outdoor under a tent during our morning services in compliance with the Social Distancing guidelines. (Ages 5-11)
•Our Nursery will remain closed until further notice. (Ages 4 and under)
•Wednesday Midweek Services will continue online.
Our Safety Conditions for Gathering:
-Encourage all vulnerable individuals to utilize our online worship experience from home. Vulnerable Individuals have been defined as: elderly individuals or individuals with serious underlying health conditions, including high blood pressure, chronic lung disease, diabetes, obesity, asthma, and those whose immune system is compromised, such as by chemotherapy for cancer and other conditions requiring such therapy.
-All staff members and volunteers will have their temperatures taken before entering the premises. Everyone sanitizes their hands before entering the Sanctuary.
-Encourage attendees to utilize any personal protective equipment they feel necessary, i.e. masks and gloves.
-Ushers seat people according to CDC and Governor Abbott's guideline-every other row.
-Dismiss by row, so there is not a crowd as people leave.
-Security officers onsite to watch that social distancing of 6 feet is maintained.
-Offering buckets will not be used.
-Ministry time during service will be modified until further notice.
-Communion will be suspended until further notice, upon resuming individually wrapped communion elements, will be utilized.
-Facilities to be cleaned between Sunday services.
-Staff/volunteers will wear masks.