Head BACK TO THE FUTURE- June 4, 11, 18 - only at the PSCC Drive-In Experience!
About this event
Drive-In Lot Opens 6:30 pm, Film Screens 8:15 pm (ish)
BACK TO THE FUTURE PART 1
In this 1980s sci-fi classic, small-town California teen Marty McFly (Michael J. Fox) is thrown back into the '50s when an experiment by his eccentric scientist friend Doc Brown (Christopher Lloyd) goes awry. Traveling through time in a modified DeLorean car, Marty encounters young versions of his parents (Crispin Glover, Lea Thompson), and must make sure that they fall in love or he'll cease to exist. Even more dauntingly, Marty has to return to his own time and save the life of Doc Brown.
BTF Part II screens June 11 and BTF Part III screens June 18. Trilogy passes are available.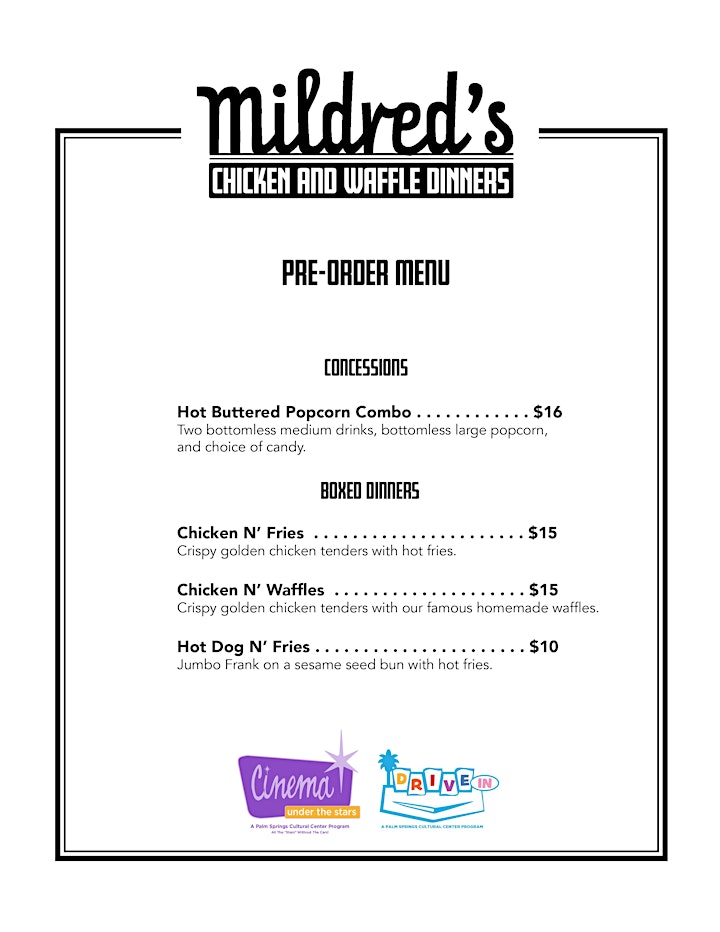 PLEASE READ:
FOR THE HEALTH AND SAFETY OF ALL OUR PATRONS PLEASE ADHERE TO OUR POSTED SOCIAL DISTANCING RULES. THOSE WHO FAIL TO DO SO WILL BE ASKED TO LEAVE THE EVENT.
- If you are exhibiting any of the COVID-19 symptoms and/ or are waiting on test results from a possible Covid-19 exposure- DO NOT ATTEND THE EVENT-a full refund will be issued for the event once you have let us know.
- FM Rentals are 1 per car/ table.
- Reservations are for a section ( such as picnic table/ premium etc.) Upon arrival- when you check in with an attendant you will choose your spot within that section appropriately physically distanced from another vehicle. Physical spots will fill in on a first come- first serve basis within the section you purchased.
Organizer of RETRO NIGHT: BACK TO THE FUTURE PART I
The Palm Springs Cultural Center, a 501(c)(3) non-profit organization, was established to encourage the development of the cultural arts in the Coachella Valley with a specific focus in the areas of film, fine art, live performance, dance, music, and community festivals. The Center is dedicated to advancing education, to nurturing community-wide participation in the cultural arts, and to sponsoring scholarship awards for deserving individuals.