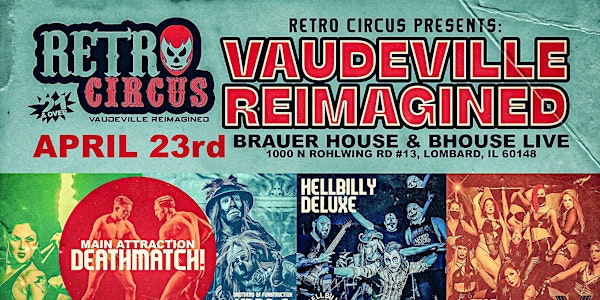 Retro Circus Presents: Vaudeville Reimagined
Retro Circus at B-House Live
When and where
Location
BHouse LIVE 1000 North Rohlwing Road, #13 Lombard, IL 60148
About this event
Doors: 6:00 | Bell Time: 7:00
Heavy Metal, Pro Wrestling, and Burlequse Dancers: The Retro Circus Comes to Lombard
On April 23rd, Retro Circus is coming to the Brauerhouse in Lombard! A twisted take on the days when the carnival came to town, Retro Circus will be an event you have to experience to believe.
Chicago's own Vaudettes will be front and center at Retro Circus, performing their unique brand of burlesque entertainment. Featured on Showtime's Work in Progress and performing on the wildly popular Chris Jericho's Rock-n-Wrestling Rager on the Norwegian Pearl, these women bring the Vaudette Experience everywhere they go.
There wouldn't be a circus without music, and forget the organs and slide whistles, The Rob Zombie tribute band Hellbilly Deluxe will be taking the stage. All freak, ghouls and creeps are welcome to rock out with Hellbilly Deluxe at the Retro Circus!
Retro Circus will feature a pro wrestling extravaganza, with the main Yabo and Ruffo the Clowns, better known as the Brothers of Funstruction! And many other wrestlers at Retro Circus, there won't be any joking around as there will also be wrestlers competing in a deathmatch!
Scouring the globe to find the very best and unique entertainers he could find, we brought all these acts under one roof for Retro Circus. This extraordinary crew runs the gamut of acts, from record-holding strongmen, death-defying sword swallowers and fire jugglers, plus surprises galore!
Tickets are now on sale for just $35 that gets you pro wrestling, a Hellbilly Deluxe and acts from the Vaudettes. The Retro Circus is coming to Lombard, and you won't believe what we have in store!