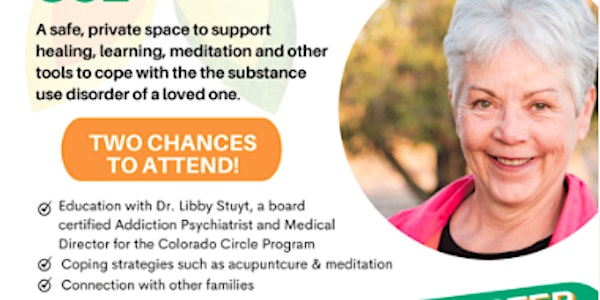 Retreat for Families Impacted by Substance Use or Severe Mental Illness
A safe, private space for families. Tools such as mindfulness practice and acupuncture will be discussed to support healing and resilience.
When and where
Location
Rock Point Center 20 Rock Point Road Burlington, VT 05408
About this event
Dr. Libby Stuyt, the Vermont Psychiatric Association 2022 Keynote Speaker will lead the retreat. Families with a loved one with a substance use disorder or severe mental illness will experience a safe place to learn evidence based tools to help them cope and decrease stress. The conference will validate the importance of supporting families and community members. Some family members suffer from anxiety, depression, PTSD. Validation and recognition increase resiliency of family and community members.
Evidence based tools such as mindfulness practice, acupuncture, acupressure, biofeedback and emotional freedom technics will be introduced. Participants will learn to decrease anxiety and stress while cultivating coherence, self calming and emotional regulation .