Description
Por este medio queremos informar; que el sábado, 18 de agosto del 2018, de 2:00 pm hasta las 6:30 pm; la Iglesia Evangélica Ind. Faro de Luz, Inc; que está ubicada en la Callé José E. Sanabria (Nenadich) # 172 en la ciudad de Mayagüez, PR; va a celebrar un Retiro de Damas y Caballeros (2018). El mismo tendrá como tema: Un Legado de Bendición. Tendremos a los Pastores, Consejeros y Psicólogos Jonny Pinzón y esposa Marimar Villegas. Los siervos, pastorean la Iglesia Avivamiento Casa de Oración en Cupey, San Juan, PR. Ellos nos darán unas Charlas y Dinámicas, en formato presencial y audiovisual, sobre el tema del Retiro, además de cantar las alabanzas para el devocional. El evento será para toda la Iglesia y la comunidad en general. Al finalizar el Retiro, tendremos un compartir con entremeses y bebidas naturales. Para más información, nos pueden escribir al correo electrónico: elfaroestaencendido2004@yahoo.es
Regístrate e invita a tus amigos y familiares. Entrada libre de costo (GRATIS). No te pierdas esta sensacional bendición. Busca el Reino de Dios y lo demás vendrá por añadidura.

Favor de llamar, para el registro: (787) 633-5173 Pastor Germán Olivero, (787) 633-5174 Pastora Olga Concepción y el (787) 452-8139 Sr. Eric N. Muñiz Villanueva, líder de los Caballeros.

Enlace Relacionado para registrarte por Internet: https://www.eventbrite.com/e/retiro-de-damas-y-caballeros-tickets-43454534683?aff=efbevent

Enlace de video: https://www.youtube.com/watch?v=WbvLkSUuiwI
¡LES ESPERAMOS!

Ven y separa en tu agenda este evento; que será de bendición para tú vida. El mismo es apto para jovenes, adolecentes y comunidad en general. Tendremos cuido de niños. Para tú conocimiento y acción. Gracias y Dios les bendiga. Amén.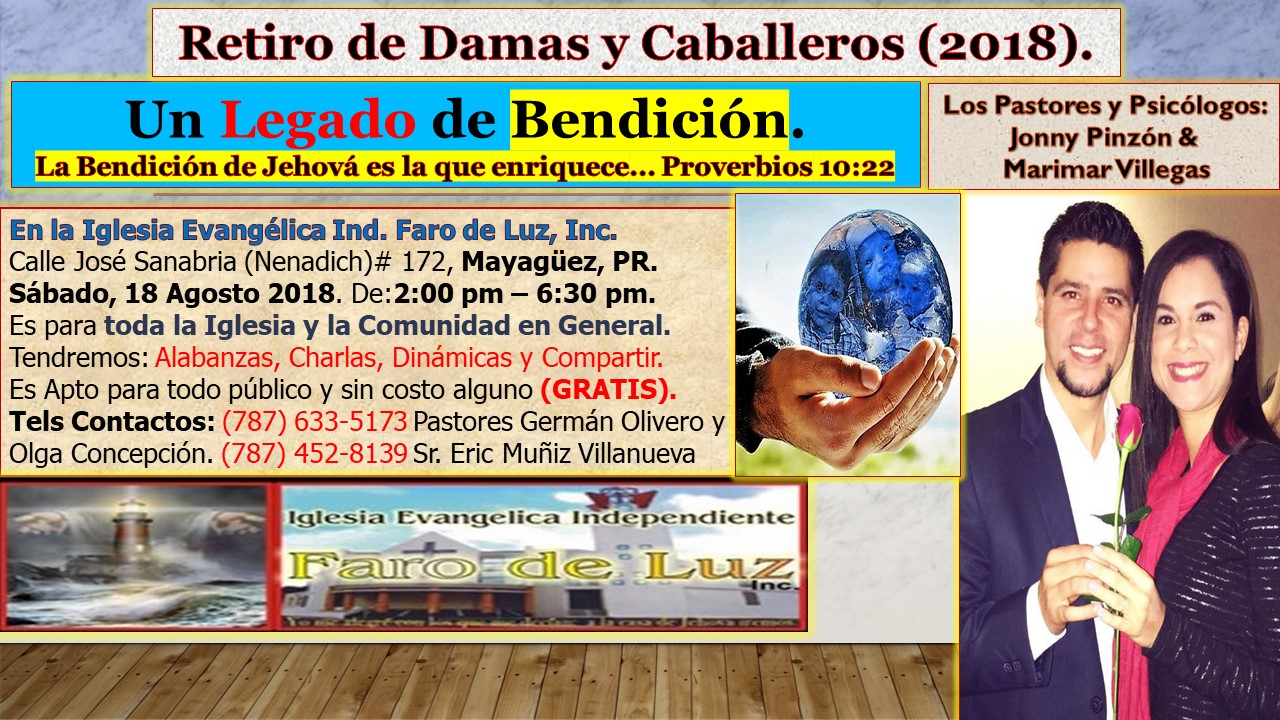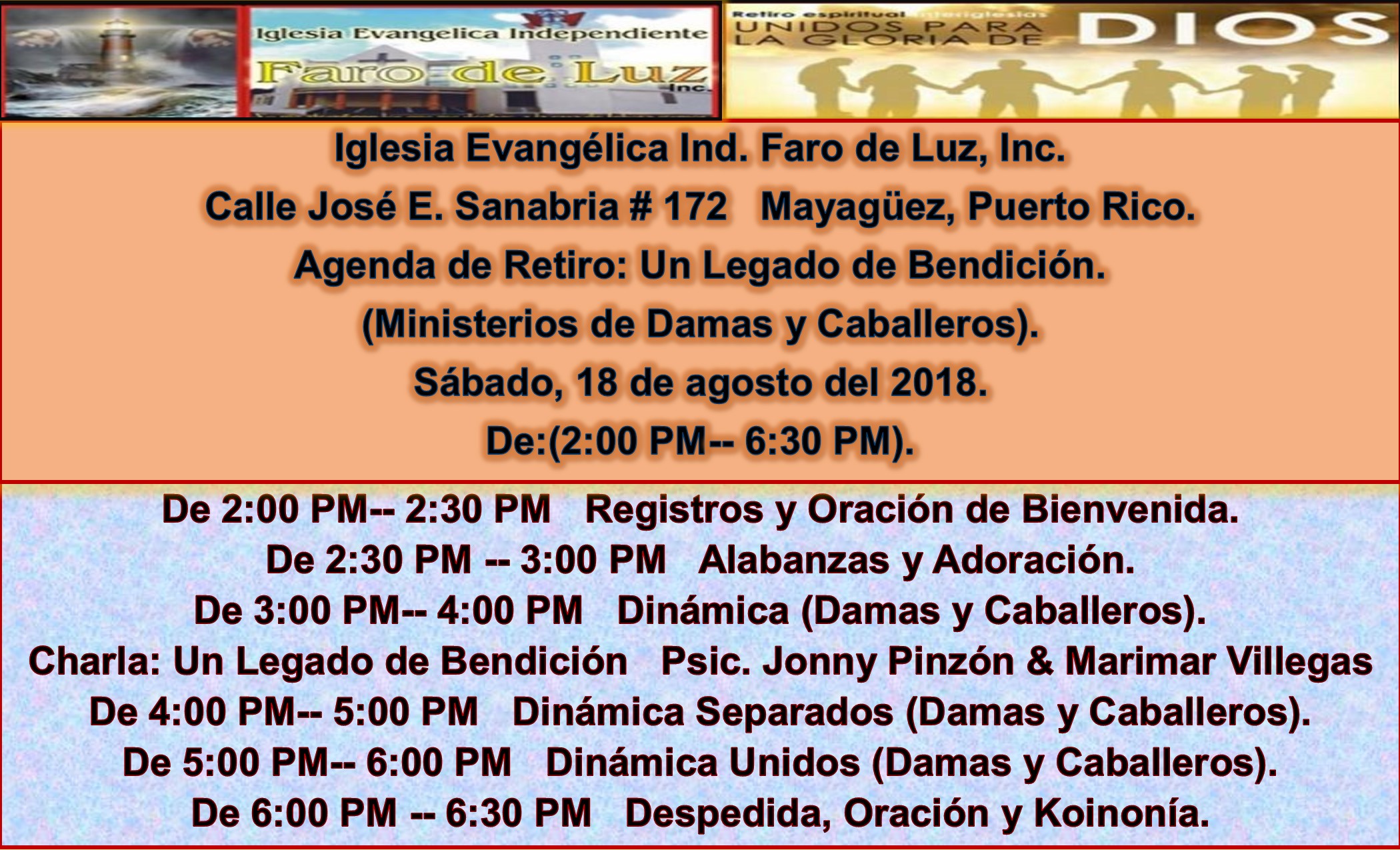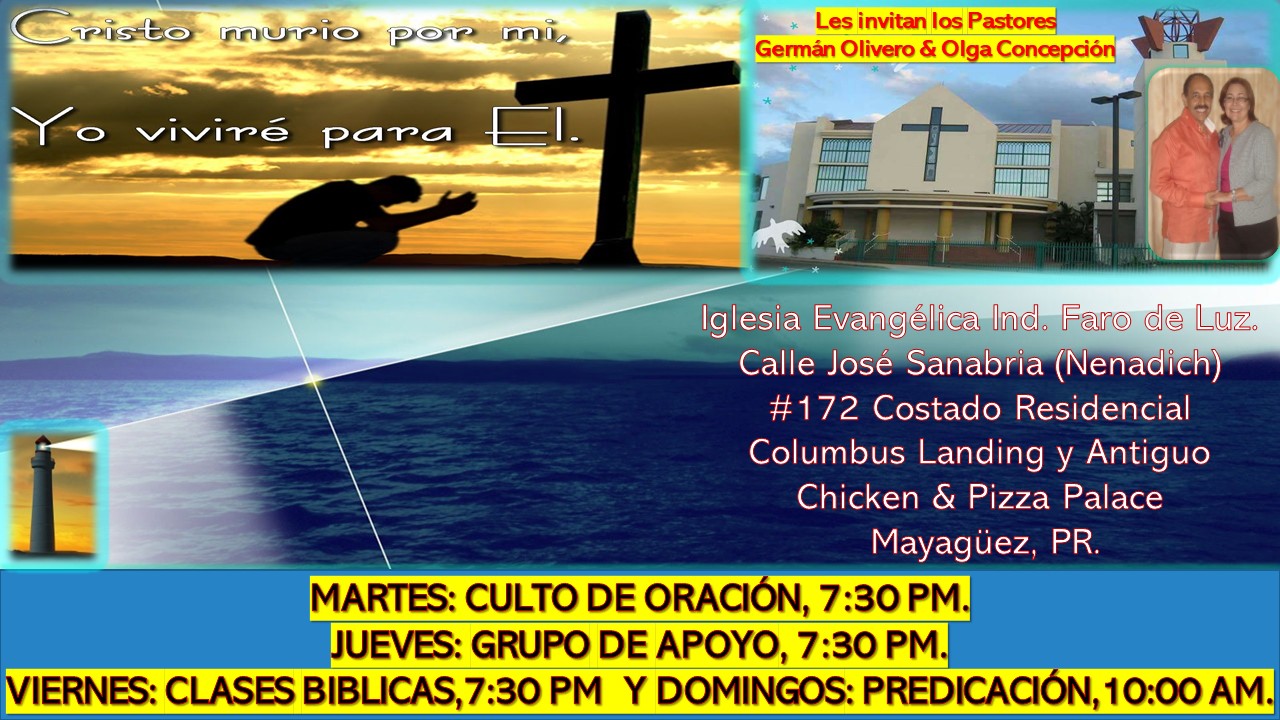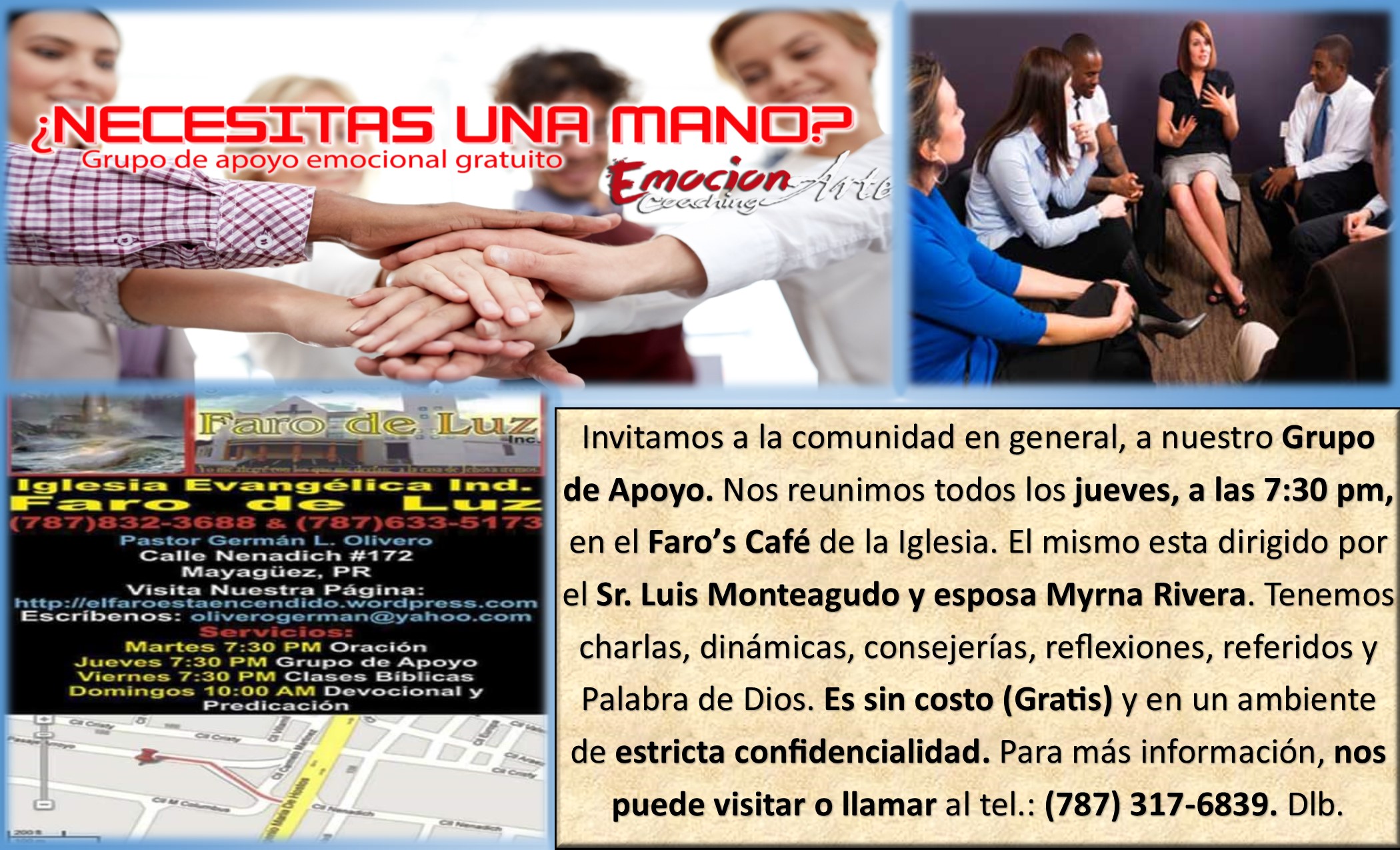 FAQs
What are my transportation/parking options for getting to and from the event?
Tenemos amplio estacionamientos.
What can I bring into the event?
Serán bendecidos en gran manera.
How can I contact the organizer with any questions?
Regístrate e invita a tus amigos y familiares. Entrada libre de costo (GRATIS). No te pierdas esta sensacional bendición. Busca el Reino de Dios y lo demás vendrá por añadidura.

Favor de llamar, para el registro: (787) 633-5173 Pastor Germán Olivero, (787) 633-5174 Pastora Olga Concepción y el (787) 452-8139 Sr. Eric N. Muñiz Villanueva, líder de los Caballeros.

Enlace Relacionado para registrarte por Internet: https://www.eventbrite.com/e/retiro-de-damas-y-caballeros-tickets-43454534683?aff=efbevent

Enlace de video: https://www.youtube.com/watch?v=WbvLkSUuiwI
¡LES ESPERAMOS!