About this Event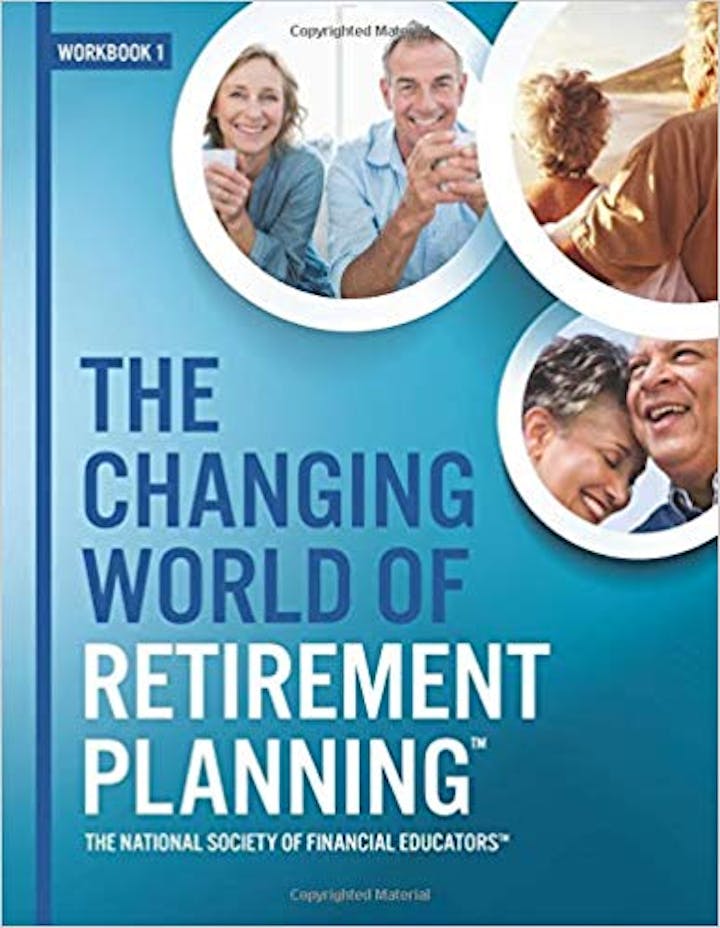 Join us for this very in-depth retirement workshop. From maximizing your Social Security to healthcare in retirement, this class will cover it. All welcomed but limited seating.
This course is sponsored by the Society for Financial Awareness.
You will receive a two-volume set of workbooks. These materials are yours to keep.
We will be having a light breakfast at 8:30 AM and boxed lunches at 11:45 AM.
WHO SHOULD ATTEND THIS COURSE?
Regardless of your stage in the process, you'll learn powerful strategies that will help you build and preserve wealth in volatile times and ensure you do not run out of money in retirement.
This course is designed to help you assess your current financial position, then create a personalized roadmap that helps you achieve your retirement goals.
WHY THIS CLASS MATTERS
Many of the retirement strategies utilized by your parents have grown outdated and may no longer have application for those looking to retire today. This class compares and contrasts the old retirement paradigms of yesteryear and the new paradigms of today as you prepare to retire in the 21st century. You'll discover how to insulate yourself from the risk of rising taxes, protect your Social Security from taxation, and help you avoid common mistakes as you distribute your assets in retirement.
BALANCED FINANCIAL INFORMATION
There's a difference between taking your financial cues from media outlets and learning the basics of retirement planning from trusted, reliable, unbiased sources. This course is designed to give you a comprehensive and plain English financial education, while also exposing various pitfalls and risks that threaten to derail many retirees in the 21st century.
This is purely financial education – no specific products or services will be offered.
YOU WILL LEARN HOW TO:
Determine if you have enough money to retire and stay retired
Avoid retirement distribution pitfalls
Safeguard against stock and bond market losses during retirement
Avoid the three basic pitfalls of retirement distribution planning
Maximize Social Security income and minimize Social Security taxation
Evaluate the benefits of Roth Conversions
Insulate your future income from a rising tax rate environment
How to best address long term healthcare risks and expenses
Determine if your portfolio is truly diversified
Reduce or eliminate unwanted expenses or delays associated with estate planning
COURSE OVERVIEW
RETIRING IN THE 21ST CENTURY
• The old retirement paradigm vs. the new paradigm
• How to create a clear vision for retirement
• Creating a retirement roadmap
• Keys to transitioning to retirement
TAX RATE RISK
• Why experts say tax rates could double
• How rising taxes may affect your retirement cash flow
• The "Catch 22" of 401k's and IRA's
• How lost deductions may affect your taxes in retirement
RETIREMENT INCOME PLANNING
• The three basic retirement accounts
• How to accumulate dollars in the right types of accounts for future retirement income
• What's better for you: tax-deferred or tax-free accounts
• How to define a "true" tax-free investment
• When should you convert to a Roth
• How IRA's and 401k's cause Social Security taxation
• Strategies to reduce or eliminate taxes in retirement
MAXIMIZING SOCIAL SECURITY
• The causes of Social Security taxation
• The Social Security thresholds of which you need to be aware
• The real cost of Social Security taxation
• Strategies to eliminate Social Security taxation
• Social Security maximization strategies
RETIREMENT DISTRIBUTION PITFALLS
• How the new rules on "Rate of Withdrawal" affect you
• How to ensure you won't run out of money in retirement
• How to liquidate your retirement assets in the right order
• How to eliminate "sequence of returns" risk
PROTECTING AGAINST MARKET LOSS
• The impact of dramatic market loss in retirement
• Is "buy and hold" appropriate in retirement
• How to safeguard against two types of investment risk
• How to shield your assets from stock market volatility
• Why "asset allocation" alone may not be enough
• How to truly diversify your retirement portfolio
LONG-TERM CARE PLANNING
• How a long-term care event may affect your retirement
• Medicaid spend-down rules
• Community spouse rules
• The 4 common alternatives to pay for long-term care
• Recent innovations in long-term care planning
For more information about this workshop please call 215-607-3225