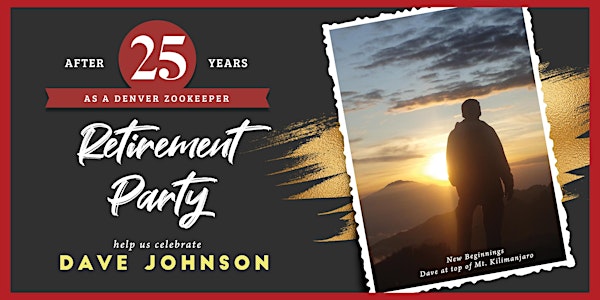 Retirement Party for Dave Johnson
The time has finally come and Dave Johnson is set to retire as a zookeeper and give 100% to growing the KACF.
By Katie Adamson Conservation Fund
Date and time
Thursday, June 1 · 5 - 9pm MDT
Location
Exdo Event Center (formerly ReelWorks Denver) 1399 35th Street Denver, CO 80205
About this event
After 25 years in Denver as a Zookeeper, the time has finally come for Dave Johnson to retire with the freedom to do some really big things. He will be dedicating even more of his time and efforts to endangered animal conservation with the Katie Adamson Conservation Fund and all of the incredible partners it's developed locally and around the world. Dave co-founded the KACF in 2014 and has grown it to a multi-million dollar organization, but only with the help and enthusiasm of every single person reading this right now. For that, we extend an immense THANK YOU!
We hope that you'll join us for a very special evening to honor and celebrate Dave - his career, the relationships he forged with his colleagues at the zoo, and the friendships he has made along the way. Dave is a treasure and is loved by so many. Come and let him know first hand as he embarks on a new journey.
If you would like to share photos, or a memory, please upload anything you wish to send to the following link and we'll do our best to get it on the huge LED screen at the event.
Send your photos and memories here!
Please spread this event far and wide. We look forward to seeing you at this very special celebration.
Thank you.
About the organizer
The Katie Adamson Conservation Fund is a 501 (c)(3) non-profit organization of people who help endangered animals by helping people. It is our conservation imperative.  It was established in 2014 by Zookeeper, Dave Johnson, and Ray Lucero to promote endangered animal conservation initiatives worldwide.

The mission of KACF is to help empower and educate the people of our planet to work together to save our remaining ecosystems and all of the creatures they contain.
The conservation fund is dedicated to the memory of, and named in honor of Katie Adamson.  She will always be remembered for her courage, her sense of humor, and above all her love of all living things. Her spirit will live on in everything we do.
Katie passed away of Ewing's Sarcoma in 2014.