Retired Clergy, Spouses, and Partners Gathering - Tuesday, May 1, 2018
Description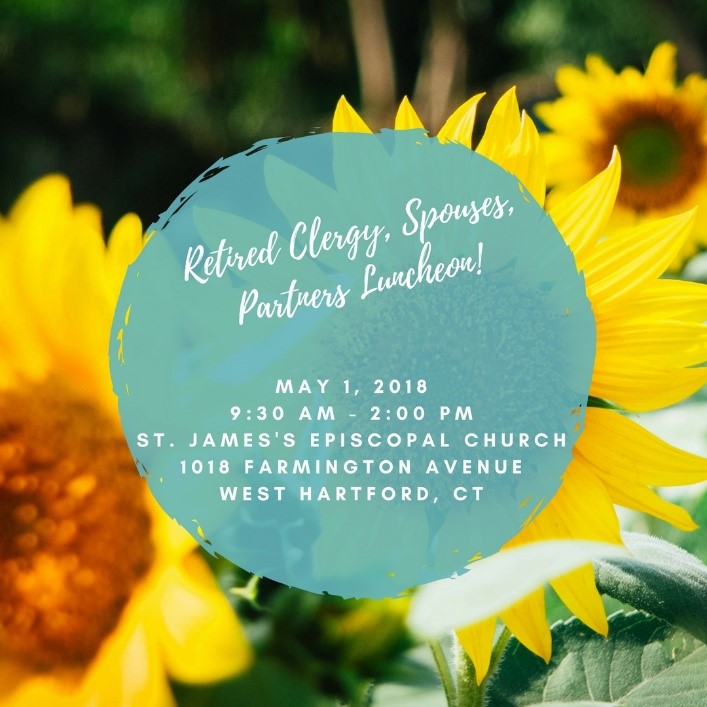 Please register to attend the Retired Clergy, Spouses & Partners Luncheon & Gathering scheduled for Tuesday, May 1, 2018. We very much look forward to seeing you! Following is information regarding our agenda, presenter and luncheon.

Theme for the Day: "Senior Housing and Caregiver possibilities"

9:30 AM Gathering Time (Coffee / Refreshments)

10:00 Welcome from Bishop Ahrens and the Retired Clergy Steering Committee
Holy Eucharist - Preacher The Rev. Robert Stocksdale
11:00 Housing & Caregiver Presentation/Discussion - Amina Weiland develops care plans encompassing effective strategies involving clients with dementia, caregivers and family members to improve the quality of life. She is a certified dementia practitioner, certified dementia care partner and a trained Alzheimer's Caregiver Support Group facilitator as well as a certified CHOICES counselor. She has received multiple awards for her work, including being named a Champion in the Fight to End Alzheimer's Women's Campaign.

Hartford Health Care Center for Healthy Aging is a resource and assessment center designed to enhance access to services and information to attaining optimal quality of life for seniors and their caregivers.
Question and Response
11:45 Funds Available to Retired Clergy (Louis Fuertes, Canon for Mission Finance and Operations)
Retired Clergy Chaplain – Job Application (The Rev. Peter Powell, et. al.)
12:00 PM Lunch and Conversation with the Bishops
1:30 Dismissal
Please RSVP by April 22, 2018 at 11:30 PM, so we have an accurate count for catering purposes.
Thank you and blessings!