Description
Are you ready to serve through your business from a place of causation? Reaching critical mass involves us being in higher synergy forces.
Sonoma County Healing Academy presents "ReThrival" - monthly business luncheons, facilitated by ReThrival
creator, Janet Caliri
and special guest presenters.
Please RSVP your attendance! ALL GENDERS WELCOME!

$10 includes a yummy lunch catered by Community Market, leadership principles, and guest presenter every other month.

NO refunds.



This is a Lunch and Learn so bring something to write with!
~~~~~~~~~~~~~~~~~~~~~~~~~~~~~~~~~~~~~~~~~~~~~
So Co HA, Sonoma County Healing Academy
and
Janet Caliri
have teamed up to bring you solid leadership skills to integrate in your business, ensuring your desired outcome! You'll begin to serve from your highest and best use of time! We are about supporting you being your best selves, living in true flow and integrity to serve more people. Learn skills beyond your desire to implement your ideas. * Sitting in a circle, we have a lively discussion on the imperative of leadership and sprinkle a "how to" structure. This is NOT a networking event although we naturally come together to connect, learn and support.


Janet has over 15 years of leadership training from the very best teachers in leadership principles and transformation. In this series of leadership luncheons, you will develop:
* community (collective Mojo)
* effective communication
Come enjoy delicious food, engage with community, learn and expand our leadership skills!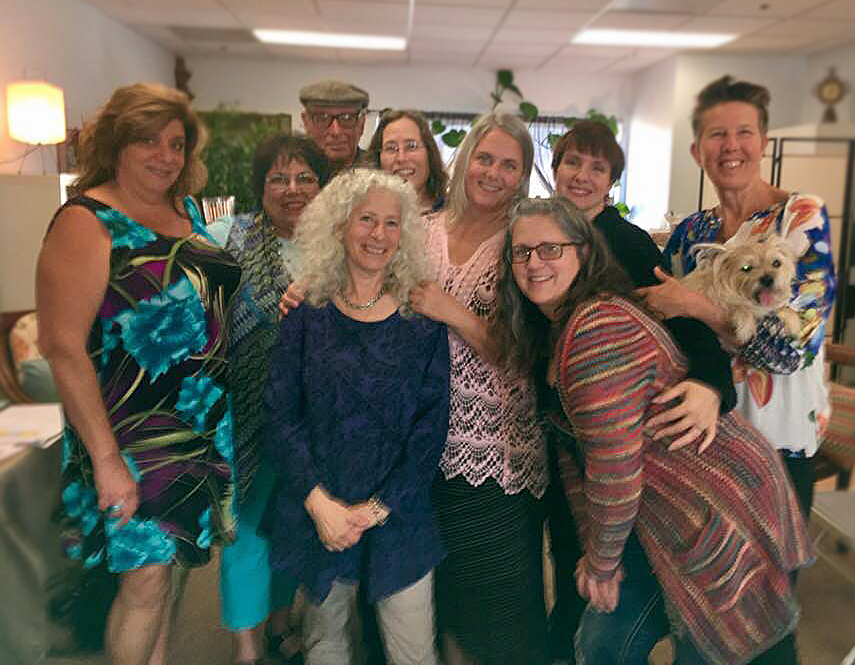 Our topic for this month's Luncheon is:
PLAYFUL MARKETING: Have more fun and get better results
Presented by Guest Speaker Linda Basso.
Successful marketing depends on creativity, experimentation, problem solving, and creating trust. Yet so often, entrepreneurs work on their marketing like it is a very serious endeavor. When we evoke the SPIRIT OF PLAY especially serious play—we invite components that are vital to success: learning, competition, toleration of failure, innovation, and a balanced appreciation of process and outcomes. Get tools you can use to bring play into your marketing today!
Linda Basso is a a straight shooter with a dash of humor and lots of intuitive insight. A transformational leadership coach with a background in marketing, Linda inspires clients to change expectations and perceptions, and step into profound personal power so they can exceed their business goals. Her warm and engaging approach show just how powerful connection and simply being human in our marketing can be. For 23 years Linda's been in the visual design and marketing industry, where she created brands and campaigns for companies like Kimpton Hotels & Restaurants, Domaine Chandon, Jamba Juice, Disney, Coldwell Banker, Xerox, and many small businesses. She's received a Silver ADDY award for her brand work and has helped her clients win many awards, along with placements in publications such as The Wall Street Journal, TIME Magazine, and the front cover of WIRED magazine. Linda holds degrees in graphic arts and leadership and is a certified coach. She happily resides in Sonoma County with her husband and children.
Please RSVP your attendance for lunch headcount. ALL GENDERS WELCOME

& ENCOURAGED!



$10 includes a yummy lunch catered by Crumb Hither, leadership principles, and guest presenter every other month. NO refunds.

FIRST Monday of the month

11:30am: gather, eat and connect
12:00-1:00pm: conversation
Sonoma County Healing Academy
6741 Sebastopol Ave #120-140, Sebastopol, CA
ADD TO YOUR CALENDAR! Upcoming Dates: December 3, January 7, February 4, March 4, April 1, May 6, June 3.

Contact Janet Caliri for more information: 323.252.0963 or janet@janetcaliri.com

Disclaimer: Registrants understand and agree that any photograph, video or audio recording of themselves may be used to further promote ReThrival or Visible Transitions