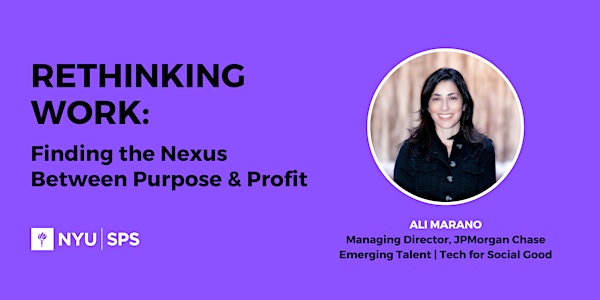 Rethinking Work: Finding the Nexus Between Purpose and Profit
NYU SPS Human Capital Management is hosting a virtual event with special guest Ali Marano, Managing Director at JPMorgan Chase.
About this event
This exciting online event includes a special talk by Ali Marano, Global Head of Tech for Social Good and Firm-wide Emerging Talent at JPMorgan Chase, followed by a Q&A forum facilitated by Dr. Anna Tavis, Academic Director of the Human Capital Management Department at the NYU School of Professional Studies.
FINDING THE NEXUS BETWEEN PURPOSE & PROFIT
We have never faced a more competitive job market. Current employees and future talent are evaluating every aspect of potential opportunities – from paycheck to purpose-filled work. Employees and future talent want, and can have, it all. The employment experience has never been more important.
It is critical to recognize that long-term business success depends on community success. Employees, customers and clients want to make a meaningful impact and know that the company where they work does good in the world. Purpose becomes a source of pride and a key factor in talent and business attraction and retention. Join us for an engaging discussion on what this work looks like at JPMorgan Chase and beyond.
ABOUT THE SPEAKER
Ali Marano is a global social impact leader whose career spans both the business and social sectors and has deep experience in finding and leveraging the nexus between profit and purpose. She currently leads Tech for Social Good and the Firmwide Emerging Talent programs – a combined global social impact practice at JPMorgan Chase (JPMC) that designs and delivers innovative programming to support local communities. The practice enables JPMC to be a good corporate citizen, while creating value for the firm and providing engaging experiences for JPMorgan Chase employees.
Ali founded Tech for Social Good in 2010 and has grown the practice into a suite of offerings that meets the needs of a broad stakeholder network, both internally and externally. Key offerings include Social Good Hackathons, Force for Good where JPMC leverages the skills of the workforce to build fully deployable and sustainable solutions for socially focused organizations, Emerging Talent which collaborate with the community to welcome and support individuals through alternative career programming that leads to family-sustaining jobs and addresses niche skill gaps, Youth initiatives, as well as a DE&I Engagement team to manage partnerships with DE&I organizations that connect staff to conferences, memberships, and awards.
Ali started her career as a documentary filmmaker focused on social issues and then worked as a consultant at Accenture. While at Accenture, she became an executive on loan to NPower, a new nonprofit providing technology services to nonprofit organizations, as well as workforce development solutions for junior tech talent. In the fall of 2000, she left Accenture and joined NPower full-time, where she focused on finding strategic ways to engage corporations in the work of the nonprofit community. At NPower she co-created an online volunteer matching portal connecting nonprofits' technology needs with skilled corporate volunteers. This portal became the inspiration for the Tech for Social Good program. Ali sits on several boards in the Tech for Good space including BreakThrough Tech, CareerWise NY, NY, and the NYC Tech Talent Pipeline. Ali graduated from the University of Buffalo with a degree in International Business and Spanish.