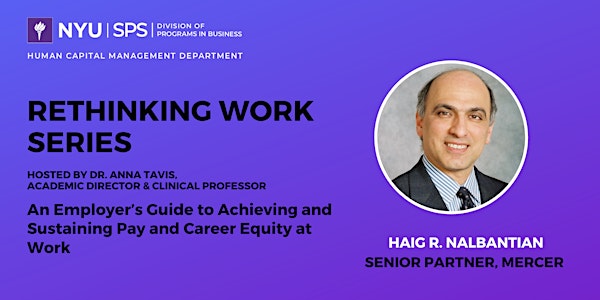 Rethinking Work: Achieving and Sustaining Pay and Career Equity at Work
NYU SPS Human Capital Management is hosting a virtual event with special guest, Haig R. Nalbantian, Senior Partner at Mercer
About this event
This exciting online event includes a special talk by Haig R. Nalbantian, Senior Partner at Mercer and Founder of Mercer's Workforce Sciences Institute, followed by a Q&A forum facilitated by Dr. Anna Tavis, Academic Director of the Human Capital Management Department at the NYU School of Professional Studies.
AN EMPLOYER'S GUIDE TO ACHIEVING AND SUSTAINING PAY AND CAREER EQUITY AT WORK
As investors focus their attention on companies that contribute to advancing equity and social justice, organizations are finding strong economic incentives for making diversity, equity and inclusion (DEI) a core business priority. Achieving and sustaining career and pay equity for women and people of color at work helps companies enhance workforce diversity and equity and deliver stronger business performance over the long term.
In this talk based on his newly published white paper, "An Employer's Guide to Achieving and Sustaining Pay and Career Equity at Work", Senior Partner at Mercer and a Founder of Mercer's Workforce Sciences Institute, Haig R. Nalbantian will provide insights on what employers can do to systematically remove these hurdles and accelerate the journey toward a more diverse workforce and equitable, inclusive workplace in a productive and sustainable way.
ABOUT THE SPEAKER
Haig R. Nalbantian is a Senior Partner at Mercer and a founder/leader of Mercer's Workforce Sciences Institute. A labor /organizational economist, he has been instrumental in developing Mercer's unique capability to measure the economic impact of human capital management in organizations. Those capabilities have been applied in numerous projects he has directed for leading companies in the U.S. and abroad, covering many different industries, including energy, high technology, manufacturing, consumer products, financial services, media and information services, telecommunications, and professional services. In over thirty years of consulting, Haig has worked with many high-profile organizations to introduce or strengthen their use of evidence-based human capital management across a broad range of areas, including workforce strategy and planning, total rewards, leadership development, productivity enhancement, retention strategies, pay equity, diversity, equity & inclusion strategies, among others. In recognition of his work, he was named one of Consulting® magazine's 2019 Top 25 Consultants for "Excellence in Client Service."
Haig came to Mercer from National Economic Research Associates which he joined in 1989. Earlier, he was on the faculty of economics at New York University and was a research scientist at its C.V. Starr Center for Applied Economics. A pioneer in the development of the emerging discipline of Workforce Sciences, he is an internationally recognized expert in incentive economics, rewards strategy and compensation design, human capital measurement and management and their links to organizational performance.
Haig earned his BA in English and Economics at New York University and his graduate degrees in economics from Columbia University. He is a member of the American Economic Association.
For more details on the NYU SPS Human Capital Management Department, check out our programs here and follow us on LinkedIn!