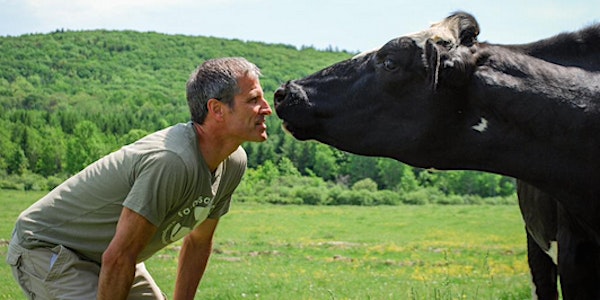 Rethinking the Food System in a Time of Eco Crisis: An Evening w/ Gene Baur
Rethinking the Food System in a Time of Eco Crisis: An Evening with Gene Baur & Mona Seymour
When and where
Location
Irvine United Congregational Church 4915 Alton Parkway Irvine, CA 92604
Refund Policy
Contact the organizer to request a refund.
Eventbrite's fee is nonrefundable.
About this event
Update 11/3: Please make sure to register before Eventbrite goes offline 12:00PM MONDAY NOVEMBER 4. (Walk ins will be admitted according to available space.) Doors open / check in starts at 6:15PM. Please note: no food or beverage are permitted inside the venue.
Update 10/22: We are very excited that Mona Seymour has joined the November 4 program to discuss veganic farming! Scroll down to read more about her.
HUMAN * NON-HUMAN * PLANET EARTH
Rethinking the Food System in a Time of Eco Crisis:
An Evening with Gene Baur & Mona Seymour
Monday, November 4, 2019
6:30pm - 8:30pm (Doors open: 6:15pm)
FREE ADMISSION
($5 - $10 Suggested donation appreciated.)
...
About Gene Baur:
Gene Baur has been hailed as "the conscience of the food movement" by Time magazine. Since the mid-1980s, he has traveled extensively, campaigning to raise awareness about the abuses of industrialized factory farming and our system of cheap food production.
A pioneer in the field of undercover investigations and farm animal rescue, Gene has visited hundreds of farms, stockyards, and slaughterhouses, documenting the deplorable conditions. His pictures and videos exposing factory farming cruelties have aired nationally and internationally, educating millions about the plight of modern farm animals, and his rescue work inspired an international farm sanctuary movement.
Gene has also testified in courts and before local, state, and federal legislative bodies, advocating for better conditions for farm animals. His most important achievements include winning the first-ever cruelty conviction at a U.S. stockyard and introducing the first U.S. laws to prohibit cruel farming confinement methods in Florida, Arizona, and California. His efforts have been covered by top news organizations, including The New York Times, Los Angeles Times, Chicago Tribune, and The Wall Street Journal. Gene has published two bestsellers, Farm Sanctuary: Changing Hearts and Minds About Animals and Food (Scribner, 2008) and Living the Farm Sanctuary Life (Rodale, 2015), which he co-authored with Forks Over Knives author Gene Stone. Through his writing and his international speaking engagements, Gene provides simple, actionable solutions coupled with a compassion-first approach to help us be the change we wish to see in the treatment of animals and our food system.
Gene began his activist career selling veggie hot dogs out of a VW van at Grateful Dead concerts to fund farm animal rescues. Today, he serves as president of Farm Sanctuary, the nation's leading farm animal protection organization, with shelters in New York and California. Providing rescue, refuge, and adoption for hundreds of farm animals each year, Farm Sanctuary shelters enable visitors to connect with farm animals as emotional, intelligent individuals. Gene believes these animals stand as ambassadors for the billions of factory farm animals who have no voice, and he has dedicated his career to advocating on their behalf. Gene holds a bachelor's degree in sociology from California State University, Northridge, and a master's degree in agricultural economics from Cornell University. He was recently named one of Oprah Winfrey's SuperSoul 100 Givers.
About Mona Seymour:
Mona Seymour is an Associate Professor of Urban and Environmental Studies at Loyola Marymount University.
Her research interests broadly concern the relationships between veganism/animal liberation and agrifood movements. She is currently working on a project on veganic farming in the United States in collaboration with Alisha Utter at the University of Vermont. The project focuses on the values, experiences, and farming practices of US veganic growers. Her past research has explored urban sustainability planning and green infrastructure, with particular attention to alleyway revitalization and greenspace planning.
Partners: