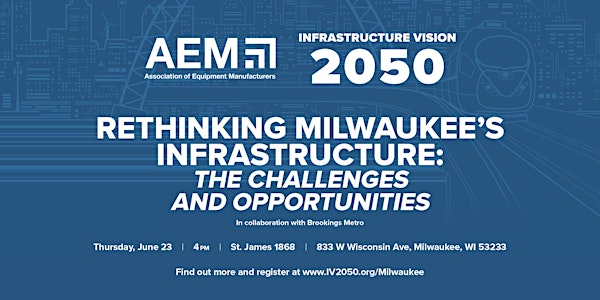 Rethinking Milwaukee's Infrastructure: The Challenges and Opportunities
Location
St. James 1868 | Milwaukee Event & Wedding Venue
833 West Wisconsin Avenue
Milwaukee, WI 53233
Rethinking Milwaukee's Infrastructure: The Challenges and Opportunities
About this event
Following decades of lagging investment, two landmark federal laws (the American Rescue Plan and the Infrastructure Investment and Jobs Act) will allow cities and states to execute significant investments in their built environment. For older industrial communities like Milwaukee, this is a generational opportunity to modernize legacy transportation and water systems long suffering from disrepair. Now, the pressure is on local leaders, private sector partners, and the civic community to select their priority projects, explore new kinds of durable technologies, and use that vision to build public trust for their capital campaigns.
The event will begin with a fireside chat, featuring City of Milwaukee Mayor Cavalier Johnson and Vice President and Director of Brookings Metro Amy Liu.
Following the fireside chat, Adie Tomer, Senior Fellow at the Brookings Institution, will moderate a panel of local and civic leaders who are leveraging the American Rescue Plan (ARP) and the Infrastructure Investment and Jobs Act (IIJA) to address the challenges and opportunities for infrastructure modernization in their region.
Confirmed Speakers:
Mayor Cavalier Johnson, City of Milwaukee
Lafayette Crump, Commissioner, Milwaukee Department of City Development
Kathryn J. Dunn, Senior Vice President and Chief Strategy Officer, Greater Milwaukee Foundation
Amy Liu, Vice President and Executive Director, Brookings Metro
Kevin Shafer, Executive Director, Milwaukee Metropolitan Sewerage District
Tim Sheehy, President, Metropolitan Milwaukee Association of Commerce
Adie Tomer, Senior Fellow, Brookings Institution
Following the speaking program, join us for a cocktail reception to keep the conversations going.