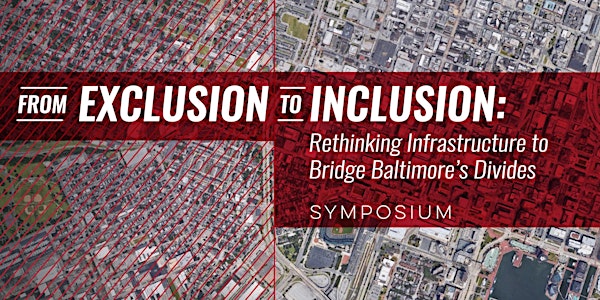 Rethinking Infrastructure to Bridge Baltimore's Divides
When and where
Location
1100 Wicomico 1100 Wicomico Street Baltimore, MD 21230
Description
From Exclusion to Inclusion:
Rethinking Infrastructure to Bridge Baltimore's Divides
A one-day symposium in Pigtown that traces the impact of policies and design practices that reinforced segregation and disparity in Baltimore — focusing on infrastructure like roads, streetscape, and transit — and envisions a better way forward for the MLK, Jr. Boulevard corridor.
The symposium is followed by another event: an evening networking reception that serves as the exhibition opening. The reception is free and open to a broader audience.

Advance registration required.
This event is part of AIA Baltimore's 2019 Architecture Month.
6.0 AIA/CES LU credits available for AIA members attending the full-day symposium.
There are 3 companion exhibits:
Undesign the Redline by Designing the WE.

JUST Baltimore and JUST Rotterdam — Graduate architecture student work by

RAvB

and MSU SA+P centered on Pigtown in Baltimore and Hillesluis in Rotterdam.
International PARK(ing) Day Designs

—

MSU SA+P student proposals for installations near MLK Boulevard.



Exhibits are free and open to the public from October 7-14, 2019, weekdays 9am-5pm. More info about the exhibits
---
TICKET OPTIONS FOR OCT 10

Symposium - Neighborhood Resident - Full Day - FREE
(Morning session, lunch, afternoon session. Followed by reception.)
If you come to the symposium as a resident from a neighborhood, symposium admission is free.

Symposium - Full Day - $35
(Fee covers morning session, lunch, afternoon session. Reception is free.)
If you are not coming to this symposium as a representative from a neighborhood, there is a modest fee for the symposium to help cover the costs of holding this event.

Symposium - Afternoon Only - $20
(Fee covers afternoon session. Reception is free.)

Reception Only - FREE
(Choose this option if you are only attending the free reception, 6-7:30pm)

Student Rate for Symposium - $10
(Fee covers morning session, lunch, afternoon session. Reception is free.)

Advance registration required.
Free symposium tickets available for organizations based on need — contact event organizer for details.
OK to bring your children if needed—please register them on the form and put "child" as their job title. Note the event is geared to adults.

The building is handicapped accessible.
---
SYMPOSIUM DETAILS

The symposium looks at how streetscape functions as powerful "lines" that can separate people or facilitate accessibility. Focus is on MLK Boulevard.

The symposium provides a dialogue format where community representatives can share their insights and visions with architects (professionals and students) and urban planners, researchers, and academics. Expected participants include reps from Pigtown, Barre Circle, Heritage Crossing, Towns at the Terraces, Franklin Square, Ridgely's Delight, Union Square, and more. Attendees also expected to include reps from Baltimore Department of Transportation, Department of Planning, University of Maryland Baltimore, Southwest Partnership, South Baltimore Gateway Partnership, and elected officials.
The symposium intends to further the conversation in Baltimore about how to encourage spatial improvements that help communities thrive and attract newcomers while avoiding displacement of the current residents. The symposium aims to make people more aware of historical and more recent planning decisions that reinforced segregation and inequity — so that they can serve as lessons to avoid for the future. It aims to inspire us to redesign streetscapes thoughtfully to remediate the damage done, and teach the next generation of architects about community-centered design practices. And there will be some fresh perspectives from Rotterdam, one of Baltimore's international sister cities.
This event builds upon a previous symposium held at MSU SA+P this past April about the history and consequences of redlining in Baltimore. The October 10 symposium pinpoints MLK Blvd as one of the many tools used to segregate communities.
SPEAKERS
Community representatives from the MLK Blvd corridor • April de Simone from Designing the WE • Antero Pietila, Author of Not in My Neighborhood: How Bigotry Shaped a Great American City • Nneka N'namdi, Flight Blight B'more • Wouter Veldhuis, Rotterdam Academy of Architecture and Urban Design • Amanda Phillips de Lucas, Cary Institute of Ecosystem Studies • Klaus Philipsen, Archplan • Seema Iyer, Baltimore Neighborhoods Indicators Alliance-Jacob France Institute • and more. (List is subject to change)
SESSIONS
Participants can choose to attend the full day or just the afternoon session.
Morning session & lunch (8:30am-1:00pm; doors open at 8:00am) — We'll look at how policies and practices such as redlining and road infrastructure planning created systematic disparities and inequalities in US cities and how this was manifested in Baltimore, zooming into the region where MLK Boulevard was constructed. We'll get some perspectives from Rotterdam.

Afternoon session (1:00pm-6:00pm) — Communities from the MLK corridor region will share their stories of living along the MLK Boulevard "urban freeway" and the formidable barrier it poses for the surrounding neighborhoods, and share their visions for a better future in the corridor. We'll discuss examples of interventions that can bring improvements to the streetscape.

Draft detailed program with speakers & activities (PDF)

We are planning to document the symposium via video.
hashtag for this event:
#bridgethedivide
---
EVENING RECEPTION
Free reception, 6:00pm - 7:30pm, with welcome remarks at 6:30pm from event organizers and 1100 Wicomico building host.

The reception follows the daytime symposium and serves as the opening for the 3 companion exhibits. It is open to a larger audience than the symposium.

Network with the speakers and participants from the symposium and other people from across our city and the Baltimore Sister Cities network! Enjoy delicious vegan appetizers from Pigtown's The Greener Kitchen and Dutch treats from our sister city of Rotterdam while viewing the exhibits.
---
ORGANIZED BY
Cristina Murphy, Assistant Professor, Morgan State University, School of Architecture + Planning (MSU SA+P) & Co-Founder and Architect Associate, XCOOP
With assistance from Baltimore-Rotterdam Sister City Committee (BRSCC)
PARTNERS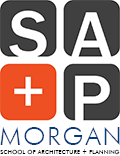 SYMPOSIUM FINANCIAL SPONSORSHIPS - PLATINUM LEVEL


SYMPOSIUM FINANCIAL SPONSORSHIPS - GOLD LEVEL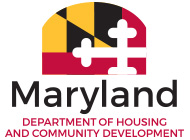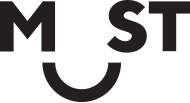 SYMPOSIUM FINANCIAL SPONSORSHIPS - SILVER LEVEL



RECEPTION SPONSOR