Description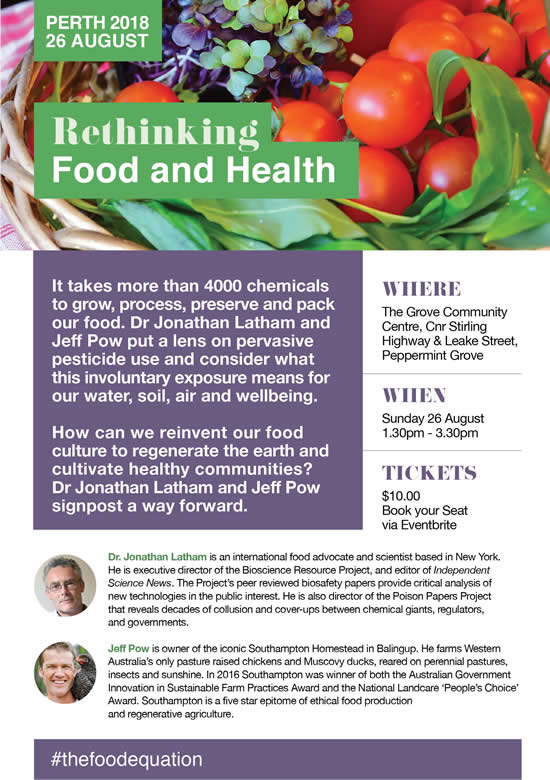 It takes more than 4000 chemicals to grow, process, preserve and pack our food. Dr Jonathan Latham and Jeff Pow put a lens on pervasive pesticide use and consider what this involuntary exposure means for our water, soil, air and wellbeing.
What makes an ethical food future? What kind of agriculture can Australia sustain? Industrial and monoculture agriculture are key drivers of environmental destruction, from rainforests to reefs, and water supplies to climate change.
Dr Jonathan Latham and Jeff Pow will also discuss how regenerative agriculture can turn farming economies around and revitalise rural communities.
This forum will interest food buyers, farmers, backyard gardeners, health workers, policy makers and leading thinkers.
Dr Jonathan Latham is an international food advocate and scientist based in New York. He is executive director of the Bioscience Resource Project, and editor of Independent Science News. The Project's peer reviewed biosafety papers provide critical analysis of new technologies in the public interest. He is also director of the Poison Papers Project revealing decades of collusion and cover-ups between chemical giants, regulators and governments. Dr Latham has published scientific papers in diverse disciplines as plant ecology, plant virology, toxicology, genetics, and genetic engineering. He talks frequently at scientific and regulatory conferences, and has written for Truthout, Salon, MIT Technology Review, Resilience and The Guardian.
Jeff Pow is owner of the iconic Southampton Homestead in Balingup. He farms Western Australia's only pasture raised Muscovy ducks and chickens, reared on perennial pastures, insects and sunshine. In 2016 Southampton Homestead was winner of both the Australian Government Innovation in Sustainable Farm Practices Award; and the National Landcare 'People's Choice' Award. Southampton is a five star epitome of ethical food production and regenerative agriculture.