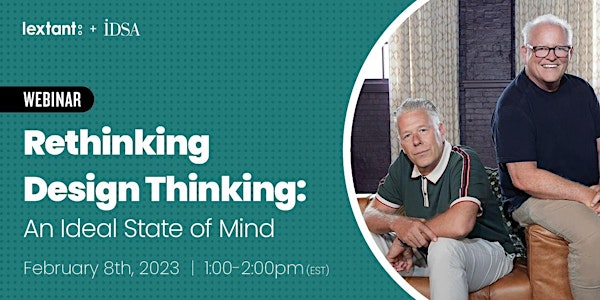 Rethinking Design Thinking: An Ideal State of Mind
Join Lextant's Marty Gage and Spencer Murrell for a deep dive into design research with the Industrial Designers Society of America (IDSA).
By IDSA Design Research Section
Date and time
Wednesday, February 8 · 10 - 11am PST
About this event
Marty Gage and Spencer Murrell have worked side by side for the last 33 years in the fuzzy front end of design. Their new book "User Experience Research: Discover What Customers Really Want" is the culmination of decades of experimentation and market validation to develop a foolproof process that addresses the shortcomings of the first phase of Design Thinking.
Using six key principles, Gage and Murrell will demonstrate how to connect users' desired emotional states to an actionable articulation of an ideal experience and illustrate how this method has led to award-winning outcomes for some of the world's leading brands.
Agenda
Welcome and Introduction - 5 min
Presentation - 30 min
Questions and discussion - 25 min
Marty Gage
Marty is a generative research pioneer, serial entrepreneur, and Lextant's VP of Design Research. He leads a team that defines people's desired experiences, and his research has produced business value for leading brands, including P&G, Kohler, Microsoft, HP, Dell, Whirlpool, Ford, GM, Stellantis, Lowe's, GE, Pfizer, among others.
Spencer Murrell
As VP of Insight Translation, Spencer and his team play a pivotal role in the design research process at precisely the moment it matters most: when research findings are synthesized. His methods have provided design direction and common language for numerous leading brands, including Honda, GM, Stellantis, Stryker Medical, GSK, Samsung Electronics, Nationwide Insurance, Grange Insurance, Cardinal Health, Conagra, and others.