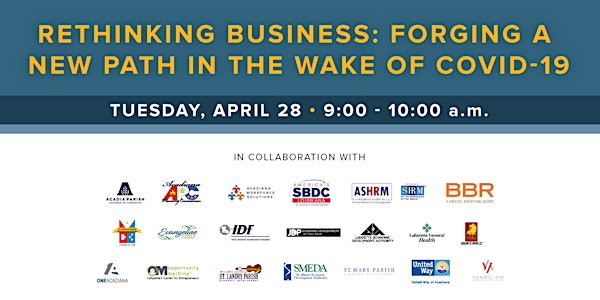 Rethinking Business: Forging a New Path in the Wake of COVID-19
Acadiana business resource partners are hosting a series of webinars on timely and relevant topics in response to COVID-19.
About this event
Join us for a conversation with business and marketing experts about how businesses can embrace innovation and creativity to sustain their operations and support economic recovery.
Date / Time:
Presenters:
Cherie Hebert, BBR
Destin Ortego, Opportunity Machine
Cian Robinson, Lafayette General Health
Missy Rogers, Noble Plastics
Whether in business or marketing, businesses are having to get creative and think outside of the box to sustain their operations in the wake of COVID-19. How might you think outside of the box for your business? Hear from business and marketing experts and learn about practical examples of businesses pivoting their operations. This conversational webinar aims to spark creativity and problem-solving to ensure business sustainability and support our community's economic recovery.
Notes:
Due to system limitations, the live webinar will be limited to 250 participants, but it will be recorded and widely shared by partner organizations afterwards
We will allow for Q&A but might not have time to take all questions. All questions will be recorded, however, and we will work to provide timely responses
If we reach the registration limit before you are able to register, you can access the video shortly after the webinar ends at: oneacadiana.org/covid-19-resources