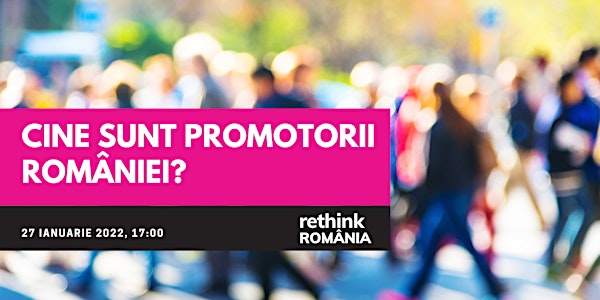 Rethink Romania - Cine sunt promotorii Romaniei?
Cine sunt românii care promovează România ca ţară în care să traieşti? Ce îi diferenţiază de detractori? Află totul pe 27 ianuarie!
About this event
Reputația unei țări poate influența orice - de la politica externă şi investiții străine şi până la dorinţa oamenilor de a o vizita sau locui acolo.
În contextul în care nu avem o strategie coerentă de marketing de ţară, am vrut să aflăm câţi dintre români ar recomanda România ca ţară în care să trăieşti, cine sunt promotorii ei, unde este trasă linia de demarcaţie între promotori şi rezervaţi şi care sunt diferenţele dintre aceştia. Vom afla cine sunt aceştia răspunzând la întrebări precum:
o Cum arată profilul lor socio-demografic?
o Ce valori şi ce frici au in viaţă ?
o Cum arată încredere în ei inşişi, în cei din jur și relaționarea cu ceilalti?
o Care este calitatea vieţii lor? Cât de mulţumiţi sunt de venitul lor, de locuinţa lor sau de relaţiile personale?
o Cum evaluează ei România ca ţară în care să trăieşti?
o În ce măsură recomandă produsele şi serviciile româneşti? Unde îşi fac vacanţele?
o Ce intenţie de emigrare există în rândul lor? Dacă doresc să plece, e un plan definitiv sau vor să se întoarcă în România?
o Sunt mai mulţi sau mai puţini promotori în rândul publicului Pareto? Cum arată portretul unui promotor din segmentul Pareto?
Când? Pe 27 ianuarie 2022, ora 17:00.
Agenda evenimentului:
• Intro - Dragoş Anastasiu, Preşedinte Rethink Romania
• Prezentarea rezultatelor studiului – Manuela Mancaş, fondator AHA Moments şi membru Rethink Romania,
• Panel "Cine sunt promotorii României?".
• Q&A.
Invitaţi:
• Sorin Cace, doctor în sociologie şi economie, Director Adjunct Institutul de Cercetare a Calităţii Vieţii,
• Victor Rotariu, Psiholog, Head of Strategy and Insights GroupM,
• Alina Inayeh, Director German Marshall Fund of the United States Bucureşti,
• David Timiş, Global Communications Manager Generation şi membru Rethink Romania,
• Felix Pătrăşcanu, fondator FAN Courier, Repatriot şi Rethink Romania.
Moderator - Moise Guran, jurnalist.
Despre Rethink Romania
Rethink Romania este o inițiativă a unor antreprenori care cred că, în ultimii 30 de ani, România nu şi-a atins potenţialul şi care s-au hotărât să schimbe acest model, pentru ca următorii 30 de ani să fie mai productivi, iar viitorul copiilor noştri mai sănătos.
Credem că România poate avea o altă traiectorie, mai bună. Știm de ce are nevoie România: de idei pentru mâine. Putem să aducem împreună personalitățile României pentru a contribui cu răspunsuri și soluții la întrebarea care ne preocupă pe toți: ce trebuie să schimbăm astăzi astfel încât România 2050 să fie mai aproape de ceea ce ne dorim cu toții să fie?
Te aşteptăm alături de noi!