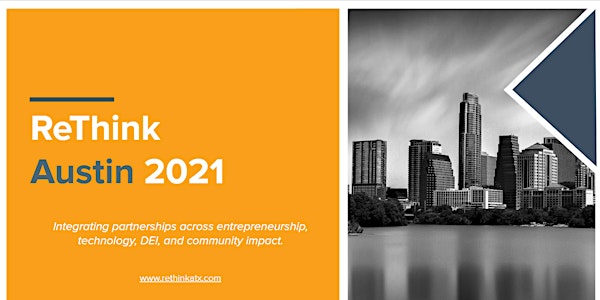 ReThink Austin 2021
Let's get past just talking about societal problems and focus on implementing long-lasting solutions.
About this event
Join Austin Urban Technology Movement (AUTM) and Harlem Labs on March 20th for ReThink Austin 2021!
You don't want to miss this session where we're connecting organizations and individuals from various industries to share expertise, initiatives, and resources that support entrepreneurship, technology, diversity, equity, and inclusion (DEI), and community impact.
With the spread of COVID-19 negatively impacting our most vulnerable communities and highlighting the inequities within Central Texas, ReThink Austin will happen on a quarterly basis presenting solutions to the skills gap, wealth gap, and digital divide.
Our first panel will focus on integrating partnerships around DEI and how you can collaborate with other entities and individuals to increase diversity, equity, and inclusion.
Save the date on your calendar and get ready to be a part of the solution!
About ReThink Austin:
ReThink Austin was created in 2019 to cultivate a diverse community across the realms of entrepreneurship, technology, diversity, equity, and inclusion, and community impact. This fundraiser supports AUTM's Awareness-to-Employment Pipeline for closing the wealth gap and increasing diversity in tech.
You can learn more at www.rethinkatx.com.
ReThink Austin 2021 Speakers:
Andréa Long, Senior Manager, Diversity Recruiting Partnerships, DoorDash