Location
Red Rooster
920 NW 2nd Ave
Miami, FL 33136
A recurring tech mixer for any professional responsible for planning, designing, building, buying, and selling real estate IRL/URL.
About this event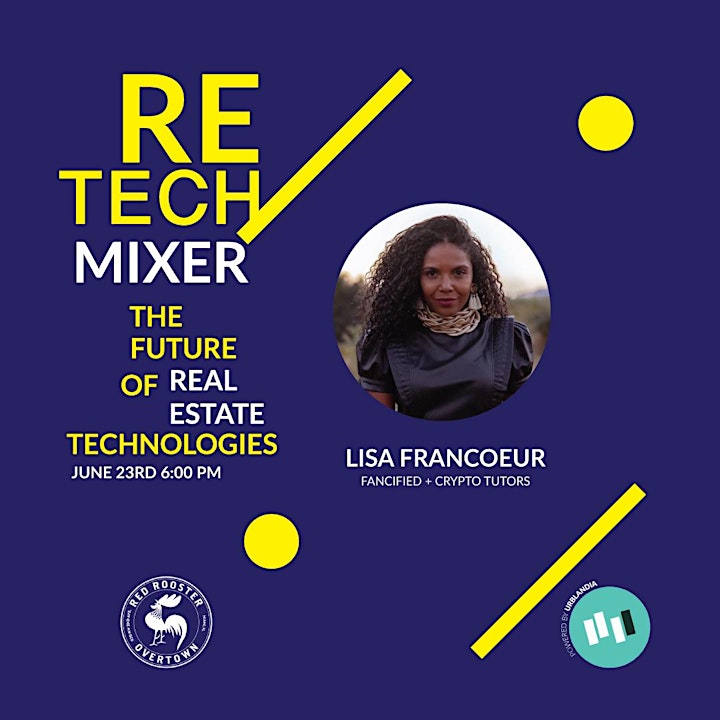 RE/TECH MIXER is a recurring tech event designed for any professional and community member responsible for planning, designing, developing, building, buying, and selling real estate IRL/URL. We aim to help educate and solve for equitable neighborhoods through conscious redevelopment and collaboration; applying technological advances whenever possible.
Featured guest speaker: Lisa Francoeur, Crypto Tutors
Lisa Francoeur is a proud Haitian American hailing from NYC but now resides in Miami by way of the bay! Lisa is a seasoned tech vet with 10+ years in the industry as an enterprise SaaS (software as a service) seller who also helped pioneer NYC's tech ecosystem aka "Silicon Alley" and spent the majority of her career at LinkedIn.
As a champion of diversity, equity, equality, and inclusion Lisa's interviewed CEOs of multi-billion dollar companies including the CEO of Slack, Stewart Butterfield, CEO of Snapchat, Evan Spiegel asking them tough questions about their DEEI strategies in addition to picking their brain about scaling multi-billion dollar businesses!
Lisa is a futurist who believes that crypto and the underlying blockchain tech offer one of the most viable means for marginalized communities to close the economic wealth gap. Her passion for education led her to co-found a crypto tutoring company called Crypto Tutors where the mission is to "simplify crypto thru eLearning, 1:1 tutoring, edutaining content and through the largest diversity web3 conference called Crypto for the Culture " that can be applied in actionable ways to transform knowledge into wealth. Crypto Tutors has partnered with Block (formerly Square), Visa, Gemini, Coinbase, A16Z and will be the recipient of a webd3 education award at the largest crypto conference in the world called Consensus in June, 2022.
Lisa is a board member of the Vibranium Network; a decentralized closed loop economy using blockchain technology and cryptocurrency to drive economic empowerment uniting Africans and the diaspora globally. She is also the founder of Fancyfied; an innovation lab of human engineering who's methodologies around unlearning limitations have been rolled out by Salesforce, Microsoft, DoorDash, Facebook, LinkedIn, AMC Networks.
----
Whether your assets are physical (real estate) or in the metaverses a la Web3, join us and connect during this happy hour networker and educational programming series. We meet bi-monthly.
Who should attend?
General Contractors
Real Estate Finance
Planners
Architects
Policymakers
Anyone who has anything to do with creating the built environment and empowering communities :)
Schedule: 6:00PM - 9:00PM (Mixer + Fireside chat + Networking)
Location: Red Rooster (Overtown Miami)