#RetailTechSummit: "FUTURE SHOPPING" - Innovation & Investment

Sunday, March 2, 2014 from 1:00 PM to 5:00 PM (PST)
Event Details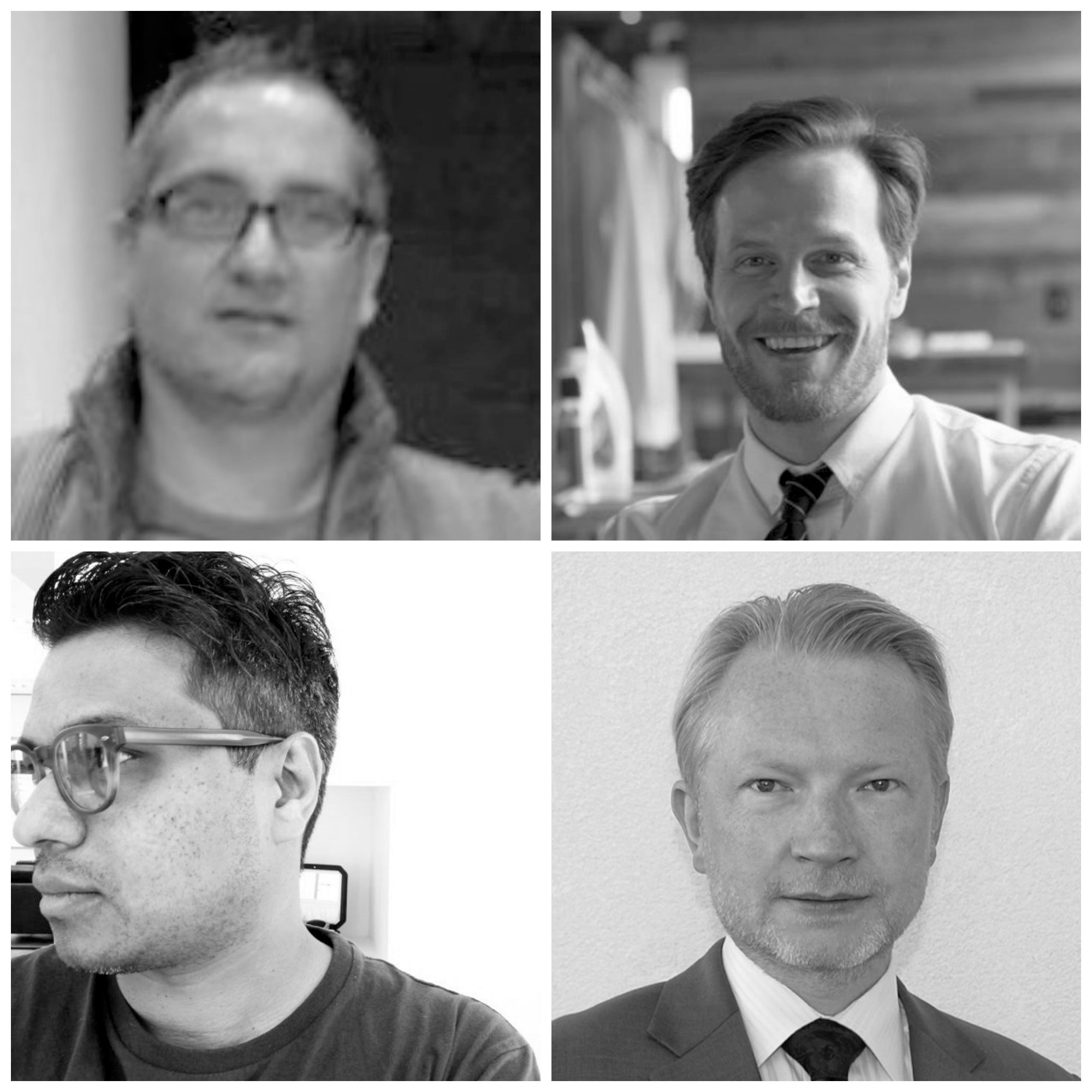 #RetailTechSummit, March 2, 2014, "FUTURE SHOPPING" - Innovation and Investment. JOIN US for an afternoon with industry thought leaders from companies who are working today on the retail of tomorrow and enjoy demos from select retail tech startups. Through executive presentations and an industry panel, learn the different retail industry perspectives on markets, business models, customer experience, retail innovation and new developments that will impact how and where we shop in the future – our goal is to offer thought leadership and insight into areas of strategic development value for startups, entrepreneurs, students and industry professionals. 
EVENT SCHEDULE:
1PM – 1:30PM 
1:30PM – 2:30PM
PRESENTATIONS
Trumaker – Adam Sidney

FashionFinder – Henrik Jeberg

Cortexica – Steve Semenzato

Elephanti – Lisa Brewer

Quickeecam – Eric Lau
2:30PM – 3:00PM
3:00PM-4:00PM
4:00PM-4:30PM
4:30PM-5:00PM
 
ADAM SIDNEY is VP of E-Commerce for Trumaker, a technology-focused social-selling menswear startup. Prior to joining Trumaker, he was the second employee at Bonobos, where he contributed in operations, merchandising, and marketing, and helped develop Bonobos' innovative 

Guideshops 

retail strategy. He is passionate about great brands and experiences that drive customer loyalty and lifetime value. When not working on menswear, he enjoys road biking, basketball, and music.

 
ANDY PANDHARIKAR is the founder and CEO of FITIQUETTE, which was recently acquired by Myntra, India's largest retailer for fashion. Myntra is India's fastest growing startup and is backed by investors including Accel Partners, Tiger Global and Louis Vuitton Group. Andy started FITIQUETTE in 2010 in his garage in order to build online virtual fitting room technology. FITIQUETTE soon grew be a well-known brand in fashion/tech industry. It got awarded as TechCrunch Disrupt Finalist 2012, just before the acquisition. Andy attended Masters in Management Science and Engineering at Stanford University and Executive Education at Harvard Business School. Andy spends his spare time painting and running marathons and is also a certified lead rock-climber. 
 
HENRIK JEBERG is the Co-Founder of FashionFinder and oversees the international business development. Henrik Jeberg is an industry  recognized and award winning senior software executive that has helped numerous IT companies achieve significant global growth. Henrik is a Danish native, but has lived in France, Australia and Singapore and now calls San Francisco home.
 
ROBERT BURNS NIXON [Moderator] is CFO and Board of Directors at San Francisco Fashion and Merchants Alliance, Inc (SFFAMA INC), FASHION+TECH Network, WEARABLE+TECH Conference, and RETAIL+TECH Summit | Board of Advisors at SXSW ACCELERATOR 2014 and SXSW V2Venture| Planning Committee at AIGA San Francisco Design Week | Executive Producer at SAN FRANCISCO FASHION WEEK™ | Civic Ambassador at Mayor's Office of Civic Innovation, City and County of San Francisco. He has an AB, International Relations and Economics from Brown University's Watson Institute and an MBA, New Ventures and Entrepreneurship from INSEAD in Fontainebleau, France.
RETAIL TECH DEMO PARTICIPANTS:
Cortexica

Elephanti

FashionFinder

QuickeeCam
Retail Tech Summit and Retail Tech Innovation Ecosystem Development for San Francisco
The entire retail industry, given its historical and economic importance for America and its GDP, has an enormous legacy infrastructure and, contrary to other technology sectors, most retail tech startups will necessarily have to work in some capacity with established industry players from the beginning. We feel that this mandatory engagement between retail tech startups and the established retail industry provides a unique opportunity for a third innovation paradigm to emerge - an ongoing, structured and systematic interaction program of large-organization intra-preneurial and independent entrepreneurial development activities – and potential new investment paradigms with the fashion and retail industries to fund promising tech startups beyond the standard build or buy decision scenarios. San Francisco has the most developed startup economy globally, leading in all the critical resource areas, and is the ideal environment for this new innovation paradigm to be established – we are laying the groundwork to turn the entire City of San Francisco into the world's first "city as an incubator" project for retail as a public/private partnership with the City and industry.
#RETAILTECHSummit Technology, Innovation and Entrepreneurship for the Future of Retail - happening now in San Francisco. The Next Big Thing. Once the conversation turns to the entirety of retail experience, the optimization of omni-channel and contextual marketing, and the technological promise of "anything-anywhere," you have to go BIG. We're turning the entire City of San Francisco into a Retail Incubator. 
IN PARTNERSHIP WITH:
Established in early 2011 as an innovative community in New York City for entrepreneurs and startup companies, General Assembly is an educational institution that transforms thinkers into creators through education in technology, business and design at nine campuses across four continents.
San Francisco Fashion and Merchants Alliance Incorporated, SFFAMA INC, is a 501(c)3 education and economic development non-profit corporation supporting fashion, design, and technology entrepreneurs, startups, and communities and the largest, most-innovative fashion industry organization in Northern California. SFFAMA provides business, technology and fashion industry education and resources while serving as a business and social impact development network for our 10,000 members and industry partners. Member San Francisco Citizens Initiative for Technology and Innovation SF.Citi.
FASHION TECH WEEK #FTW14 [ http://fashiontechweek.org/ ] represents the new vanguard in the convergence of fashion, technology and innovation, as the most pivotal fashion week platform to watch from the innovation and creative capital of the world – San Francisco. Read #FTW14 Press Release HERE.  
FASHION TECH WEEK includes a Press and VIP Opening Reception, SF Fashion Lab: Fashion Pitch Competition, Dapperhood SF | Silicon Valley Men's Style Event, WearTechCon: WearableTech Demo Night, Project SF: The Art of Fashion, Retail Tech Summit: The Future of Retail Tech , and Fashion Bloggers Connect with SHE Talks Forum – all featuring fashion, design and technology brands, startups and thought leaders, showcasing leading developments from all sectors of the World's Leading Fashion Tech, Retail Tech and Wearable Tech Eco-system right here in San Francisco.
Educational Partners: 
HULT International Business School
Community Partners:
Atelier Emmanuel, Betabrand, General Assembly, John, Allan, MaseratiSF, Startup Monthly,  
Media Sponsor:
Silver Sponsor: 
Have questions about #RetailTechSummit: "FUTURE SHOPPING" - Innovation & Investment?
Contact FashionTechPR
When & Where

General Assembly - HATTERY
414 Brannan Street
San Francisco, CA 94107


Sunday, March 2, 2014 from 1:00 PM to 5:00 PM (PST)
Add to my calendar
Organizer
Digitally styling fashion with media and tech.
FashionTechPR/Fashion Tech Media LLC. is a brand development consulting firm and boutique publicity entity specializing in digital media focused in the wearable tech, fashion and tech industries
FashionTechPR/ Fashion Tech Media LLC. works with fashion startups in SF, NY, LA:Silicon Beach and Silicon Valley. 
For innovative ideas, marketing inquiries, media relations, strategic partnerships, product promotions, sponsorship opportunities, adopter resources, social change issues, business of fashion consultation and booking info.