A community of extraordinary black men, in leadership, dedicated to healing on the path to wellness, prosperity, and development.
About this event
Testimonies
"RTK will change your life! It's the healing every Black man needs."
"I would say Nia's legit, and I wasn't expecting to make progress in 6 weeks but, wow, I came out of this experience different than I entered."
"Before the 6-week program, I felt lost and unsure of what to do. I knew something was wrong, but I didn't have a safe space and the tools to deal with stress, grief, and anxiety healthily. I worked with Nia, and now I feel more secure in myself. I am still on the journey of processing and healing from my trauma, but I now know a new freedom, love, and acceptance of myself and others." – Jonathan Sims
Join us on our live insight session! If you are looking to improve your life on any level, this program is for you. Nia Ridgle is a mental health expert specializing in Black men's mental health and Aundrey Page is an executive coach for black men who coaches black men in leadership to ascend and expand. The most unique thing about this program is that it is specifically designed for black men by a black woman clinician, who has expertise in relationships, life coaching, and mental wellness and a black male educator who know personal development, leadership development, and learning.
Program starts
February 2022
Course topics include:
Identity Formation
Healthy Leadership
Emotional Maturity
Communication Roadblocks
Effective Communication
Relationship Skill Building
Boundary Setting
Vision Setting
Conquering Fear-based Thinking
You will get
Live Insight Sessions with Nia Ridgle LCSW (Licensed Therapist)
Affinity Group space with other black men led by Aundrey Page (Executive Coach)
Wellness coaching
Weekly group support
Access to the Restoring the King Community
Discount/Promos on RC Wellness Brand Events
Interested? Join our to find out more information
Sign up for an intake conversation today:
https://calendly.com/dreypage/virtual-chat
If you have any further questions, contact team@ridgleconsulting.com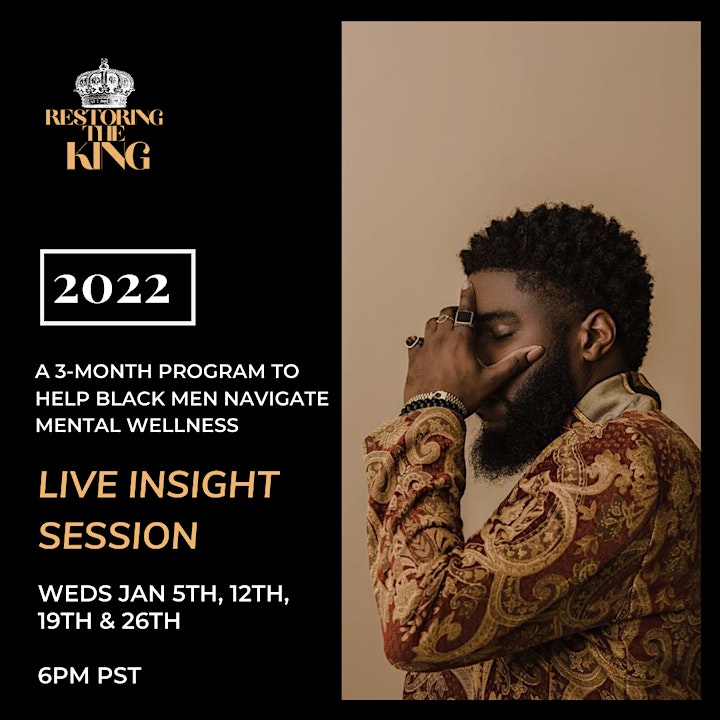 Organizer of Restoring The King Live Insight Sessions

Ridgle Consulting provides 1 on 1 consulting to professionals struggling with mild to moderate mental health symptoms triggered by stress and anxiety associated with high performance pressure. Our goal is to create a space for professionals to unlock their brillance and preform at new levels soley based off natural talent. We prioritize building relationships through pratical goal setting that is uniquely tailored to maximize your professional and personal goals. Our clients have experience working for companies such as: Salesforce, Facebook, Google, Uber, and more. Our business mixers provide clients the opportunity to practice their newly developed skills. You are not required to be a client to attend our mixers, they are offered as additional support. Clients and mixer attendees get the opportuntiy to mingle amongst like minded professionals and corporate sponsors. Attendees have the chance to meet guest speakers who will share personalized tips on how they've managed their professional journey. Ridgle Consultants will provide attendees with tips and tools on how to highlight their professional skills and natural talents in real time. These particular events aim to highlight networking skills that could be improved.