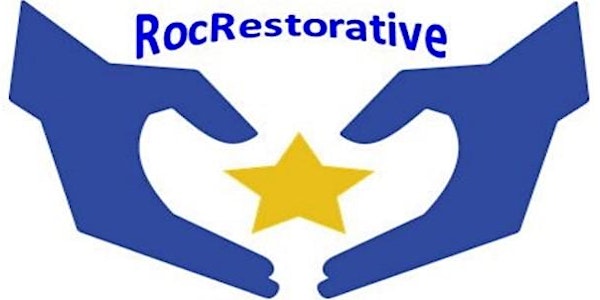 Restoring Rochester
When and where
Location
Holiday Inn Rochester NY - Downtown 70 State Street Rochester, NY 14614
Refund Policy
Contact the organizer to request a refund.
Description
Rochester is a city at a crossroads. We face tremendous challenges in education, crime, and poverty, yet we are resilient and strong. We have amazing people and organizations who work tirelessly to help make our community a better place to live. Restorative champions across the city and country are using Restorative Practices in settings such as schools, community based organizations, faith based organizations, the judicial system, and mental health organizations to heal harm and rebuild relationships. Through a series of keynote speakers, workshops and panels, the Restoring Rochester conference will provide opportunity for learning, growth, community and celebrating our tremendous potential as a Restorative Rochester.
Cost includes an a la carte breakfast and lunch. Further information about the conference can be found at https://sites.google.com/rcsdk12.org/restoringrochester
---
Keynote Speakers
Dr. Abdul-Malik Muhammad from Akoben LLC
"Empowering Our Boys of Color: Restorative Practices as a Key Element "
By confronting maladaptive behavior, taking accountability, displaying empathy for those harmed, and making things right for ourselves and teaching our boys to do the same, we have had tremendous success in changing life narratives and trajectories. This keynote will present the restorative approach within the context of both alternative and traditional school settings, with a special design for our young men of color.
Dr. Christina Watlington from Akoben LLC
"Being Trauma Informed and Restorative: Two Keys to Success."
By understanding the impact of trauma on the lives of youth, adults and staff describe how being trauma informed aligns with Restorative Practices; and how some practices are NOT trauma informed. We will also identify culturally sensitive approaches to working with trauma and practices that build social capital throughout your organization and community.
---
Session 1:
Please indicate on your ticket which workshop you will attend.
Nonviolent Communication
Presented by the M.K. Gandhi Institute for Nonviolence
This workshop is a basic introduction to the nonviolent communication process; building self-awareness, practicing empathy for self and others, ideas for building connection during conflicts. Would you like to get what you want in a way that doesn't upset others but instead builds trust and connection? Nonviolent Communication is a process that is taught around the world. Join Gandhi Institute director Kit Miller and colleagues for an experiential opportunity to explore this work.
School Panel on Restorative Practices
A panel of professionals from districts across Monroe County will share their experiences in implementing Restorative Practices in classrooms, school buildings, and districts. Participants can expect to hear concrete examples of what Restorative Practices looks like in the school setting and will be offered a question & answer session.
From Incarceration to Restoration.... a personal journey
In this presentation former inmate, Bill Keller, will share his story of incarceration for 2nd degree murder and how his exposure to restorative practices while incarcerated changed his life. In 1984, I was arrested and convicted of 2nd degree murder. He describes himself as a young man who was angry, resentful of authority, and living a destructive lifestyle who was sentenced to 18 years to life; however ended up being incarcerated for 28 years. While at Orleans Correctional facility, he was introduced to a program named Victim Awareness Program where he developed an understanding of how irresponsible actions cause harm to people and victims, and for his family. This led him on a Restorative journey, experiencing peace circles in the facility, and eventually being trained to became a facilitator in Restorative Practices.
Why Do These Kids Keep Acting Up: Understanding Behavior Through a Trauma Informed Lens
Presented by Dr. Christina Watlington
What does Trauma Informed Care really mean? What does a school/agency look like when it embraces a trauma informed approach? Participants will leave with an understanding of the impact of trauma on behaviors, discuss practices that they can implement to be trauma informed, and to challenge our beliefs about why kids "act-up". This workshops helps your staff to approach disciplinary practices more restoratively and effectively.
---
Session 2
Please indicate on your ticket which workshop you will attend.
Youth panel on Restorative Practices
A panel of youth from across Monroe county will share their experiences with Restorative Practices. Participants can expect to hear examples of how Restorative Practices have affected their lives in and out of school. A question & answer session will be offered.
Pathways to Peace
Presented by Michael A. Brooks Sr.
Pathways to Peace will share how street violence impacts young men of color. Through the use of restorative practices and interventions in schools and community, Michael Brooks will discuss and share the impact of interventions in Monroe county.
Restorative Practice & Spirituality
Presented by Dr. William R. Turner Jr., Senior Pastor of Living Word Temple of Restoration.
A growing number of congregations are employing restorative practices to heal conflict, address problems, and build strong relationships. From choosing a new pastor to dealing with serious wrongdoing, faith leaders are finding the restorative approach to be an effective way to respond to difficult situations and facilitate honest communication within their communities.
"Building a Stronger School Community: One Relationship at a Time"
Presented by Dr. Abdul Malik Muhammad
Relationships are a decisive factor in the development of a positive learning environment. This workshop will challenge you to clearly define what is and what can be their school community. We will also explore how to build a framework for strengthening relationships through connections with students, adults and among the students themselves. Deep self-reflection and discussions are balanced with interactive activities to build skills in relationship building, even when it's tough.
---
Restoring Rochester is sponsored in partnership with the M.K. Gandhi Institute for Nonviolence, ROC Restorative Team and the My Brother's Keeper Challenge Grant.