RESTORING MARRIAGE & FAMILY LIFE IN 2015

Monday, June 1, 2015 from 9:00 AM to 1:00 PM (EDT)
Event Details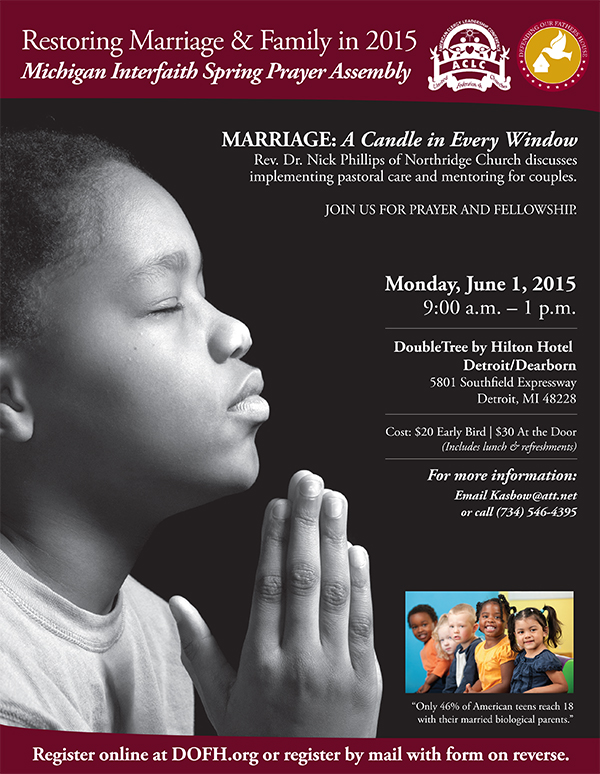 Dear Friends,
Marriage is God's first institution.  It unites us as one human family. Man and woman across societies, cultures, races and religions become one with God, family, and community by their vocational vow, "I do."  
Marriages plummet today to a hundred year low as households formed by married moms & dads become ever more a vestige of our United States past. American unity and spirit plummet also as citizens forego committing to God or to one another.  As our hearts abandon timeless core values of virtue, caring, sacrifice, and forgiveness that once ignited our households and neighborhoods, the bright, burning, beacon of U.S. greatness glimmers ever more dimly.  
Cohabitation, divorce, and unwed birthing, now dominant American social institutions, give way for powers and principalities to redefine marriage in ways that persecute children, people of faith, and men and women who choose "I do." Crime, violence, socio-economic instability, and moral decline weaken our civil liberties and threaten America's health, national security, and survivability as a free and prosperous nation. God's first institution clearly faces termination. Prophetically, St. John Paul II once observed, "As the family goes, so goes the nation and so goes the whole world in which we live." 
Hope abounds amongst God's people. Please join us June 1st as we unite in humble prayer to seek our Lord's mercy, forgiveness, and help to restore our hearts, households, and Godly way of life.   
Michigan Interfaith Prayer Assembly
CLERGY LED PRAYER
Restoring Marriage & Family Life in 2015
Monday, June 1st, 2015
Emcee 
Myrtha Grice
HARRIET TUBMAN CENTER
DOUBLETREE BY HILTON HOTEL
5801 SOUTHFIELD EXPRESSWAY
DETROIT, MI 48228
9:00 a.m. – 1 p.m.
Cost: $20
($30 at the door)
Includes lunch & refreshments
 Validate ticket at event for free parking.
Featured Presentation:
MARRIAGE: A CANDLE IN EVERY WINDOW
Implementing pastoral care and mentoring for couples
Rev. Dr. Nick Philips
 NORTHRIDGE CHURCH
When & Where

DoubleTree by Hilton Hotel Detroit/Dearborn
5801 Southfield Expressway
Detroit, MI 48228


Monday, June 1, 2015 from 9:00 AM to 1:00 PM (EDT)
Add to my calendar
Organizer
Defending Our Fathers House (DOFH)
Our mission at Defending Our Fathers House (DOFH) is to establish the legal and institutional integrity of marriage and family.
DOFH recognizes that marriage unites a man and a woman with each other and any children born from their union.
Children have a fundamental, natural right to know and be cared for by mother and father, as far as is possible. This right, by virtue of children's vulnerability, dependency, and unique needs for survival and success, requires institutional safeguards that optimally protect the relationships of mother and father to each other and to their child(ren) so that they may best serve those needs and thrive as a family.
We invite you to join us in defending institutional marriage, children, spouses, and parents by first educating yourself, family members, and others about the issues concerning marriage. Strong, healthy marriages provide the vital foundation for families, neighborhoods, communities and nations. We ask you to invest your unique gifts, time and resources with us and other marriage advocates to establish the legal and institutional integrity of marriage, parenthood, and family life.
RESTORING MARRIAGE & FAMILY LIFE IN 2015