RESTORE YOUR RIGHTS - Record Expungement & Permit To Carry Conference
About this Event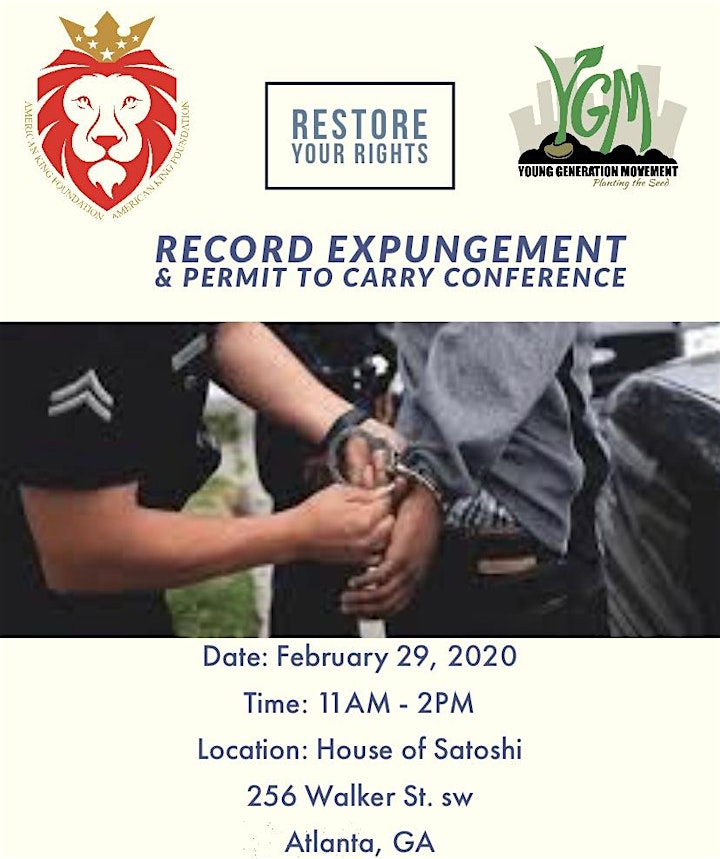 The Perfect way to end BLACK HISTORY MONTH is by attending this seminar on RESTORING YOUR RIGHTS. On February 29, 2020 American King Foundation and YG Movement will host a lunch and learn seminar to help for Georgia State Residents Expunge their records and apply for Permit to Carry Licences.
If you have been convicted of a crime in the state of Georgia and it's holding you back from achieving your goals, MAKE SURE YOU ARE IN ATTENDANCE for this seminar.
Attend this seminar to understand the importance of you 2nd Amendment Rights, why the should be protected, and assistance in applying for a Georgia State Permit to Carry License.
Limited seating is available so first come first serve.
Lunch for participants will be provided.
Requirements:
Georgia State Resident
Proof of I.D.
At least 18 years of Age,
Copy of Criminal Background (for Expungement Requests)
For more information about this event please contact American King Foundation by phone or Email.
P: 404-997-1151
E. theakforg@gmail.com