Location
The Berkeley City Club
2315 Durant Avenue
Berkeley, CA 94704
Sales Have Ended
Ticket sales have ended
Ticket sales have ended. Please call us at 510.893.3400 for more information.
Description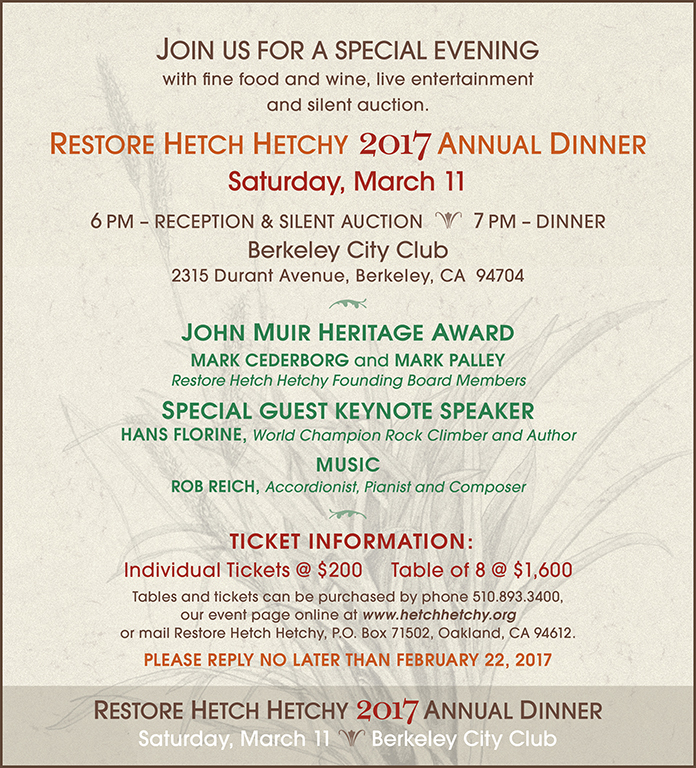 ******************************

Mark Cederborg, currently serving as Vice Chair of Restore Hetch Hetchy, is a Restoration Specialist, Manager and Principal at Hanford ARC. Mark's experience in habitat restoration has guided and inspired Restore Hetch Hetchy since our inception. Mark authored the Dam Removal and Valley Restoration chapters of "Finding the Way back to Hetch Hetchy Valley" (Restore Hetch Hetchy, 2005).
Mark Palley, currently serving as Secretary of Restore Hetch Hetchy, is a civil litigation attorney and a founding partner of an Oakland law firm called Marion's Inn. Mark's legal expertise has served Restore Hetch Hetchy throughout the life of our organization – from drafting our bylaws to advising our legal campaign in the California courts.
Hans Florine is a world champion rock climber, who holds or shares several records for climbing the "nose" of El Capitan in Yosemite Valley. Hans sees Yosemite Valley as the Mecca, the center of the climbing universe, and Hetch Hetchy Valley as all but unknown due to the limited access to its walls. "We are missing out on the sister of the greatest climbing area in the world.", he says.
Rob Reich is a pianist/accordionist and quintessentially what makes the San Francisco music scene a vibrant and vital mecca for independent music. Reich's music combines strong melodic ideas, rhythmic drive, and a spirit of irreverence and experimentation.
******************************
Board of Directors: Roger Williams, Chairman; Mark Cederborg, Vice Chair; Peter Van Kuran, Treasurer; Mark Palley, Secretary; Kathy Bowler; Kathy Schrenk; Douglas Harnsberger; Lance Olson; Ron Sundergill; Rex Hime; Virginia Johannessen; Ann Hayden; Sean Bothwell; Melanie Webber; Tom Cotter.
******************************