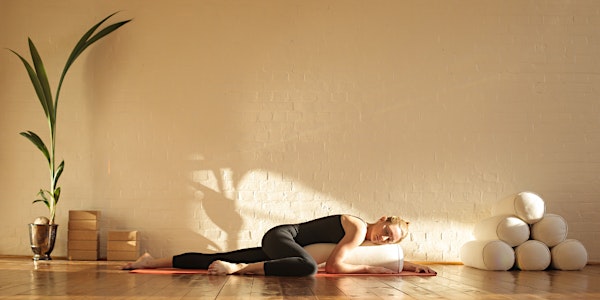 Restorative Yoga for Stress Relief
Discover the power of rest and stillness through Restorative Yoga.
About this event
Restorative Yoga allows your body and mind to find deep relaxation and restoration through gentle Yoga postures that are held for 3 to 8 minutes at a time. Postures are held with the aid of props without any strain on the body. Restorative Yoga helps to soothe the nervous system, correct poor posture, relieve tension of deeper muscles that may not be targeted in a more active Yoga class.
In this class, we will start with some gentle movements to better prepare your body for the restorative poses to come. During the restorative poses, you are invited to explore the different layers of your inner being in a deeply relaxed state. We end the class with a short guided iRest Yoga Nidra Meditation. This class is open to all levels and no previous experience is necessary.
This is a free class. However, should you wish to show your appreciation, you can make a donation @DCY20 on PayPal
or follow this link:
https://www.paypal.com/donate/?hosted_button_id=EQC8P8SDRE2M2
I am always grateful for any amount you contribute.
Please have the following items for class:
* Yoga mat (or a comfortable surface to lie on)
* 1 x Yoga bolster (a firm long pillow or a sofa back cushion could work)
* 2 x Yoga blankets or Mexican blankets (or two large thick bath towels)
* 2 x Yoga blocks (thick text books or objects of similar size/sturdiness)
* Comfortable clothing
* Socks and sweaters to keep warm
Optional:
* Yoga strap
* Eye pillow
* Extra blankets/cushions/pillows
Feel free to contact me at dora@dorachanyoga.net if you have any questions.