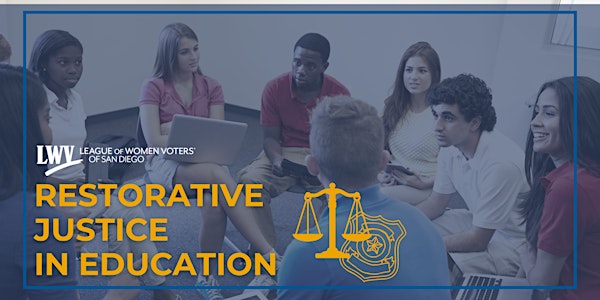 RESTORATIVE JUSTICE IN EDUCATION
Discussion of current thinking and examples of restorative justice in schools
Refund Policy
Contact the organizer to request a refund.
About this event
Have you wondered what restorative justice is and how it can be used in schools to decrease the role of police? Restorative justice seeks to examine the harmful impact of a crime/action and then determines what can be done to repair that harm while holding the person who caused it accountable for their actions. Accountability for the offender means accepting responsibility and acting to repair the harm done. Our justice system is too often a punishment system that does not improve the victim's situation and doesn't teach the offender how to change his or her ways.
LWV San Diego recently adopted a position on policing practices that supports transformative justice and supportive approaches in schools.
The LWVSD Criminal Justice Committee is presenting a Zoom webinar on Thursday, February 9th at 5:30pm at which a range of experts will discuss Restorative Justice and its role in conflict resolution at schools.
Our speakers will include:
Jennifer Vermillion, Program Manager, Restorative Justice Practices in Schools with the National Conflict Resolution Center, and Project Manager at the San Diego County Office of Education;
John Serrano, a retired SDPD and School Police Officer who is now a trainer for the National Conflict Resolution Center, working with the Restorative Justice team; and
Trevor Tillman, substitute teacher and former student mediator at Crawford High School.
Notice of Accessibility: LWVSD strives to create inclusive, accessible meetings and events that enable all individuals to fully engage with its programming. Please contact us if you need accommodations to access this event.