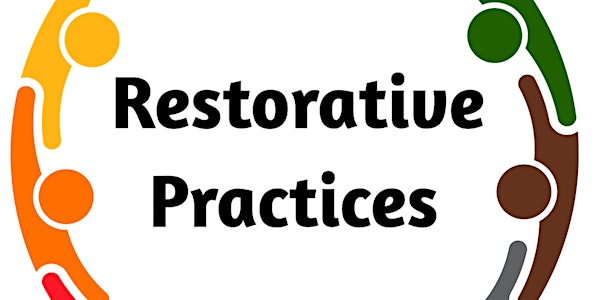 Restorative Community Development – National Sharing Webinar
A webinar to share the successes achieved and challenges faced by local restorative practices partnerships across Ireland.
Date and time
Tue, 1 Mar 2022 01:30 - 03:30 PST
About this event
*ZOOM LINK WILL BE SENT BY EMAIL TO PARTICIPANTS*
Across Ireland, many thousands of frontline professionals from the public and third sectors have received training in restorative practices in recent years. The emphasis restorative practices place on collaboration and stakeholder participation has brought to the fore the need both to build relationships and work across services at the local level, in order to support community development. Emerging from this, professionals and civil society groups have established restorative practice partnerships to enable interagency and inter-sectoral working, and help restorative practices proliferate. However, there are few workshops dedicated to sharing their successes and challenges and raising the profile of this work.
This webinar follows a highly successful in-person event in Cabra in February 2020, at which those involved in restorative community development in Dublin came together to discuss their work and learn from each other, and from work undertaken elsewhere (specifically, the Dutch initiative Community Processing). This webinar aims to create a platform for local restorative practice networks to share specific features of their work that will be of value to those engaged, or hoping to engage, in restorative partnership working across Ireland. It doubles as an opportunity to meet others who are interested in restorative practices and energise participants seeking to utilise restorative practices in different (and across) settings and sectors.
The webinar will take place on Zoom. Zoom details will be circulated nearer the time.
Welcome and introduction
09:30-09:35 - Opening 'circle' – Please type in the chat your name and where you are from, and tell us about the biggest challenge you face in developing your community locally.
09:35-09:40 - Why take a restorative approach to community development? (Dr. Ian Marder, Maynooth University Department of Law & RJS4C Ireland)
Part 1: Doing restorative community development
09:40-09:50 - Supporting practitioners through COVID-19 (Joe Power, Limerick Restorative Practices Project)
09:50-10:00 - Developing a cluster of restorative services for young people (Peter Dorman, D8/12 Restorative Practices Partnership & Building Community Resilience)
10:00-10:10 - Training the public in restorative practices (Ciara Flanagan, Ballyfermot Chapelizod Partnership)
10:10-10:20 - A Quality Assurance Framework for RP in Ireland (Dr. Kieran O'Dwyer, Restorative Practices Ireland)
10:20-10:35 - Open discussion on Part 1
10:35-10:40 - Break
Part 2: Planning and analysing restorative community development
10:40-10:50 - Collecting data on restorative practices (Emma Wheatley, National College of Ireland, Early Learning Initiative & Dublin NEIC)
10:50-11:00 - Developing restorative practices training (Claire Casey, Childhood Development Initiative
11:00-11:10 - Writing a local restorative practices strategy (Faye Hayden, Roscommon Restorative Practices Network)
11:10-11:30 - Open discussion on Part 2 & next steps