Description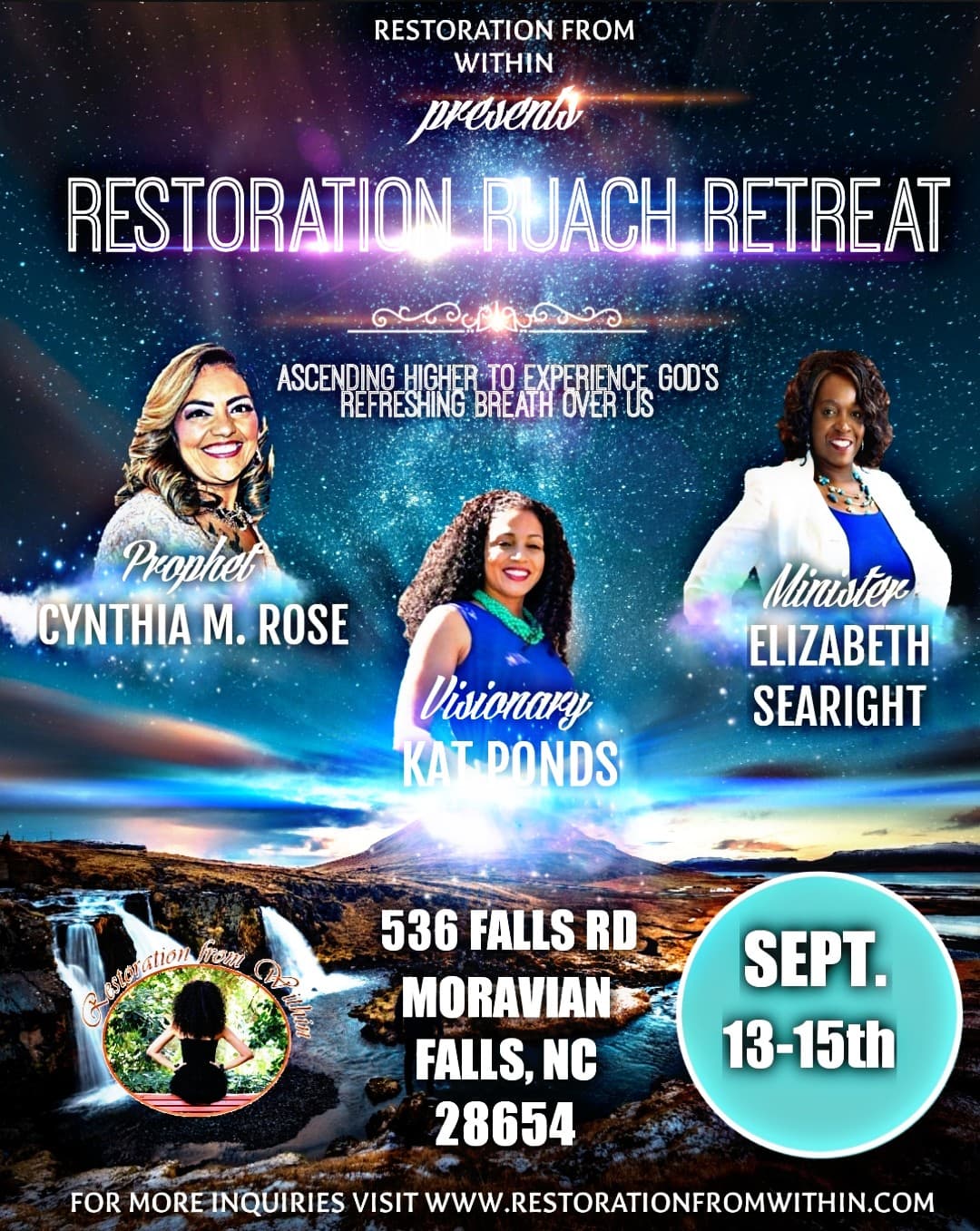 Want to be renewed and restored from within?
Ready for a prayercation?
Be filled to the overflow by God?
Ascend higher to encounter the Holy Spirit like never before?


Then you are ready to experience
Restoration Weekends: Ruach Retreat
God is calling and assembling His Daughters who have a deeper seek in their hearts for Him. Join other Kingdom-minded Chicas as they renew their mind & spirit and restore their body at the Restoration Weekends: Ruach Retreat from September 13-15 in Moravian Falls, NC.

The Holy Spirit has designed this retreat with you completely in mind! He's created an oasis for you to be filled full, full, full, to the overflow. He's also hand-selected some powerhouse speakers, activities, RFW Marketplace vendors, and Temple Talks guests so we can renew and restore our Temples from the inside-out.
"Come, and let us go up to the mountain of the Lord, To the house of the God of Jacob; He will teach us His ways, And we shall walk in His path." Micah 4:2
Friday early afternoon
Some of our guests will get to experience their 30-minute Miraculous Massages from their Refresh Package.
Friday
Release Party! (6:00pm - 9:00pm)
Saturday
Prayer Mountain (7:00 - 8:30 am)

Conference Speakers (9:45 am - 12:20 pm)

Lunch on your own (12:20 pm - 1:50 pm)

Some of our guests will get to experience their 30-minute Miraculous Massages from their Refresh Package.

Healthy Hair & Body Party! (2:00 pm)

Temple Talks (2:40 pm - 4:45 pm)

Prayer Mountain (5:00 pm- 6:30 pm)

Dinner on your own (7:00-9:00 pm)
Sunday
Prayer Mountain (7:00 - 8:30 am)

A Word from our Restoration Coach, Kat Ponds (10:00 am - 11:00 am)
FAQs

What are my transportation/parking options for getting to and from the event?
There is plenty of free parking at the event. We suggest you always travel with another Chica or a group of Chicas to and from the event.

What's the refund policy?
We know circumstances may arise where you may not be able to attend. While we do not provide refunds, you may transfer your ticket to another Chica.

Do I have to bring my printed ticket to the event?
No. We will have a list.

Can I update or upgrade my registration information?
Absolutely! Please email us at kat@restorationfromwithin to update or upgrade ticket.

Is my ticket transferrable?
Yes! You may give your ticket to anyone you would like.

Is it ok if the name on my ticket or registration doesn't match the person who attends?
It is. Just let our Restoration Team know who gave you the ticket.
What is included in my registration?
We'll go up to the Prayer Mountain together for some time alone with God throughout the weekend. In addition, you'll gain access to the Release Party, Conference Speakers, Healthy Hair & Body Party, Temple Talk Guests
What is the hotel information?
Our preferred location is Holiday Inn Express Wilkesboro, NC. Restoration Weekends group rate is $119.00 per night (up to 4 ladies in a room). Please call 336.838.1800 and use "Restoration Weekends" booking code to get the group rate.

The real breakfast of champions is at the Holiday Inn Express Wilkesboro! The kind that's complimentary and waiting for you every morning at Express Start Breakfast. They've got a whole buffet full of offerings ready to help kick start your day.
You may also use your points from your preferred hotel in the Wilkboro, NC area.
What is the attire for the conference?
This retreat is for you to relax and release as you renew and restore, so wear cute activewear attire. We ask that you wear your conference tee shirt on that Sunday morning.
What are the guidelines when we go up to Prayer Mountain?
Please read and adhere to Prayer Mountain Guidelines here.