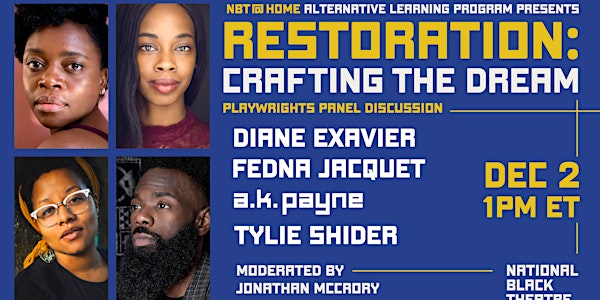 RESTORATION: CRAFTING THE DREAM
A panel discussion celebrating the sacred space in our lives to dream
About this event
NBT@HOME is excited to announce RESTORATION: CRAFTING THE DREAM a virtual panel discussion with the playwrights of NBT's 55th Season, featuring:
• DIANE EXAVIER, Bernarda's Daughters
• FEDNA JAQUET, Black Mother Lost Daughter
• a.k. payne, Amani
• TYLIE SHIDER, The Gospel Woman
Presented by our Alternative Learning Program and moderated by NBT Executive Artistic Director, Jonathan McCrory, this space has been imagined and executed in celebration of our playwrights who have honed the magic and synergy of sharing stories that offer the opportunity to empower audiences to step into a new reality and lean into curiosity.
Join us in this moment of deep artistic exploration on Friday, December 2nd at 1pm EST.