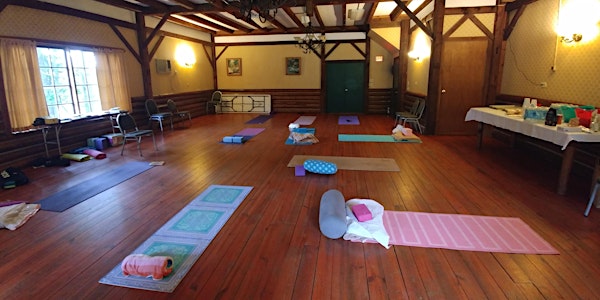 Rest and Relief: All Inclusive Yoga and Wellness Retreat for Women
This is your chance to stop multitasking and find a sense of peace through yoga, meditation, nature walking, and the art of doing nothing!
When and where
Location
Winter Clove Inn 557 Winter Clove Road Round Top, NY 12473
Refund Policy
Contact the organizer to request a refund.
Eventbrite's fee is nonrefundable.
About this event
This 4 day/3 night experience will give you the time and space to care for yourself as lovingly as you care for others.
We will explore practical, accessible yoga and mindfulness-based techniques that you can use to address real difficulties and to feel more at peace in your personal and professional life.
Join Janis Freeman, yoga teacher and lifestyle medicine professional, in the beautiful Catskills Mountains for an all inclusive retreat especially for busy women experiencing symptoms of burnout.
Private rooms, meals, and yoga and other activities included.
By placing this deposit, you attest that you have read and agree to the following terms and conditions. Please read them carefully:
REST AND RELIEF RETREAT TERMS AND CONDITIONS
1. Booking
(a) Your booking is not considered definite and no contract will exist until we receive a $100 deposit from you and you agree to these terms and conditions. (b) We do not share customer details with any 3rd parties.
2. Payment
(a) The price is the exact amount to be received by us in US Dollars. Today, you are paying the $100 deposit to reserve your place on this retreat. You will be sent an invoice to the email on file for the remaining amount due.
(b) Your booking is not considered COMPLETE until the balance has been paid. The full payment amount is due on or before APRIL 15, 2023. If you wish to take advantage of the "early bird" rate of $800, you must pay in full before DECEMBER 15, 2022.
(c) If your balance is not paid in full by APRIL 15, 2023, your booking will be cancelled and your deposit will be refunded minus transaction fees.
3. Your Travel Arrangements
All travel arrangements are your responsibility and at your own cost. We shall not be held liable for any consequences arising from delays or cancellations in any of the companies you may have made arrangements with, or for any irregularities in your documentation required for travel. Transfers to/from the retreat are at your own cost, unless otherwise specified.
4. Travel Insurance
(a) Travel insurance is generally recommended. If you choose to buy insurance we require that your travel insurance covers the activity of this retreat as well as unexpected cancellation, sickness, losses and all the usual risks. You should bring the policy with you in case of an emergency.
5. Your Health
(a) It is your responsibility to let your Yoga Instructor know if you have any injuries and to be mindful at all times of your own body's capability during the retreat. If you experience any injury or discomfort during any activity during the retreat, then you must desist immediately.
(b) It is also your responsibility to consult a doctor with an understanding of yoga to check that you are sufficiently fit and healthy to undertake yoga classes and other physical activities that you may chose to do whilst on the retreat.
(c) Please advise us of any mental or physical health conditions (including pregnancy) and dietary requirements before you book. If you have health conditions (including pregnancy) and dietary requirements that may be affected by the activities offered on our retreats we reserve the right to advise you to desist and in the interests of your well being, or others, we may decline your stay at our retreats.
(d) Whilst all measures are taken to ensure a high standard of health and safety, we are situated in the countryside where the land is uneven and we shall not be responsible for any injuries caused by uneven terrain.
(e) Women who are pregnant should provide a letter from their health practitioner specifying that they are fit to travel and able to engage in the activities that we provide. We would prefer pregnant women to have done a little yoga before they arrive.
(f) COVID 19: This is an evolving situation. Precautions will be taken according to current state and CDC guidance, but we do acknowledge that some risk of transmission still exists. The organizer and/or venue may request that you quarantine prior to attending event or that you have a negative test or documentation of vaccination prior to event. Please DO NOT attend if you are experiencing symptoms such as shortness of breath, cough, fever, chills, or any of the other symptoms listed here: https://www.cdc.gov/coronavirus/2019-ncov/symptoms-testing/symptoms.html OR if you think you may have been exposed to COVID 19 or have been tested but not yet received your results.
7. Cancellation by you
(a) You (or any member of your party) may cancel your booking at any time, providing that the cancellation is made by the person submitting the booking form and is notified to us in writing. Cancellation will take effect the day such notification is received by us. For cancellations made more than 30, but less than 60 days prior to the retreat, there will be a $100 cancellation fee. No refunds (except in exceptional circumstances) will be issued for cancellations made less than 30 days prior to retreat. However, if another person can be found to take your place, then we may offer you a refund at our discretion.
(b) Bookings are for the stated period of the retreat. There are no refunds for an unused portion of the retreat. If the reason for cancellation is covered under the terms of your Insurance Policy, you may be able to make a claim on your insurance.
8. Amendments by us
Occasionally, changes may have to be made (e.g., yoga teacher, class times or other arrangements), which we reserve the right to do at any time. If your accommodation has to be changed, we will do our utmost to provide accommodation of a similar rating. If a significant change becomes necessary, we will inform you as soon as reasonably possible if there is time before your departure.
9. Cancellation by us
We reserve the right in any circumstances to cancel a retreat. In particular our retreat requires a minimum number of at least 75% of the participants to have booked by 30 days before the start date. If this minimum number is not reached by that date we may cancel and refund the money to you.
If retreat is cancelled due to reasons related to COVID 19, refunds will be issued or you will be given the option of transferring your payment to a future date.
10. Our liability to you
(a) We accept responsibility for ensuring that the retreat is supplied as described and that the services we are contractually obliged to provide are to a reasonable standard.
(b) We do not accept any liability for cancellations, delays or changes caused by COVID or other pandemic/public health crisis, war, threat of war, terrorist actions or threats, closure of airports, civil strife, industrial action, natural disaster, technical problems to transport, staff cancellations, unforeseen changes in your personal circumstances or other events beyond our control.
(c) We are not liable for any injuries you may incur. Yoga classes are undertaken at your own risk. We are not liable for any medical (including COVID 19 or other viral illnesses) or psychiatric conditions, which may develop during or subsequent to the retreat. We are not liable for loss of, or damage to, your personal property.
11. Group Bookings
Where a booking is made on behalf of several individuals the booking is conditional on the person(s) paying having authorization from all the individuals named on the booking form to enter into this contract. The terms of this contract will apply to each member of the group as though they had paid for their own retreat individually and directly to us.
12. No Liability for possessions
(a) You will be given a key to your private room. It is your responsibility to ensure that your possessions are kept safe at all times.
13. Complaints
If you have a problem during your retreat, please inform the organizer immediately and he/she will endeavor to put things right. Please note that we cannot be responsible for the individual behavior of any group member or other guest sharing your accommodation.
14. Privacy Policy
We do not share customer details, including personal, medical, or financial information with any 3rd parties. Any personal information that you provide to us will be used only for the service you requested.
This privacy policy does not cover the links within this site linking to other sites.
15. Photography
I authorize Growing Light Wellness and Yoga to use photographs of me and or my property and authorize her and her assignees, licensees, legal representatives and transferees to use and publish (with or without my name) photographs, pictures, portraits or images in any and all forms and media and in all manners including composite images or distorted representations, and the purposes of publicity, illustration, commercial art, advertising, publishing (including publishing in electronic form on CDs or internet websites), for any product or services, or other lawful uses as may be determined by the photographer or studio name here. I further waive any and all rights to review or approve any uses of the images, any written copy or finished product. I am of full legal age and have read and fully understand the terms of this release.