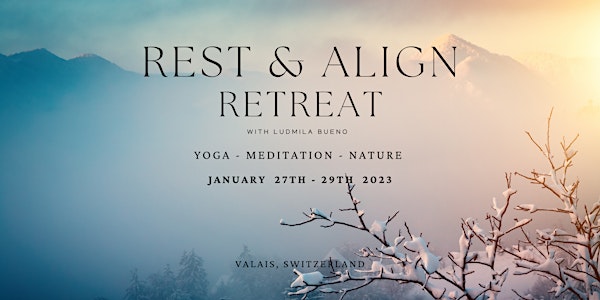 REST & ALIGN Week-end Retreat: 27th - 29th January
Start the year by pausing, honoring winter as the place of rest & restoration from where all blossom. Yoga, meditation, nature and more.
When and where
Location
Hotel-Pension Beau-Site 13 Chemin du Mont 1927 Chemin Switzerland
Refund Policy
Contact the organizer to request a refund.
About this event
When was the last time you gave yourself the profound gift of a moment in true presence? A moment and another moment where all other times except the here and now is what you are fully living and experiencing. A moment in which all of who you are meets in the sweetness of your breath and the warmth of your heart. A moment and another one and another one when nothing is asked from you. An incredibly rich, profound, deep and expansive moment where bit by bit, you open to savor the magnificent human being that you already are.
In the constant forward looking, outward looking, achieving driven, collecting and acquiring things type of speed of the modern world, it is easy, very easy to loose track of the essence of it all, the essence of you. It is easy to keep on going and going and faster and further in a restless rollercoaster that may create a sense of depletion of the vital energy, a disconnection from soul, an extreme tiredness that sometimes becomes a burn out and a confusion.
The outside world may demand a speed and an agitation that the inner world in truth is not happy to keep up with resulting in deep contractions of the inner body and heart and yet life keeps on asking: Are you here?
The WINTER SEASON opens a beautifully rich and warm space to remember that as nature, we, human beings, also go through cycles, that we, as nature, need time to retreat, time to SLOW DOWN, time to REST, truly REST. The season where the emptiness, the night and the space are inviting a profound journey of loving remembering of who we are.
A loving remembering of that essence that exists in the infinity, beyond space and time, the one that took you here and creates you forward. The one that wants and needs to be listened to and recognized by you, by your body too.
The one that by being nature asks gently please STOP, please PAUSE. The one that says, the confusion, the des-orientation is simply the result of a constant doing, a forgetting of feeling and being.
At a time of the year when the outside messages are the ones of more, the one of setting new goals and resolutions, the one that offers millions ways to always have a ''better'' year with promises of more things to do to get there, more perfect structures and programs that will ''solve your life''... the invitation is what if YOU PAUSE from all of that too? What if all the answers are already there within you, maybe just deep beneath layers of confusion caused by exhaustion, forgetfulness to feel and be?
What if once you REST you remember that you are already aligned with the majesty of your soul and that it takes a moment and another of presence to remember?
ARE YOU READY TO SAY YES TO YOURSELF BY SAYING YES TO REST and re-membering the beauty of what it feels and is to be fully aligned with your soul? fully connected with you?
To REST is to give space to the noise to settle, to gently and sweetly release yourself from imaginary pressures, to land in the vast field of the union of your body-mind-soul and to open to see without seeing the place of inner alignment, the still point from which all answers are already present, the clarity to move forward as a co-creative process, in your time, in your unique way of unfolding it.
This is a sacred divinely human journey, one of choosing yourself, one of opening to your nature, one of listening, trusting, responding. Your journey, in community and tribe.
Hosted at the ecological historical Hotel Pension Beau-Site in Chemin, Valais a paradise surrounded by high vibration nature, a nest of love in the Swiss Alps.
I will guide you through yoga, meditation, embodied movement, journaling, sharing circles, fire ceremony, and guided time in nature with walks and practices with the elements to find your own pathways to rest, to open to listen the whispers of your body, mind and soul, to open to receive from yourself all that you need to receive in this moment, to open to have the courage to then follow your inner innate wisdom.
No early wake-ups, rest & respect for your body at the core of the experience.
You will leave feeling:
- Rested and restored at all levels
- With clarity on what actions to take for practice to happen in your mundane every day life
- Having found connection with your body as the home of your soul
- With a taste of what it is to live in presence
- With clarity that comes from your body wisdom once you pause to see, feel and hear yourself
- Ready to give from a place that is full and true to who you are
In a nutshell, over the course of the week-end you will receive:
- Single or Double Room
- Two 2hs morning practices
- Two 1h30/2h evening practice
- Two guided walks in nature with meditation
- Fire ceremony weather allowing
- Optional journaling meditations for your free/integration time
- Two sharing circles
- Personal time for rest, listening & contemplation
- Two vegan bio and local nourishing brunches & dinners.
- Herbal tea, coffee and fruit buffet during the day and coffee after dinner.
Are you curious to hear more about it?
CONTACT ME for info and Booking.
ludmilavictoria@yahoo.com
or by phone/message: +41 79 391 40 63
Spaces are limited.
Much love & gratitude,
Ludmila