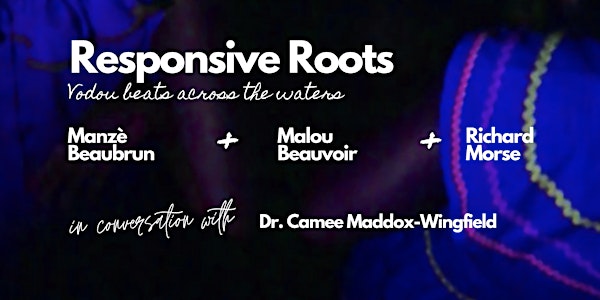 Responsive Roots: Vodou Beats Across the Waters
Haitian Vodou inspirations & the roots of musical responses to social upheaval with Manzè Beaubrun, Malou Beauvoir, and Richard Morse
About this event
Join the Center for Experimental Ethnography, WXPN, and Dr. Camee Maddox-Wingfield for a conversation with legendary Haitian and Haitian American artists including Manzè Beaubrun of Boukman Eksperyans, Malou Beauvoir, and Richard Mores of RAM and IMAMOU.
Responsive Roots is presented by the Center for Experimental Ethnography in association with the WXPN signature series, Kanaval: Haitian Rhythms & the Music of New Orleans.
LISTEN BEFORE THE EVENT
In order for you to get the most out of the conversation, we suggest you listen to some amazing grooves by the artists who will be joining us on Dec 9. Scroll to the end of the Eventbrite Page to listen and watch now!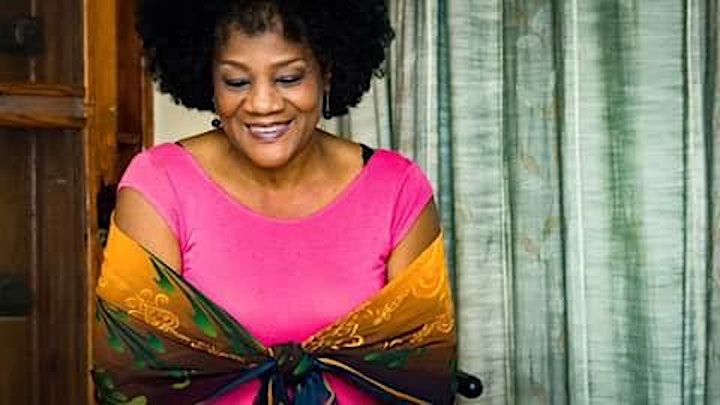 Photo Above: Mimerose Beaubrun, courtesy of the artist
Mimerose 'Manzè' Beaubrun
Mimerose 'Manzè' Beaubrun is the lead singer and co-founder (with Lolo Beaubrun) of Boukman Eksperyans and the author of Nan Dòmi, récit d'une initiation vodou (2011), translated into English as Nan Dòmi: An Initiate's Journey into Haitian Vodou (2013), as well as a manbo (Vodou priestess). She received her BA in Social and Cultural Anthropology from the Université d'État d'Haiti, and co-authored the 1998 book Livre ouvert sur le développement endogène d'Haïti, translated into English as Open Book on the Endogenous Development of Haiti.
Boukman Eksperyans (English: Boukman Experience) is a Grammy-nominated mizik rasin band. The band derives its name from a a tribute to the Jamaican born enslaved leader Boukman Dutty who launched the Haitian revolution in August 1791, and the Haitian Creole word for "experience" (Eksperyans), inspired by the band's appreciation of the music of Jimi Hendrix. One of the most important musical movements that swept Haiti in the years following the exile of dictator Jean-Claude Duvalier, mizik rasin combines elements of traditional vodou ceremonial and folkloric music with rock and roll. When Mimerose and Lolo began to seek their musical goals, they felt a strong desire to incorporate African elements in Haiti's culture into their music, combining roots music with vodou religious and musical traditions.
Since the beginning, starting with the first encounters made by the Beaubruns with deep African roots, Boukman Eksperyans has remained steadfastly linked to the Ginen ("Guinea") vodou line. The band calls it vodou adjae after a vodou ceremonial dance. This was also the title of their first album, released in 1991.
Boukman Eksperyans first became famous in 1990 when they presented their song "Ke'm Pa Sote" at the Carnival celebration in Port-au-Prince with its infamous lyrics: "My heart doesn't leap, I'm not afraid". These words were a grounded protest of the living conditions under the post-Duvalier interim military government of General Prosper Avril. Following the death of a young girl (who was shot by a soldier), Ke'm Pa Sote became an out-and-out battle hymn admonishing the government. The band continued to write and perform rebellious songs that depicted the reality of Haiti as they saw it. At the height of their popularity in 1991, Boukman Eksperyans fled Haiti to live in exile when Jean Bertrand Aristide was overthrown in a military coup d'etat. During their time abroad, the band performed and spoke out against the military dictatorship of Raoul Cédras. In 1994, after Aristide was restored to power, the band returned to Haiti, where they continued to play concerts, record albums, and perform at the Carnival celebrations.
Above: Photo of Malou Beauvoir by Johnny Rodriguez, courtesy of Malou Beauvoir
Malou Beauvoir
Haitian-American performing artist Malou Beauvoir is a captivating, highly emotive singer-songwriter, actor and producer who brings to her artistry the unique amalgamation of her multi-cultural influences and experiences. A citizen of the world, she has lived in the US, Europe and Haiti, and traveled extensively; each culture she has encountered has impacted and informed her in different ways, reinforcing her openness to different perspectives and forms of spirituality. Malou has offered her performances and support to the "TIBET FUND Gala" in NY, the Fonkoze Gala in L.A, the Back Country Jazz fundraiser, and other non-profit organizations who are working to make this world a better place. For more info : maloubeauvoir.com
Richard Morse
Richard Auguste Morse (born 1957) is a Puerto-Rican-born Haitian-American musician and founder of a mizik rasin band, RAM, named after his initials, and IMAMOU. Morse is married to RAM's lead female vocalist, Lunise Morse, and has two children. Morse also manages a famous hotel and venue in Port-Au-Prince, the Hotel Oloffso
In 1992, Morse and RAM adapted a traditional vodou folk song, "Fèy", to a rasin rhythm and instrumentation. Despite no overt references to the political situation, it was widely played on the radio and immediately taken up throughout the country as an unofficial anthem of support for Aristide. By the summer of 1992, playing or singing the song was banned under military authority, and Morse was subjected to death threats from the regime. In one particular instance, Morse was summoned before Evans François, the brother of Colonel Michel François, and his life was threatened. Over time, Morse, like many other Haitians, became disillusioned with Aristide and his new political party, Fanmi Lavalas.
RAM is a Haitian music band based in the city of Port-au-Prince, Haiti. The band derives its name from the initials of its founder, songwriter, and lead male vocalist, Richard A. Morse. The band's sound reflects a mix of West African rhythms brought over on slave ships and Haitian rhythms influenced by indigenous cultures.
RAM began performing together in 1990, and recorded their first album in 1993. The band's music incorporates traditional Vodou lyrics and instruments, such as rara horns and petro drums, into modern rock and roll. The band's songs include lyrics in Haitian Creole and English. RAM first made the world scene in 1993, when one of its most popular singles, "Ibo Lele (Dreams Come True)," was included in the soundtrack for the major motion picture Philadelphia, next to famous musicians including Bruce Springsteen and Neil Young.
RAM is famous for its regular Thursday night performances at the Hotel Oloffson in downtown Port-au-Prince, attended by hotel guests and a wide spectrum of the country's political and racial groups. Yet throughout their 30-year career, the band has also performed at prestigious music venues around the globe including the Kennedy Center, Edinburgh Festival (Scotland), and New Orleans Jazz and Heritage Festival. In 2021 RAM was featured in the Kanaval: Haitian Rhythms and the Music of New Orleans audio documentary.
The band's discography includes:
Aïbobo (1993)
Puritan Vodou (1997)
Kite Yo Pale (2001)
MadiGra (2003)
Le Jardin (2003)
Manman M Se Ginen (2016)
RAM 7: August 1791 (2018)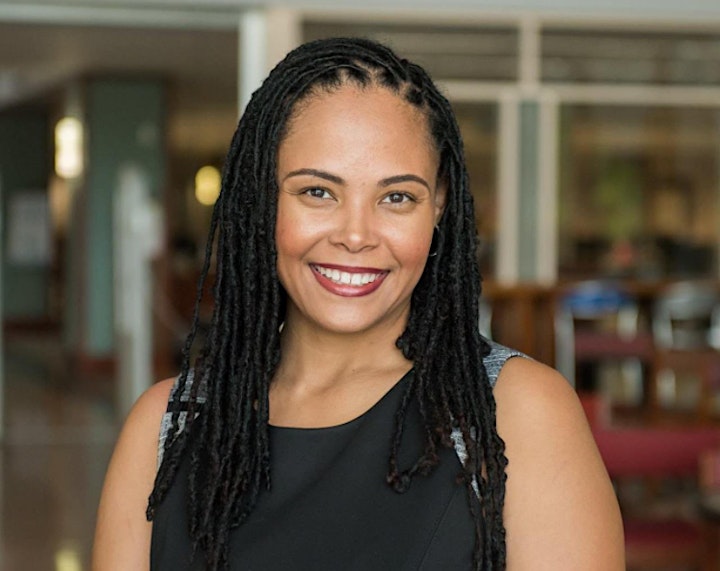 Photo Above: Dr. Camee Maddox-Wingfield
Dr. Camee Maddox-Wingfield
Dr. Camee Maddox-Wingfield is Assistant Professor of Anthropology at the University of Maryland, Baltimore. As a cultural anthropologist, Dr. Maddox-Wingfield's research interests center on cultural activism and identity formation in Caribbean and African diaspora dance communities, with a primary focus on the French Caribbean. She is especially interested in the various ways that dance expression intersects with cultural politics, spirituality, and healing in communities suffering from colonial and/or racial oppression. Her work also explores the ways in which dance becomes an expression of protest, resistance and solidarity.
Dr. Maddox-Wingfield is currently working on a book project that is tentatively titled Rhythmic Consolation: Bèlè's Rebirth in Contemporary Martinique. The book interrogates the cultural politics and power dynamics that shape the contemporary discourse and practice of bèlè – a traditional drum-dance complex in Martinique . In this work, Maddox-Wingfield situates bèlè as a site for intervening in ongoing debates about (non)sovereignty and the complexities of French national secularism.
The book project is being developed along with a virtual exhibition that will serve as a multimedia companion to the book, promoting wider public engagement with digital scholarship on performative cultural traditions. Her research has been published in the journal Meridians: feminism, race, transnationalism, engaging bèlè performance from Black feminist perspectives to analyze the therapeutic impact and the function of sensual expressivity in bèlè for women dancers. She also contributed a chapter in a new edited volume titled Embodying Black Religions in Africa and its Diasporas published by Duke University Press September 2021.
Center for Experimental Ethnography
The Center for Experimental Ethnography was founded in 2018 at the University of Pennsylvania to promote multi-modal research practices as both method and theory, integral dimensions of scholarly research. We believe that multi-modal research practices transform how we conduct research, how we generate and disseminate knowledge, how we train students, and how we remain accountable to the communities in which we interact and through which our research circulates. We see creative practice as intellectual work that necessarily historicizes the inequalities that pervade our society, and that develops solutions for their present iterations through collaborative and participatory work. A basic premise that underlies our efforts is the contention that an expanded and multi-modal definition of what counts as scholarship will help lead to a more diverse university community, a community in which artistic practice is a cornerstone not only for engaged and participatory democracy and social justice, but also for the reimagining and transformation of the university as a whole.
Kanaval: Haitian Rhythms & the Music of New Orleans
From WXPN at the University of Pennsylvania in Philadelphia, the producers of the Peabody-nominated and Regional Edward R. Murrow award-winning Gospel Roots of Rock and Soul, comes a new audio docu-series chronicling the history of Haiti and Haitian influences on the music, culture, and community of New Orleans and contextualizing the nation's historical importance through its considerable artistic and musical traditions.
The nationally distributed production is hosted by Haitian-American and New Orleans-based musician Leyla McCalla, a founding member of the Carolina Chocolate Drops, and is produced by Alex Lewis, and award-winning independent radio producer and musician.
The documentary features interviews and music from Haitian performers Boukman Eksperyans, Paul Beaubrun, RAM, Lakou Mizik, Chico Boyer, Win Butler & Regine Chassagne of Arcade Fire, Bruce "Sunpie" Barnes, Ben Jaffe of the Preservation Hall Jazz Band, and more.
RAM "Kite Jouda Yo Pale" (Let People Gossip)
Boukman Eksperyans "Jou Nou Revolte" (The Day We Revolt)
Malou Beauvoir "Kenbe M" (Hold Me)
Boukman Eksperyans "Ke M Pa Sote"
Malou Beauvoir (feat. Paul Beaubrun) "Rasenbleman"
RAM " Se Pa Saw Te Di" (That's Not What You Said)
Boukman Eksperyans "Kan'w Pran'w Konen"
Malou Beauvoir "Nwaye" (Drown)