Responsible Conduct of Research (RCR) for K Awardees

Wednesday, February 11, 2015 at 3:00 PM

-

Wednesday, March 25, 2015 at 5:00 PM (EST)
Event Details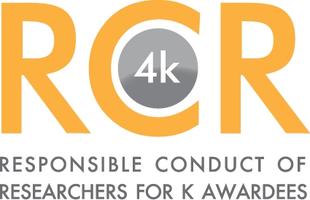 What is your plan for meeting the NIH requirement for RCR training for K awardees? There is a one-course solution uniquely tailored to your needs:
Responsible Conduct of Research (RCR) for K Awardees
Over 8 weeks in Winter 2015, MICHR will once again offer the Responsible Conduct of Research (RCR) for K Awardees, a seminar that is designed to meet the requirements of the NIH K 23, or any federal or non-federal career development grant.
The seminar is appropriate for postdoctoral researchers, T32 fellows, VA CDA recipients, and those with any mentored career development award.  The 4-session (8 hour) seminar is mostly interactive, practice based, and focused on addressing RCR issues (ethics, integrity, and regulatory matters) that have arisen in the course of your own funded research.  It's relevant, hands-on, and includes mentoring from experienced faculty.
What you will get out of this seminar?
8 hours of face to face faculty-led RCR training

2 hours of online pre-seminar Research Integrity: Biomedical Sciences training by Epigeum (4 hours optional)

Expert consultation and resolution of an ethics or integrity issue in your research

Practice in using a systematic approach to recognize and address RCR issues

Experience presenting to others how you addressed an RCR issue

Certificate of completion for e-snap reporting
Our Expectations:
 

Complete the Epigeum, Research Integrity: Biomedical Sciences Module One (minimum)

Attendance at all four mandatory seminar sessions (8 hours total)

Contact with a seminar mentor, by phone, email, or in person, between sessions 2-3 (20 mins)

A final presentation and report on your project (poster) on March 25, 2015
   All sessions will take place at NCRC (late in day, ample parking).
Schedule:
Session 1: Wednesday, February 11th 3 p.m. - 5 p.m., NCRC520 room 1122
Session 2: Wednesday, February 25th 3 p.m. - 5 p.m., NCRC520 room 1122
Session 3: Wednesday, March 11th 3 p.m. - 5 p.m., NCRC520 room 1122
Session 4: Wednesday, March 25th 3 p.m. - 5 p.m., NCRC10 room G063 & South Atrium
When & Where

University of Michigan North Campus Research Complex
1600 Huron Parkway
Ann Arbor, Michigan 48109


Wednesday, February 11, 2015 at 3:00 PM

-

Wednesday, March 25, 2015 at 5:00 PM (EST)
Add to my calendar
Organizer
MICHR Education
Clinical and translational training has never been more exciting or accessible than it is today at the University of Michigan. The mission of MICHR's Education & Training programs is to provide engaging and effective multidisciplinary education, career development, and mentoring programs aimed at increasing the number of high-quality clinical and translational researchers across a broad career continuum. 
Responsible Conduct of Research (RCR) for K Awardees