Description
Talk by Vicky Bowman, from the Myanmar Centre for Responsible Business
The former UK ambassador to Myanmar will be giving a talk at the University on the country, the challenges and how good governance and policy-making can be encouraged.
About Vicky Bowman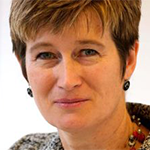 Vicky Bowman, Director of Myanmar Centre for Responsible Business, has a vast experience of Myanmar, international relations and business.
A former British diplomat fluent in Burmese, Ms Bowman began her diplomatic career in 1990 with the UK Embassy in Yangon. She served as UK ambassador to Myanmar from 2002 to 2006.
Her experience and knowledge in both business practice and the country would interest academics and practitioners working and researching in Myanmar, international business practice, global development and human rights, and international political economy.
The international NGO and development community, governments, consultants alongside Myanmar's extensive civil society organisations, are crucial in supporting the new government in nurturing good governance and policy-making during the earliest stages of its political and economic transition.
The Myanmar Centre for Responsible Business (MCRB) plays a vital role in this effort. Vicky Bowman, as director of MCRB, offers expert knowledge of the country as the former UK ambassador in the early 2000s.
The fledgling democracy in Myanmar (Burma) follows decades of authoritarian, military rule. As the centralised state economy makes way for a market-orientated one, the interest from foreign investors has escalated and diversified considerably. Between 2011 to 2016 the number of investing countries rose from 14 to 33, with Singapore accounting for 49% of total FDI and the UK, 6%.
The talk by Vicky is focused on MCRB's work but provides an insider's view of the complexities of this very recent democracy and the current challenges it faces.
---
There will be a 45-minute talk from Vicky Bowman followed by a 45-minute Q&A session.
For further information about MCRB, please visit: myanmar-responsiblebusiness.org/about.html
For further information about this event, please contact Dr. Julia Jeyacheya on j.jeyacheya@mmu.ac.uk