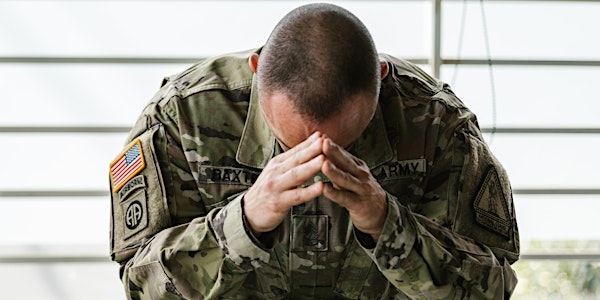 Responding to VETERANS in Crisis
Provides officers with tools to assist with building rapport and when de-escalating a volatile encounter involving a veteran in crisis.
Date and time
Wednesday, March 22 · 10am - 2pm PDT
Refund Policy
Contact the organizer to request a refund.
About this event
TOPIC:
This training will provide officers with one of the most valuable tools when de-escalating a volatile encounter involving a veteran in crisis:
INSIGHT - The officer will gain an understanding of military training, lifestyle and events which may trigger stressors often experienced by veterans to assist with rapport building and information gathering. The officer will be provided with de-escalation techniques effective in encounters with any person in crisis, with an emphasis on understanding the importance of officer safety in their calls for service involving a veteran in crisis.
Upon completion of this training, participants will achieve an enhanced understanding of:
• Veterans and Who They Are
• Military Values
◦ Professionalism and Pride
◦ Military Bearing and Mission Focus
◦ Military Justice
◦ Esprit de Corps
• Military Firearms Training
• Deployment Stress
• Combat Related Trauma
• Combat Perspectives
• Mental Illnesses, Substance Abuse and Consequence
• Causes of Mental Illness
• Veteran Partnerships
• De-escalation Techniques for CNT, Road Patrol and Investigators
• Programs, Services, Resources
INSTRUCTOR: Agent Vince Bustillo is a Homicide Agent with the Brevard County Florida Sheriff's Office Homicide Unit.
Agent Bustillo is a twenty-one year veteran of the United States Air Force (USAF). He spent the last seventeen years of his career with the USAF as a Special Agent with the Air Force Office of Special Investigations (AFOSI), where he began his law enforcement career.
His investigative experience spanned the entire spectrum of AFOSI's mission and included investigations and operations involving Contract Fraud; General Crimes (Narcotics and Property Crimes); Violent Crimes (Aggravated Assaults; Sexual Assaults and Death Investigations); Counterintelligence (Anti-Terrorism and Counterthreat); and Computer Crimes (Computer Intrusions and Media Analysis).
Agent Bustillo earned an Associate of Arts Degree in Criminal Justice from the Community College of the Air Force; an Associate of Science Degree in Aeronautics from Palm Beach State College; and a Bachelor Degree in Information Technology from American Intercontinental University and holds an FAA Commercial Pilot license in rotorcraft-helicopter.
TARGET AUDIENCE: All members of the criminal justice community (sworn or non-sworn).
DATES & TIMES:
Wednesday, March 22, 2023 - 1:00pm until 5:00pm (Eastern Time)
COST: $199.00 per person, ($3.00 registation fee + credit card fee if applicable)
LOCATION: THIS IS AN ONLINE CLASS!
• You will be sent a Zoom Link one week prior to the class
• We will send out the class materials electronically (via e-mail)
PAYMENT OPTIONS:
• Check made payable to:
TRAINING FORCE USA, 3681 Loma Farm Road, Tallahassee, FL 32309
• Purchase Order
• Credit Card payment made online
Cancellations and Substitutions:
• Upon submission of this registration, participants are responsible for payment of this course. Please note that if you do not attend, you are still responsible for payment.
• Substitutions may be made at any time by phone, e-mail or online at the registration site.
QUESTIONS: Phone: 850-251-1223 E-mail: contactus@trainingforceusa.com