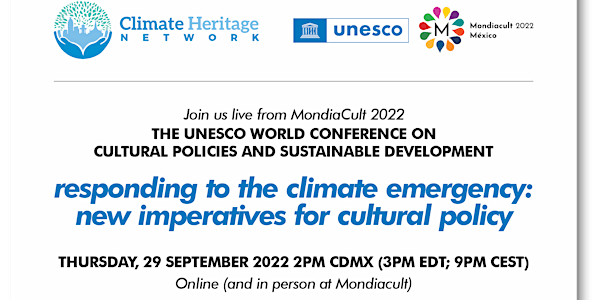 Responding to the climate emergency: new imperatives for cultural policy
This Mondiacult event looks at how policy can unlock the power of culture to help people imagine & realise just, climate resilient futures
About this event
The twin climate change and biodiversity crises are defining challenges of our time. Responding to them requires comprehensive treatment of climate change in cultural policy -- and of culture and heritage in climate policy. A growing consensus holds that culture and heritage are at risk from climate impacts but also assets in climate action. And yet there is still little consensus as to what the key goals of culture-climate policy should be or how best to achieve them – especially at scales commensurate with the urgency and scope of the climate crisis.
This session seeks to advance understanding of how cultural policies can best help tackle these global challenges, and to build consensus as to priorities. It builds upon a debate entitled "Cultural infrastructures as Drivers of people-centered climate action" that was held in March 2022 as part of the Resiliart process set up by UNESCO to provide inputs into MondiaCult 2022, the UNESCO World Conference on Cultural Policies and Sustainable Development.
The session starts with the thesis that the aim of culture-climate policy should be empowering people to imagine and realise low-carbon, climate resilient futures. It emphasises the strong linkages between sustainable development goals like poverty eradication and promoting health and well-being and 1.5 °C climate adaptation and mitigation pathways. It will also address the question of what cultural policy best advance this aim, taking account of the fact that culture is both part of the cause of climate change and part of the response.
The session will explore useful elements of culture-climate policy frameworks in order to aid operators in designing more specific culture-based adaptation, resilience, disaster risk reduction, safeguarding, & mitigation measures.
You are invited to join the live-stream at this link: https://mondiacult2022.cultura.gob.mx/evento/culturaparaelclima
Agenda
Welcome: "Empowering People to Imagine and Realise Low Carbon, Just, Climate Resilient Futures Through Culture From Arts to Heritage" -- Julianne Polanco, State Historic Preservation Officer, California Office of Historic Preservation; Co-Chair, Race to Resilience: Culture Cabinet (5 min)
Mapping Climate Action: The ICOMOS "Future of Our Pasts Report: Engaging Cultural Heritage in Climate Action" Report -- Prof. Dr. Mario Santana Quintero, Secretary General, ICOMOS (5 min)
Making Cultural Policy Fit for Purpose in the Era of Climate Crisis: Key Points from the Climate Heritage Network ResiliArt Debate (25 min)
• Overview: Jordi Pascual, Coordinator, UCLG Culture Committee (Speaker and Moderator) (5 min)
• Differentiating and respectfully sunsetting 'complicit heritage,' Gabriel Caballero, ICOMOS Focal Point for the SDGs (5 min)
• Nourishing Art for Transformative Change, Katherine Turvey, Coordinator, Museum & Society, International Council of Museums (5 minutes)
• Strengthening the Cultural Rights Perspective, Mr Pascual (5 minutes)
Culture in sustainable development policy, input from the Ministry of Education, Culture and Science of the Netherlands, Ms Barbara Wolfensberger, Director-General for Culture and Media at the Dutch Ministry of Education, Culture and Science (5 minutes)
Roundtable: Actions Items to unlock the potential of culture to empower people to imagine and realise post-carbon, just, climate resilient futures (15 minutes)
• Claire McGuire, Policy and Research Officer, International Federation of Library Associations and Institutions (Moderator)
• Dr Cornelius Holtorf, UNESCO Chair on Heritage Futures, School of Cultural Sciences, Linnaeus University
• Shanon Miller, Director, Office of History Preservation, City of San Antonio, Texas; CHN Co-Chair for North America
• Prof. Gauri Ivette Garcia Medina, Coordinación General del Centro Histórico, City of Morelia, Mexico
• Dr Francesca Giliberto, PRAXIS: Arts and Humanities for Global Development
Wrap Up and Next Steps, Ms Miller (5 minutes)