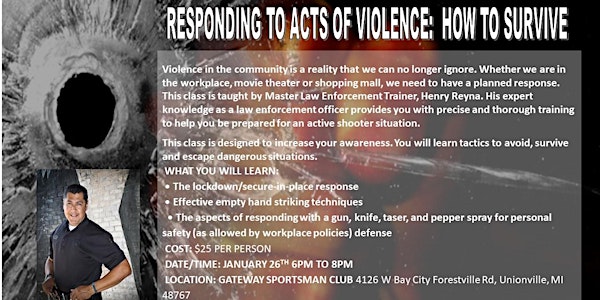 RESPONDING TO ACTS OF VIOLENCE: HOW TO SURVIVE
Violence in the Community is a reality that we can no longer ignore. Whether we are in the workplace, movie theater or school.
When and where
Location
Gateway Sportsman Club 4126 West Bay City Forestville Road Unionville, MI 48767
About this event
This class is taught by Master Law Enforcement Trainer, Henry Reyna. His expert knowledge as a law enforcement officer provides you with precise and thorough training to help you be prepared for an active shooter situation.
This class is designed to increase your awareness. You will learn tactics to avoid, survive and escape dangerous situations.
WHAT YOU WILL LEARN:
• Implement a lockdown/secure-in-place response
• Recognize cover and concealment opportunities
• Deliver effective empty-hand striking techniques
• Fight back with improvised weapons
• Use a gun, knife, taser, pepper spray, or other personal safety tool (as allowed by workplace policies)
• Respond if you are an armed citizen with a CPL
• Reduce blue-on-blue shootings if you're responding as an off-duty police officer
If you have been trained at work on how to respond to an active shooter event. THIS TRAINING IS NOT THAT!
You will truly learn to survive and how to get ahead of a violent killer.
During this training session you will be shown videos of past active shooter events from around the country, so please take notice this training is for adults.