Description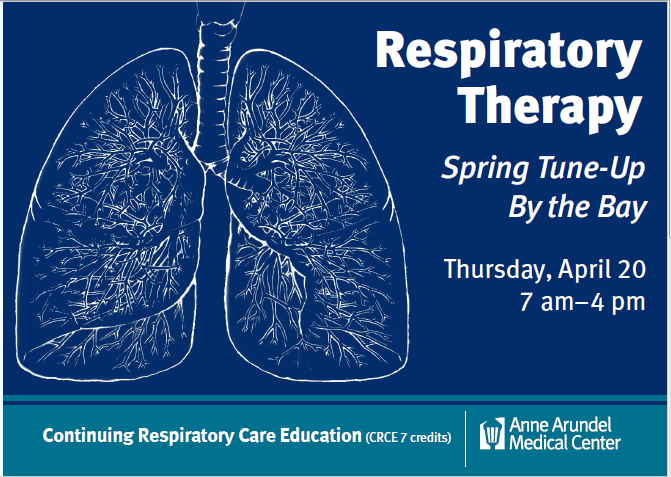 Registration Fees
Students: $30
AARC Members: $70.00
Non AARC Members: $80.00

Vendors: $400.00
Continuing Respiratory Care Education (CRCE 7 credits)
Program Description: This course will sharpen your respiratory care skills during a day of dynamic speakers. Learn about new products and services from vendors. Breakfast, lunch and snacks provided.
Intended Audience: This event is for all respiratory therapists, nurses and allied health professionals who want to expand their respiratory care skills and knowledge.
Program Medical Director:
Keith Goulet, DO
Program Director:
Lenny Nyangwara, MS, RRT
Program Coordinators:
Dana Wingert, BS, RRT
Melissa Anderson, RRT
Organizing Committee Members:
Tim Oechsle, RRT

Jennie Sayles, BA, CRT

Simon Haile, BS, RRT

Henry Hanburger, BA, RRT
Conference Speakers:
Lisa Brown-Hoff, MS, RRT, NPS, Clinical Educator, AAMC

Tom Sriplin, MEd, RRT, Dean of Arts and Sciences - Allegheny College and President, MD/DC Society for Respiratory Care

June Kim, MD, Assistant Professor, University of Maryland

Mary Clance, MD, Epidemiologist, AAMC

Keith Goulet, DO

Intensivist and Medical Director Respiratory Care Services, AAMC

Lenny Nyangwara, MS, RRT

Manager, Respiratory Care Services, AAMC and Delegate, MD/DC Society for Respiratory Care

Terry Jodrie, MD, FACEP, NREMT-P

Attending Physician, Washington Adventist Hospital and EMS Director
AGENDA
6.30 am: Registration, breakfast

7:25 am: Welcome Remarks

7:30 am: Making Respiratory Care Value Added to the Patient


8:30 am: Lung Transplants

9:30 am: Break - Vendors

10:00 am: Infectious Respiratory Infections

11:00 am: Utilization of NAVA in the NICU (NPS CEU)

12:00 noon: Lunch

1:00 pm: Cardiac Arrest; From 911 call to the ER

2:00 pm: Professional Leadership -Ethics

3:00 pm: On Beyond CPAP

4:00 pm: Return Evaluations and Receive Certificates
For more information, call 443-481-4074.
Continuing Education Credit
Application has been made for 7 CRCE by the American Association for Respiratory Care (AARC).
Parking: Free parking on-site in Garage E
Hotel: Crowne Plaza Annapolis at 173 Jennifer Road in Annapolis offers a special rate of $98 to Anne Arundel Medical Center guests. Visit www.CrownePlaza.com/AnnapolisMD and use the code 100246122; or, call 1-877-865-6578.