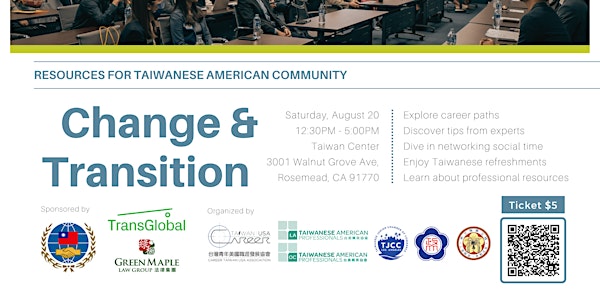 Resources for Taiwanese American Community – Transition & Change
Career transition has been a hot topic this year!
When and where
Location
Taiwan Center Foundation of Greater Los Angeles 3001 Walnut Grove Avenue Rosemead, CA 91770
About this event
100 Online Tickets SOLD OUT!
100 張的線上預售票已售完!
At Door: $10/Person
現場購票: $10/人
See you all tomorrow!
我們明天見囉!
Taiwan Center
3001 Walnut Grove Ave,
Rosemead, CA 91770
12:30PM-5:00PM
- - - - - - - - - - - - - -
Career transition has been a hot topic this year! This career panel will showcase different career paths from several industry professionals. If you are curious about different career choices and how others shifted to different industries, this is the prime opportunity to network, ask questions, and prepare for changes.
Last year 53% of Americans made a career change. Study shows 65% of American workers are actively searching for a new full-time job right now. You are not alone! While the workforce is shuffling again, we can prepare ourselves to ride this wave.
"Change and Transition" is organized by six Taiwanese American organizations in Southern California. In addition to the career panel, there will be a professional panel of resources for Taiwanese American community such as insurance, immigration, tax planning, etc. Invite friends, register in advance, meet new people, and enjoy refreshments.
Program will be in English
Organizers
職涯發展協會 Career Taiwan USA
洛杉磯台美商會青商部 TJCCLA
台美菁英協會洛杉磯分會 Taiwanese American Professionals-LA
台美菁英協會橙縣分會 Taiwanese American Professionals-OC
政大校友會
台大校友會青年團
『讀了X專業畢業以後只能做Y嗎?』『 我工作兩年了,最近正在考慮轉職,我該找誰討論?』
職涯道路並不是一路順遂,可能是驚喜驚嚇不斷。不管你最近是準畢業生還是已經在工作的社會新鮮人,面對能改變你人生的決定,該怎麼前進。
8月20日,南加州地區6個青年團體合力舉辦職涯轉變座談會『Change and Transition』,邀請了大洛杉磯地區擁有獨特轉職背景的台美人,分享他們畢業後曾面對的迷茫、轉職前滿腦的不確定和做出切換跑道重大決定因素。
同時,我們找到專業人員解答在身份轉換同時衍伸的簽證、保險、稅務相關問題。
活動將提供精美小點心和飲料,並有多個 Networking 環節。
主辦單位
職涯發展協會 Career Taiwan USA
洛杉磯台美商會青商部 TJCCLA
台美菁英協會洛杉磯分會 Taiwanese American Professionals-LA
台美菁英協會橙縣分會 Taiwanese American Professionals-OC
政大校友會
台大校友會青年團