Re:Solutions is a one-day conference dedicated to re:starting the new year inspired, informed, and re:invigorated.
About this event
What is Re:Solutions?
Re:Solutions is a one-day conference dedicated to re:starting the new year inspired, informed, and re:invigorated.
About Re:Solutions
This year, we will have 8 sessions with a variety of topics and formats. The event will be streamed live all day on YouTube, and you will get the link emailed to you via Eventbrite
Re:Solutions is traditionally a paid, ticketed program. In past years, tickets for our general speaker session ranged from $50-$80 to cover the costs of the speakers and event production, as well as help us get funding for future programming. We are offering our full day of programming at no cost, but our speakers will have their Venmo/Cash app info available day if you'd like to contribute to them!
*Your name will be entered for giveaway drawings automatically through your registration on Eventbrite, and you must be present during the live stream to win!
Get up to date information at ResolutionsOrlando.com! Follow AIGA Orlando on Facebook and Instagram to get details of our speakers and the schedule of the day.
Morning Session (9:00 a.m. - 12:00 p.m.)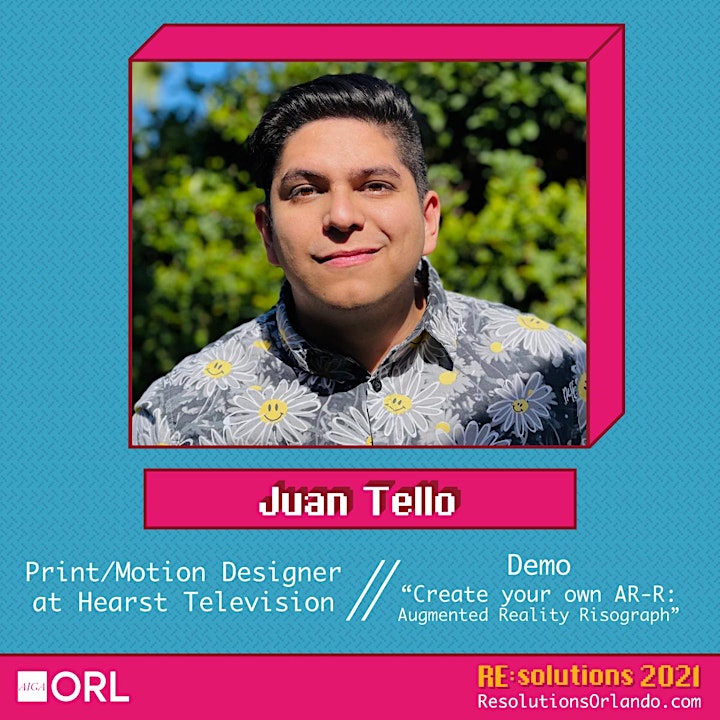 Demo: Juan Tello - Create your own AR-R: Augmented Reality Risograph
Juan's personal work is the result of his love for drawing, animation, and storytelling, where colorful and whimsical characters come to life. During this presentation you will learn how to create an Augmented Reality Risograph poster from scratch using Procreate and the online platform Artivive.
He will guide you throughout his illustration and animation process, showing you the necessary tools and tricks to produce looping images and how to use them to create a living Riso work of art.
IG: @hellojuantello TW: @hellojuantello Website: juantello.com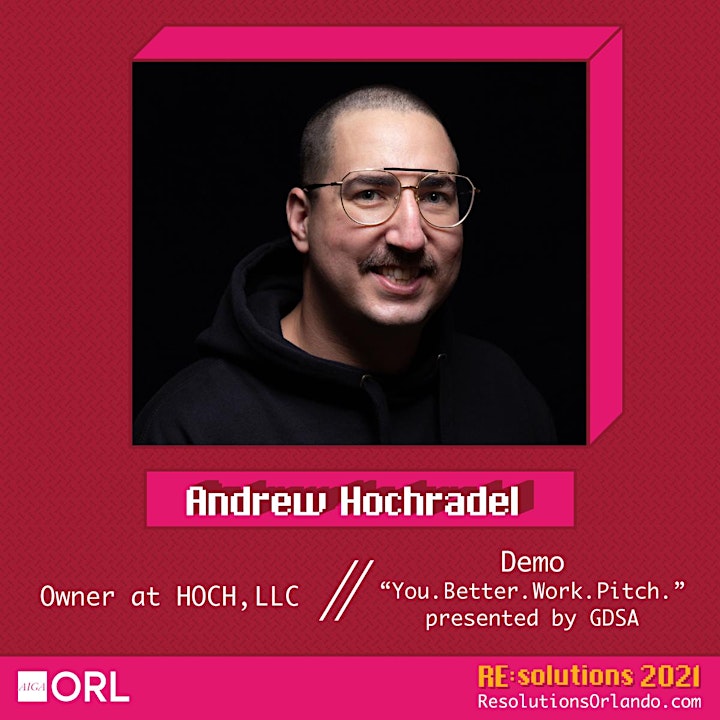 Demo: You. Better. Work. Pitch.
You want a Maserati? You're going to have to work. We'll be going from start to finish on a branding project, breaking down how you can sell the work, work the pitch, and then get to work.
IG: @HochDotCo TW: @HochDotCo Website: HOCH.CO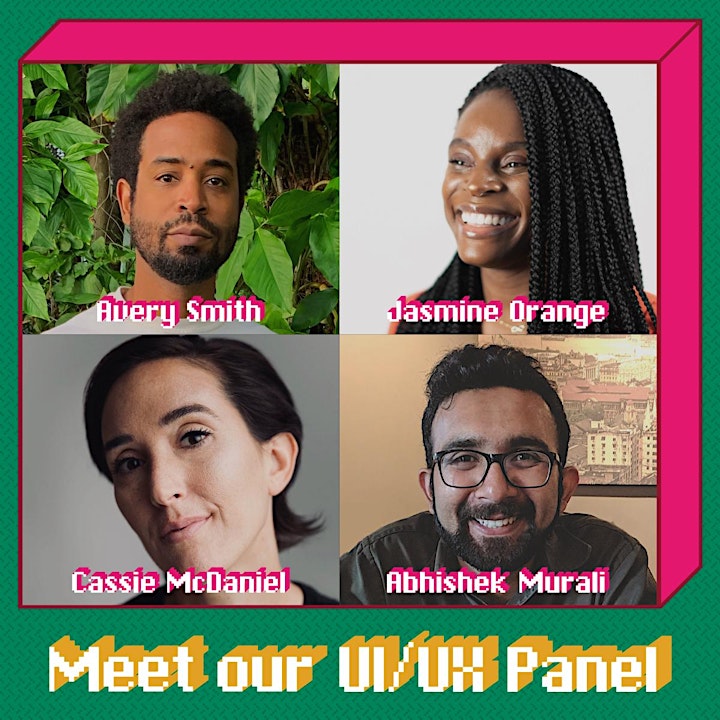 Panel: UI/UX Design
Have questions about what it's like to work in the UI/UX field? Come hear from some of Orlando's experts on what it's like to work in the UI/UX field.
Avery Smith - Moderator
IG: @averyaltonsmith TW: @AverySmith Website: asmith3.com
Cassie McDaniel - Panelist
IG: @cassiemakesI TW: @cassiemc Website: cassiemcdaniel.com
Jasmine Orange - Panelist
IG: @jasmineinux TW: @jasmineinux Website: jasmineinux.com
Abhishek Murali - Panelist
IG: @abmiyengar TW: @abmiyengar Website: abhishekiyengar.com
Afternoon Session (12:30 - 5:00 p.m.)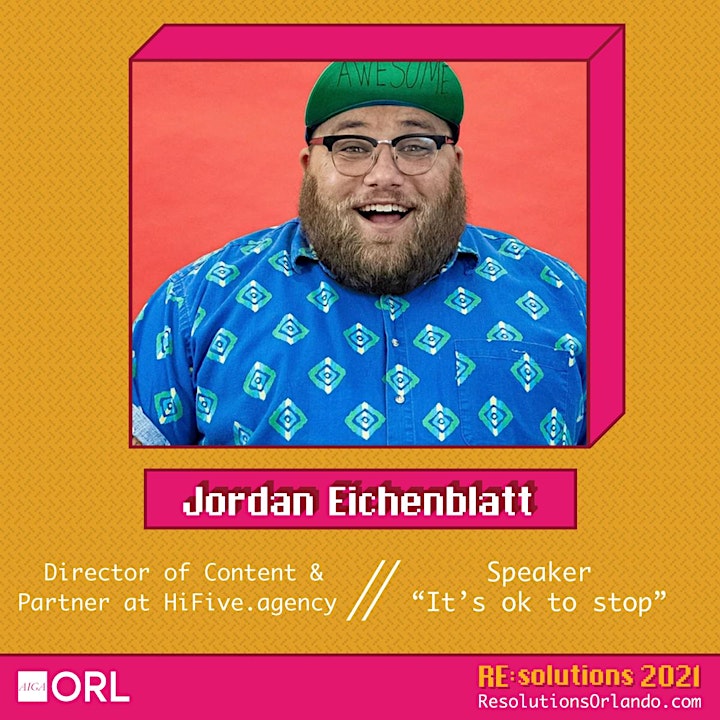 Speaker: Jordan Eichenblatt - It's Okay to Stop
A presentation about his journey from the coffee shop, to the production truck, to in front of the camera, to a hospital bed, to the water, to a hospital bed, to the world of advertising.
IG: @jordanosaur TW: @jeichenblatt Website: hifive.agency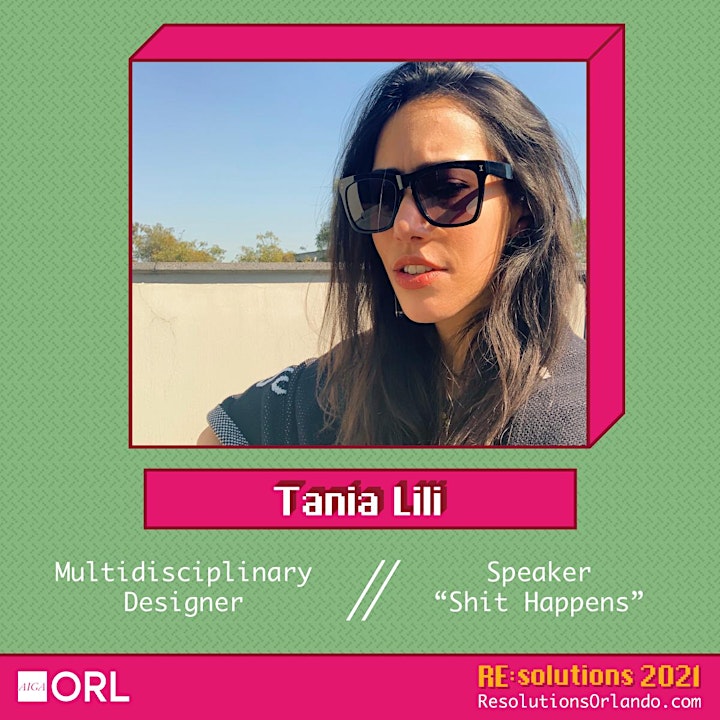 Speaker: Tania Lili - Shit Happens
In the design field we talk about our work as if nothing else mattered. This talk is about how Tania's personal life has shaped a lot of the decisions she has made in her career. She will talk about her path and work and how depression, divorce and living far from home has shaped her design practice.
IG: @tanialili TW: @tanialili Website: tanialili.me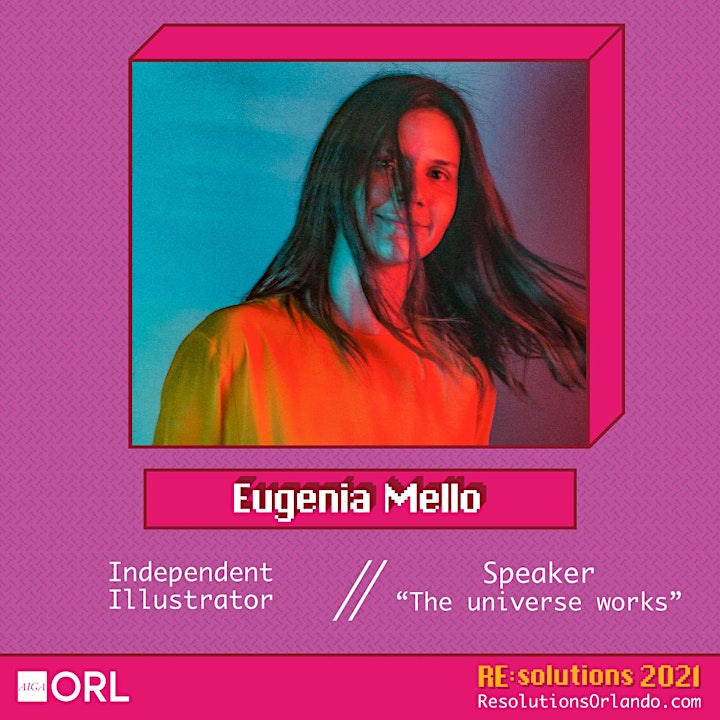 Speaker: Eugenia Mello - The Universe Works
Notes on building a compass from intuition and trusting the invisible threads that weave together what becomes a journey. A talk about the courage to insist and carry on and the alchemy involved in our line of work.
IG: @eumiel TW: @eumiel Website: eugeniamello.com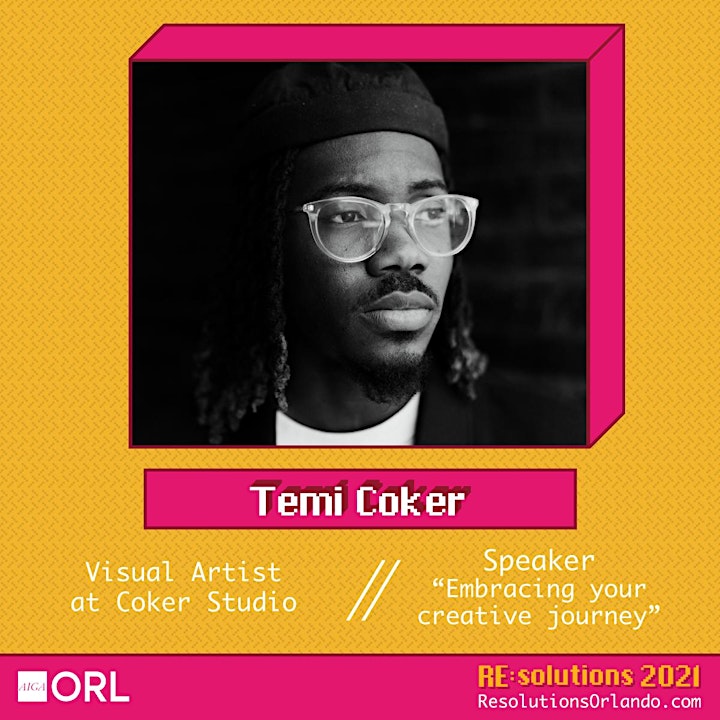 Speaker: Temi Coker - Embracing Your Creative Journey
The journey is the reward not the destination. In this presentation, I want to discuss how important it is for us to really walk this creative journey instead of idolizing the destination. My creative journey led me to where I am today and the journey has made this chapter in my life sweeter. Let's reflect together and talk honestly about our journey, our WHY, and how we plan to push ourselves to grow daily.
IG: @temi.coker TW: @temi_coker Website: temicoker.co
Organizer of Re:Solutions 2021
AIGA advances design as a professional craft, strategic advantage and vital cultural force. As the largest community of design advocates, we bring together practitioners, enthusiasts, and patrons to amplify the voice of design and create the vision for a collective future.
We define global standards and ethical practices, guide design education, enhance professional development, and make powerful tools and resources accessible to all.