Hosted by Co-Creation Nation - Rural Workforce Development in Community Health
About this event
COVID-19 infections, hospitalizations, and deaths are surging again. Economically disadvantaged communities are among the hardest hit. Misinformation regarding the disease, vaccinations, and treatments is making the problem worse. You can help respond to this challenge by supporting the rapid reskilling of disadvantaged workers to become Community Health Workers (CHWs). CHWs engage in outreach work in their communities, providing health information, encouraging vaccinations, and combating misinformation. Healthcare employers create a pipeline of reskilled workers ready to enter their workforce. And disadvantaged workers enter a profession at a living wage with upward career potential.
The Co-Creation Nation Project is honored to collaborate with Alelo in an effort to provide a high level of individualized attention to under-resourced job seekers during and beyond the COVID-19 pandemic.
Join us to explore Alelo Enskill to help learners rapidly learn new skills by practicing them with artificially intelligent avatars. For example, community health worker trainees practice their patient interviewing skills with simulated patients. The online platform incorporates speech and language technology so that they can speak with the avatars much like they would with real patients, customers, co-workers, etc. The platform automatically evaluates learner performance and recommends individualized practice exercises to overcome skill deficiencies. Learners rapidly gain proficiency as well as self-confidence. Instructors and program navigators (i.e., student case managers) use the Enskill Instructor Dashboard to track learner progress toward proficiency. Enskill was runner-up in the 2021 International E-Learning Awards.
SPEAKERS
W. Lewis Johnson, Chairman of the Board, CEO and Co- Founder, Alelo
W. Lewis Johnson, Ph.D., is an internationally recognized expert in artificial intelligence in education. For his work on the first Alelo immersive game, Tactical Iraqi, he won DARPA's Significant Technical Achievement Award. He has been a past President of the International AI in Education Society, and was co-winner of the 2017 Autonomous Agents Influential Paper Award for his work in the field of pedagogical agents. He has been invited to speak at international conferences such as the International Conference on Intelligent Tutoring Systems, and presented a Distinguished Lecture at the National Science Foundation.
Under his leadership, Alelo has developed into a well-recognized producer of Ai-driven learning products for rapid training and reskilling. Alelo cultural training products are required training for US military personnel deploying to 86 countries around the world. Alelo's Enskill platform was runner-up in the 2021 International E-Learning Awards. Team Alelo is a Semifinalist in the XPRIZE Rapid Reskilling competition.
Cliff Kamida, Vice President of Product, Alelo
Vice President of Production Cliff Kamida has over 25 years of experience in educational technology and computer/video game production. Prior to joining Alelo in 2010 as Senior Project Manager for Alelo's Virtual Cultural Awareness Trainers (VCATs), Mr. Kamida produced computer and video games for Knowledge Adventure and the Walt Disney Company. He has also taught courses in Game Design and Game Production Management at National University. He received his B.A. in Journalism from the University of Hawaii.
WHO SHOULD ATTEND?
Administrators and Staff of:
Rural Hospitals
Public Health Organizations
Rural Emergency Clinics
Rural Health Care Centers
Rural Community Colleges
Rural Workers impacted by the Covid-19 Pandemic
SAVE THE DATE
Thursday, October 21, 2021, 8:30 AM PST/11:30 AM EST.
About Alelo
Alelo specializes in technology to support rapid training. It is a spin-out of the University of Southern California. Our team combines expertise in training technology, and public health. Alelo's cultural training programs are required training for military personnel deploying to 86 countries, and have been used by 500,000 trainees.
Alelo is a Semifinalist in the XPRIZE Rapid Reskilling competition and is participating in the Future of Work Grand Challenge to reskill 25,000 Americans from under-invested communities into higher-wage jobs by 2022. Enskill is runner-up in the 2021 International E-Learning Awards. Alelo President, Dr. Lewis Johnson is internationally recognized in the area of artificial intelligence in education and is the recipient of multiple awards, including the AAMAS Influential Paper Award.
We did it! Co-Creation Nation is a mobile/web civic infrastructure platform being built by a talented, volunteer-based of technologists, innovators, scientists, researchers and civic engagement advocates.
You will receive a link to access the event after you registered.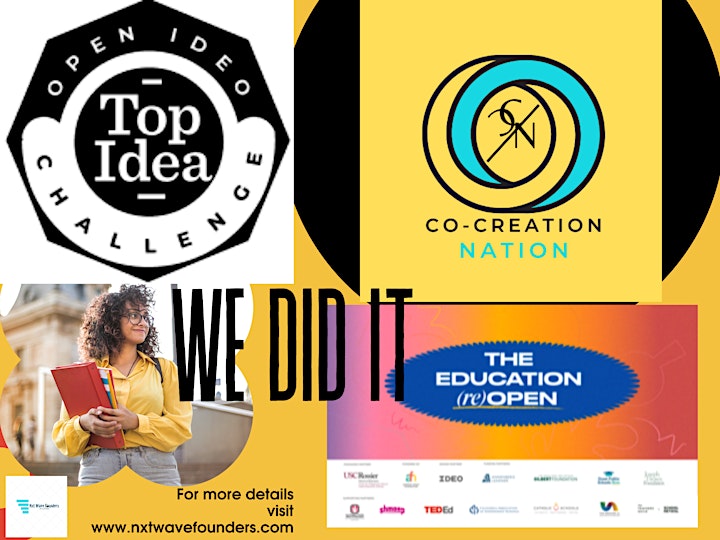 Organizer of Reskilling Workers for the Covid-19 Pandemic
Co-Creation Nation — a project of Nxt Wave Founders, is an idea awarded by the 2021 Education (Re) Open Challenge sponsored by the University of South California's Center Edge, the Andrew Nikou Foundation and Open-Ideo. Due to Covid-19, many rural and under-resourced individuals like parents, students, teachers, school nurses and emergency doctors continue to face complex, multi-dimensional issues where confrontation, misinformation and inclusion prevent hyper-local officials and businesses from finding the best answers to numerous social and economic barriers to equitable education, rethinking career learning, fair lending, social justice, access to telehealth, climate change and reliable infrastructure among other related issues. CCN is an open source project that helps rural and under-resourced citizens, schools, businesses, governments, and community based-organizations solve socio-economic structural problems magnified by the Covid-19 Pandemic through effective civic engagement.