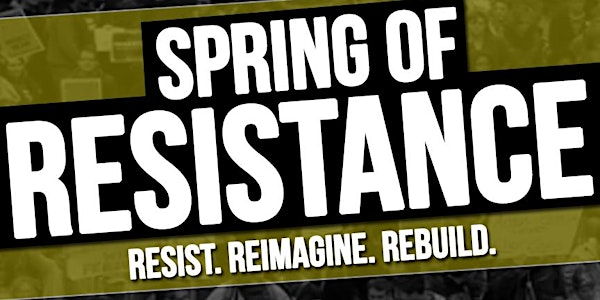 Resist. Reimagine. Rebuild. Chicago Citywide Teach-In
When and where
Location
Chicago Teachers Union 1901 West Carroll Avenue Chicago, IL 60612
Description
RESIST. REIMAGINE. REBUILD. (R3 – Chicago)
A coalition of Chicago-based groups and individuals, formed in November of 2016, committed to building relationships and strategies for responding to the current racist and proto-fascist political moment. The following is a working document.
UNITY STATEMENT FOR GROUPS AND INDIVIDUALS THAT WISH TO AFFILIATE
We are a coalition of area community, labor organizations and individuals who seek to map a new plan of action to RESIST the current climate of xenophobia, racism, and anti-immigrant sentiment and call on our community to REIMAGINE a more just alternative, and REBUILD a truly progressive mass movement that can transform our communities and our society, and foster a more sustainable environment. We feel it is essential to highlight and foreground the importance of race, class, gender, citizenship status and sexuality in the forging of this new coalition. We are a multi-racial and inter-generational coalition, defying the myths of a movement divided rigidly by age and race. We are people working together to build a principled inclusive, democratic, anti-racist united front. We also respect the leadership of women and queer folks that have been marginalized in previous movements.
NO to deportations
NO to Anti-Arab, Middle Eastern, Muslim and South Asian racism and Islamophobia
NO to privatization
NO to imperialism and militarism
NO to racist police and state violence
NO to the criminalization of Black, Latinx, Asian-American, Arab-American, Indigenous and immigrant communities
NO to all forms of anti-black racism
NO to violence and marginalization of LGBTQIA folks
NO to sexual violence & harassment as we envision a world without sexism & patriarchy
YES to support for schools and teachers
YES to living wage jobs
YES to affordable healthcare and housing
YES to accessibility in all forms-disability services with dignity
YES to a people's budget
YES to accountability and transparency in politics
YES to worker's rights
YES to the rights of indigenous communities
YES to climate policies that protect and sustain the environment
We ask groups and individuals to officially affiliate if they agree with the basic description and bullet points above. We will try as much as possible to make decisions based on consensus or a majority vote at our regular meetings. A more formal structure for decision-making is in progress.