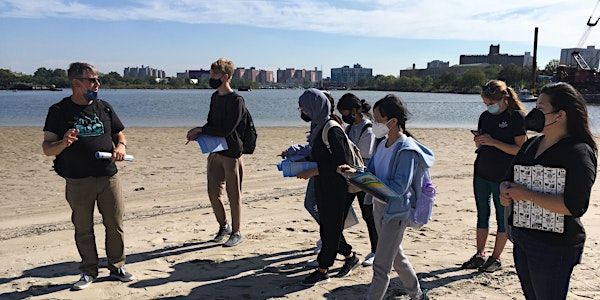 Resilient Schools Consortium (RiSC) Teacher Summer Professional Learning
Resilient Schools Consortium (RiSC) Teacher Summer Professional Learning Institute at the Shorefront Y in Brighton Beach, August 30-31, 2022
About this event
Dear Climate Education Champions,
Climate education is the solution to addressing the climate crisis; a just transition and decarbonized economy will be impossible without it. Despite this, a majority of NYC teachers only teach about climate change, impacts, and solutions for about two hours per school year. This is not enough given the scale of the crisis.
The National Wildlife Federation's Resilient Schools Consortium (RiSC) program engages middle and high school students and their teachers in learning about climate science, climate impacts, climate justice and resilience solutions so that they can begin adapting to a rapidly changing world. The program provides opportunities for field trips and hands-on projects, such as beach grass planting, to help protect NYC's coastal communities from storm surge and erosion.
Please join NWF and partners for an empowering two-day RiSC Summer Professional Learning Institute where we will explore activities and learnings from the RiSC program and curriculum.
Tuesday and Wednesday, August 30-31, 2022 from 10am - 4pm
At the Shorefront YM-YWHA, 3300 Coney Island Ave, Brooklyn, NY 11235
Planned activities - with breaks in-between - will include:
A RiSC curriculum and program overview
An overview of urban resilience and infrastructure projects underway in NYC
Conversations with Coney Island residents
A field trip and sea level rise lesson on the beach
The High Water Line - using data and art to communicate climate impacts
A RiSC teacher shareout of student work from the 2021-22 school year
This Institute is FREE and is suitable for middle and high school teachers in NYC. NYCDOE teachers will receive a stipend for their participation.
ONLY 30 SPOTS ARE AVAILABLE ON A FIRST COME FIRST SERVED BASIS.
REGISTER VIA EVENTBRITE BY FRIDAY, AUGUST 26th.
Questions? Contact Emily Fano: fanoe@nwf.org, 917-301-8830
The RiSC program is supported by grants from the National Oceanic and Atmospheric Administration and Federal Emergency Management Agency.