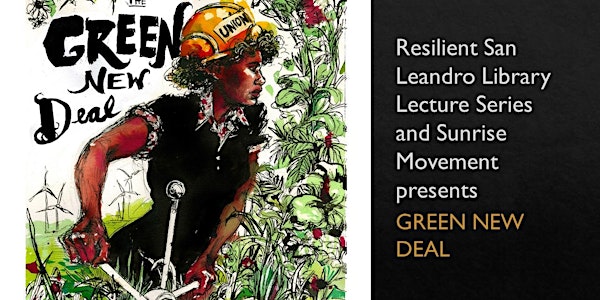 Resilient San Leandro Library Lecture Series: Green New Deal
Join City of San Leandro and Sunrise Movement to learn about the Green New Deal and the just transition!
About this event
Green New Deal artwork by Molly Crabapple
City of San Leandro presents the first of the Resilient San Leandro Library Lecture Series. Sunrise Movement will be presenting on the Green New Deal.
The Green New Deal is a 10-year plan to mobilize every aspect of American society to 100% clean and renewable energy by 2030, a guaranteed living-wage job for anyone who needs one, and a just transition for both workers and frontline communities. Excited to learn more? Join us on Thursday March 26!
UPDATE: Due to the advisories around the coronavirus, we will be making this a virtual event instead. Please join us on webinar to hear the presentation.