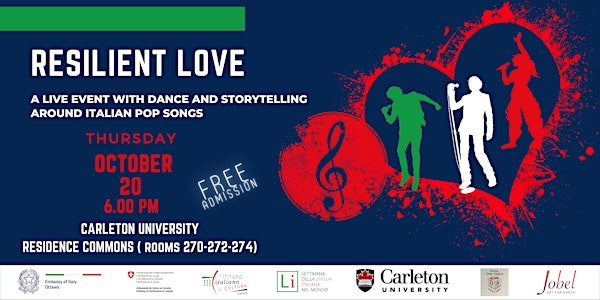 RESILIENT LOVE
A live event with dance, songs and storytelling around Italian contemporary pop music.
When and where
Location
Carleton University Conference Services 1125 Colonel By Drive Ottawa, ON K1S 5B6 Canada
About this event
If you are passionate or curious about the Italian Language, you don't want to miss this special event. We are celebrating the 22nd Week of the Italian Language in the World, dedicated to "Italian and Youth." The Embassy of Italy and the Embassy of the Swiss Confederation in Canada, and the Istituto Italiano di Cultura of Toronto, in collaboration with Jobel Art for Earth, Carleton University, and the Società Dante Alighieri Ottawa, are inviting you to discover the beauty of the Italian Language through contemporary pop songs. The theme is love from different perspective. You will enjoy five beautiful modern Italian pop songs written by five young Italian artists: Francesca Michelin, Ultimo, La Rappresentante di Lista, Marco Mengoni, Irama, and a final surprise. A storytelling by two actors will make the link between the five songs. The chosen songs have beautiful lyrics that also be translated into English to facilitate the comprehension of the words. A dancer has designed original choreographies to accompany the different scenes. The artistic direction is under Jobel Art for Earth creative team. Jobel creates engaging live events merging different artistic languages.