Description
"Our children need to understand from as young an age as possible that when the branch breaks, they can trust their wings"
Next Workshop 16th September 'Practical Tips For Stressed Parents' 7.00pm to 9.00pm in Guildford, Surrey, UK
What Parents Say Who Attend the Workshop:
'Excellent workshop, well-structured offering practical advice in an understanding and nurturing environment' Samantha
'I just wanted to say thank you for your great advice during last workshop.'
'Really enjoyed the workshop and felt like I have some good ideas to remind me to be in the right frame of mind when dealing with my children's emotions and behaviour.' Alan
'I enjoyed the atmosphere of helping each other, suggestions and reminders' Lyndsay
'It's clear that Jane practices what she teaches' Paul
Why Attend?

I'll teach you a set of 4 simple responses to create calm and encourage resilience in your children.
Knowing these makes being a parent a lot less stressful.
You'll learn how to teach children to tap into their natural resilience. We all have it. Help them find theirs.
And given the pressures they now face, it's only fair we do this for them.
Note, these are highly interactive workshops. You'll learn and be able to practice better ways to communicate with your children, and learn how to strengthen family bonds.
You'll feel more confident and soon see a change in your children.
About Me
My name is Jane Tyson, and I'm a concerned mum of two teenagers and a part-time teacher.
I set up Resilient Kids to give stressed-out kids, parents and teachers the knowledge, tools and support to make a difference (and it's working).
Most parents coming along to the events say they'd like to be less reactive and more resilient themselves.... and to be honest, say they just want their kids to stop fighting!
These workshops are here to help you. Come join us.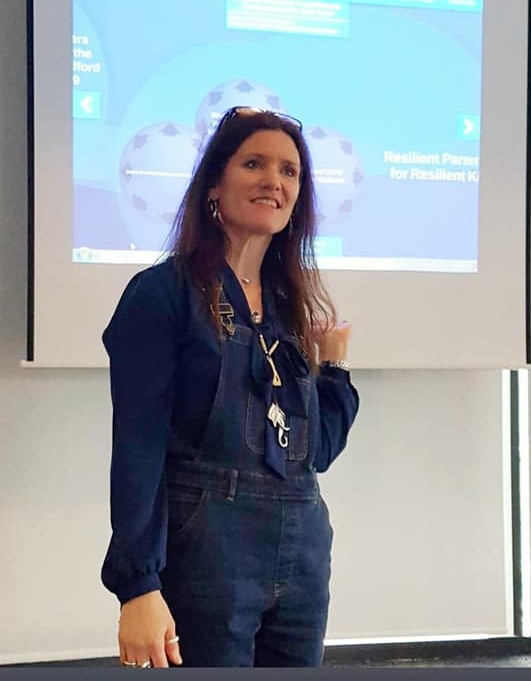 The Workshops
You'll learn ways to:
Become a "life mentor" to your child, and teach them how to create the good habits and resourcefulness they'll need to get through the tensions and temptations they'll face.

Become aware of different parenting styles, so you can choose the one best suited to you and your child.

Elicit calm responses from your child, especially when you need to discuss stressful topics.

Improve your children's self-compassion, self-confidence and ability to cope at school and in life.
I'll share some additional resources you'll find helpful, and how you can get ongoing support from me (including a private online group).
And you'll have ample opportunities to ask questions, share experiences and learn from other parents....and have some fun too!
Price of Workshop
£97.99
Come join us.
Together we can make a difference.
Jane Tyson